Big Softies
Exhibition Dates: March 24 - May 12, 2023

About the Exhibition
Big Softies was an exhibition centering fiber and its importance broadly across craft disciplines. The scope of work selected for this exhibition exemplified the high-caliber fiber arts that are prevalent in BCAT's surrounding community, as well as the mutability of fiber and its endless applications in contemporary art. Artists in the exhibition included fiber artists located in and around BCAT's central Pennsylvania home in conjunction with ceramic and metals artists working throughout North America.
In part, Big Softies aimed at spotlighting the exceptional fiber artists based in central Pennsylvania whose work is rooted in traditional processes and stems from a rich history of fiber craft. With the understanding that artwork from rural regions is historically overlooked and undervalued, we wanted to provide a space for it to receive the inclusion and recognition it deserves. In addition, Big Softies included work from ceramicists and metalsmiths who push the bounds of their respective mediums by utilizing fiber in their work. These artists are contributing to the advancement of robust, flourishing craft fields by creating innovative work that challenges the traditional expectations of their mediums.
Big Softies featured 32 artworks from 29 artists across North America. The exhibition contained both works made solely of fiber and mixed media pieces that use fiber in combination with metal or ceramic elements. The selected artworks demonstrated a myriad of both traditional and experimental fiber techniques, and each carefully-crafted piece reflected the artist's refined skills and comprehensive understanding of their materials.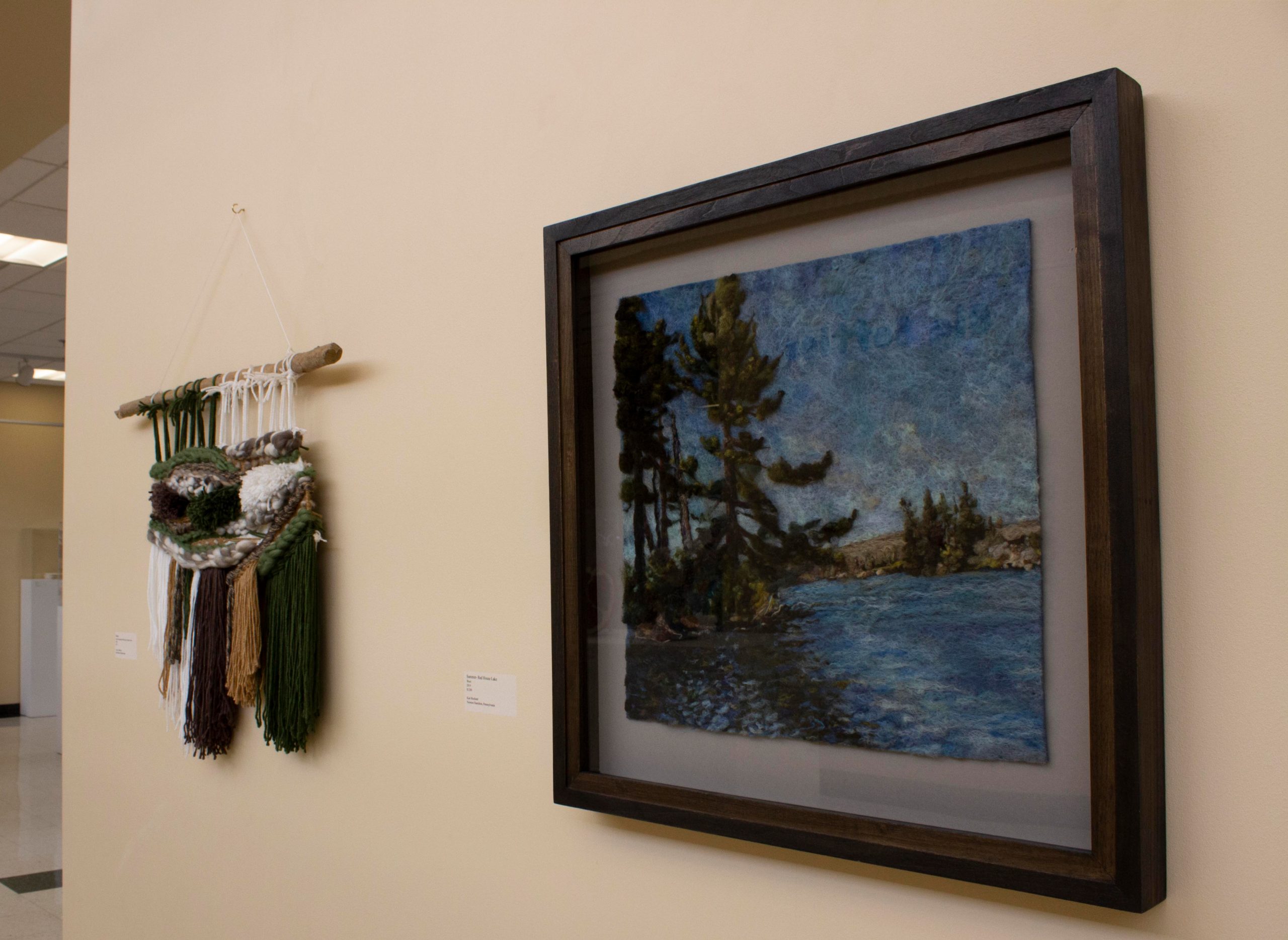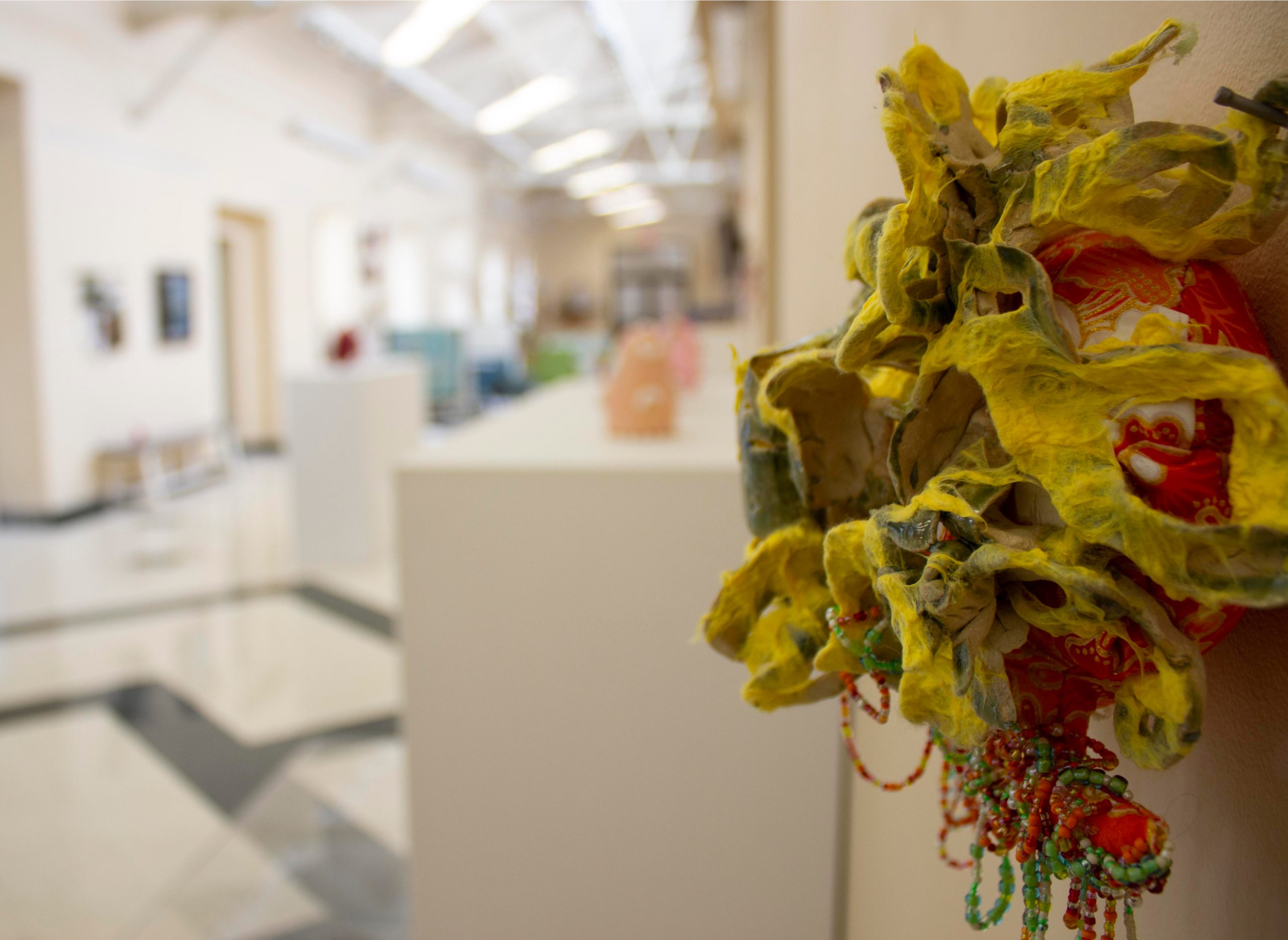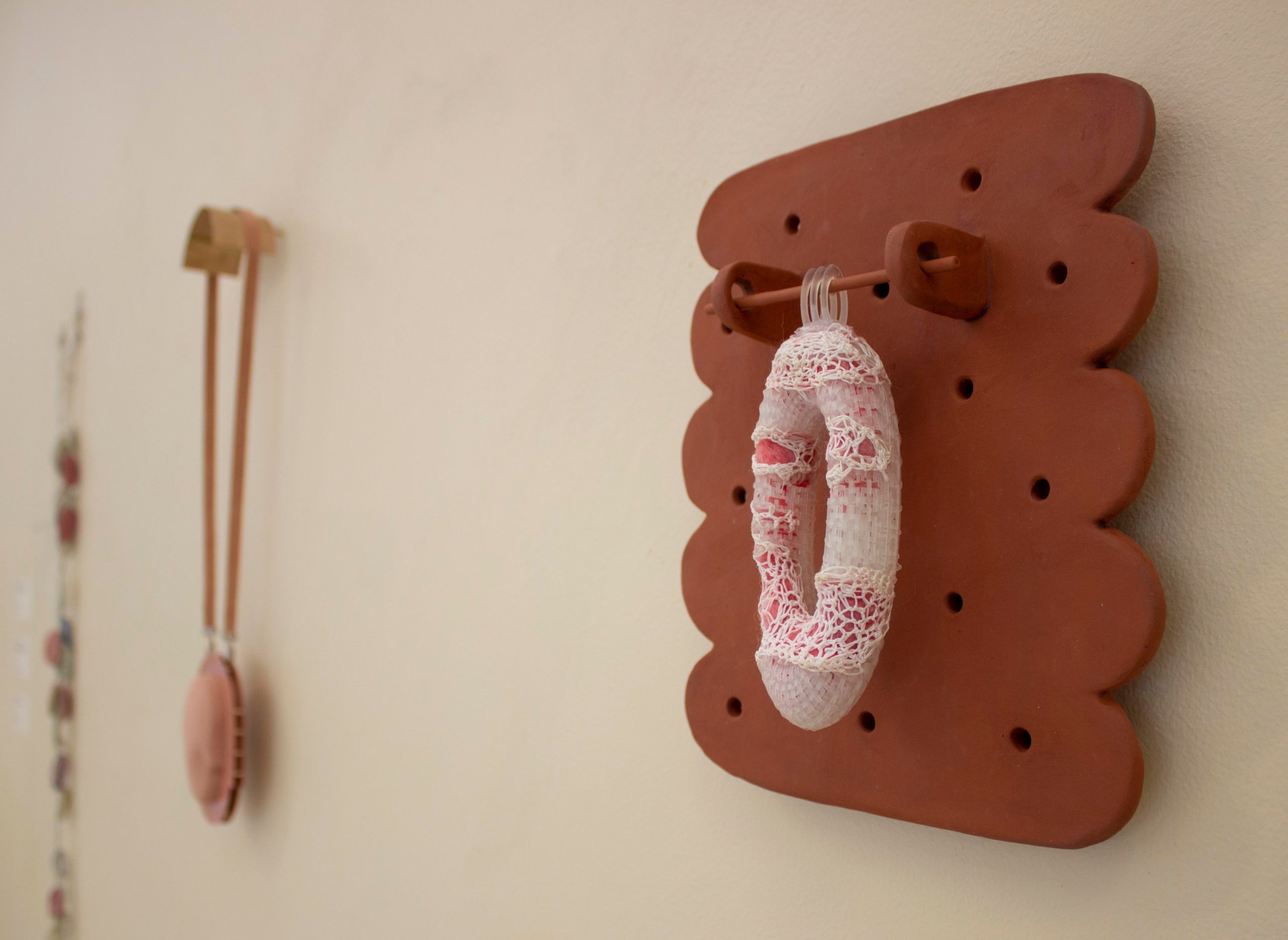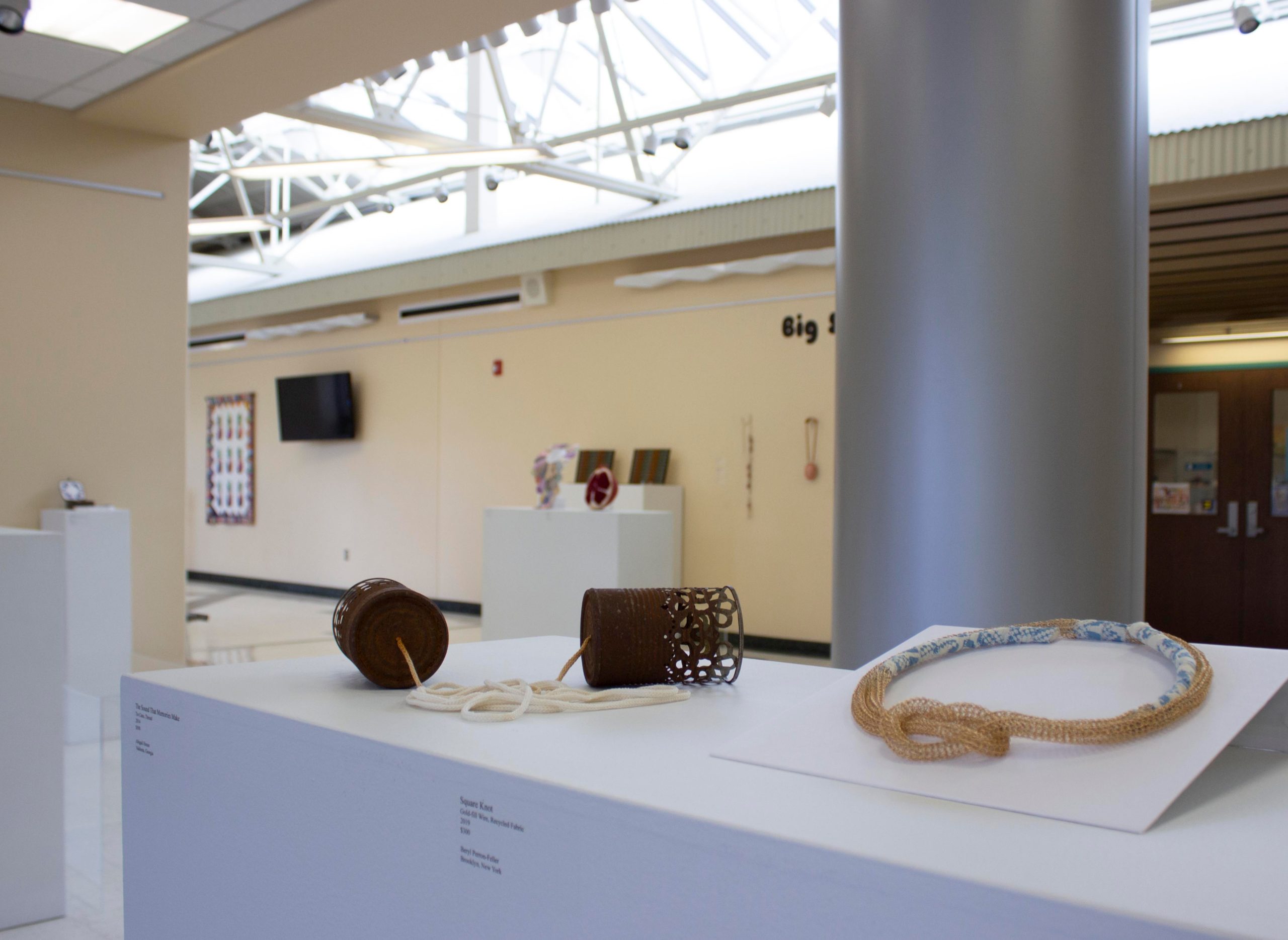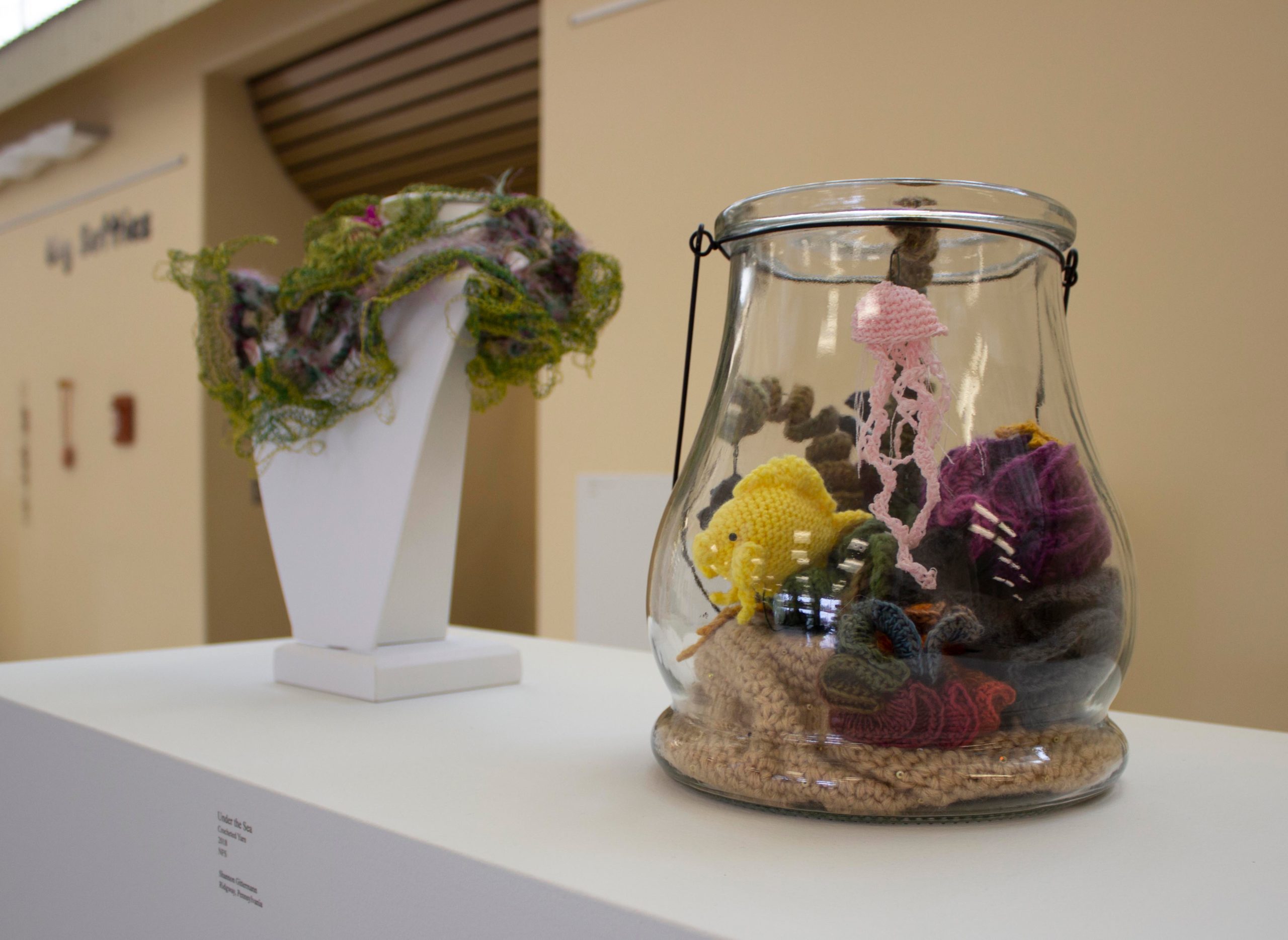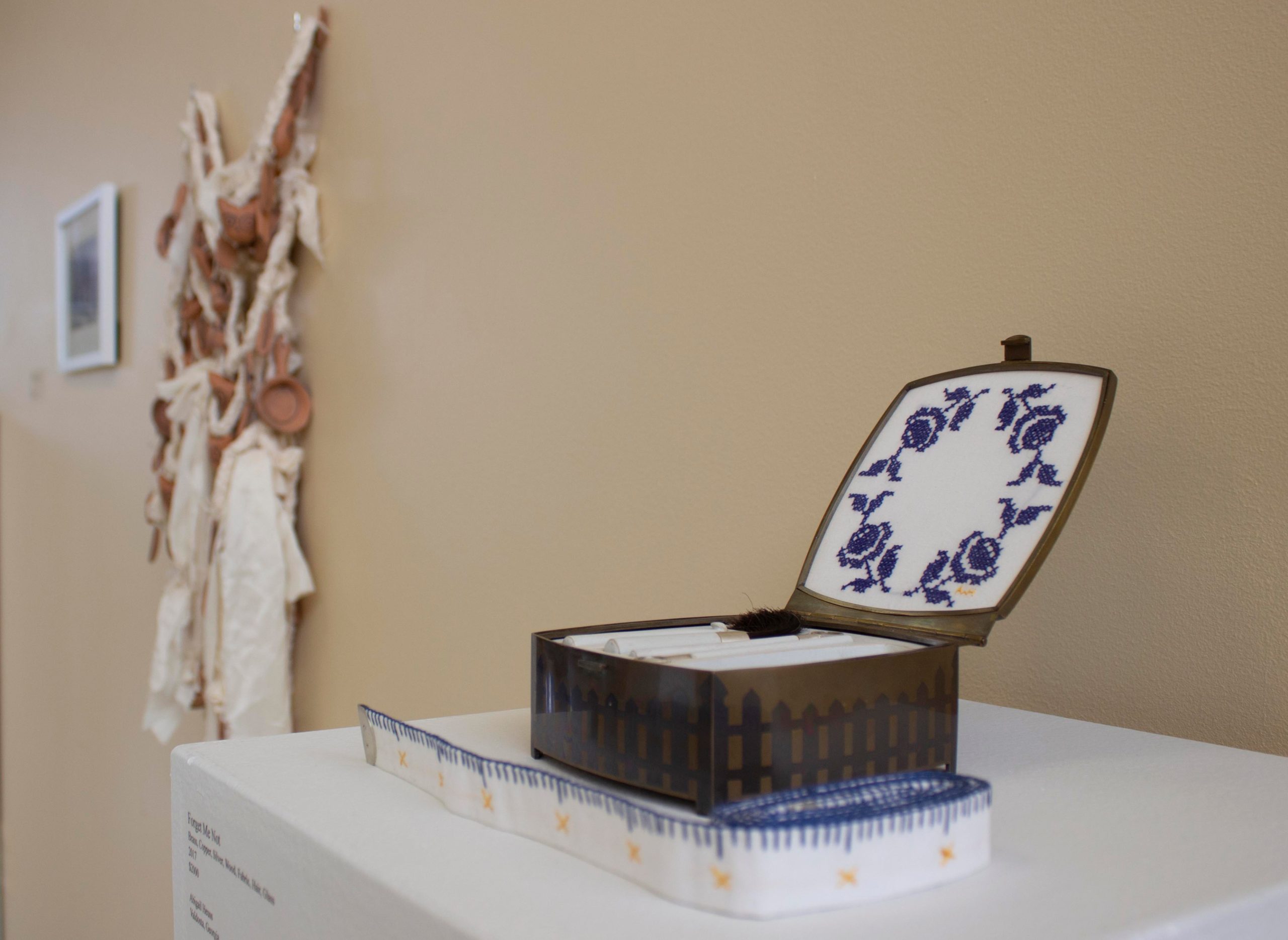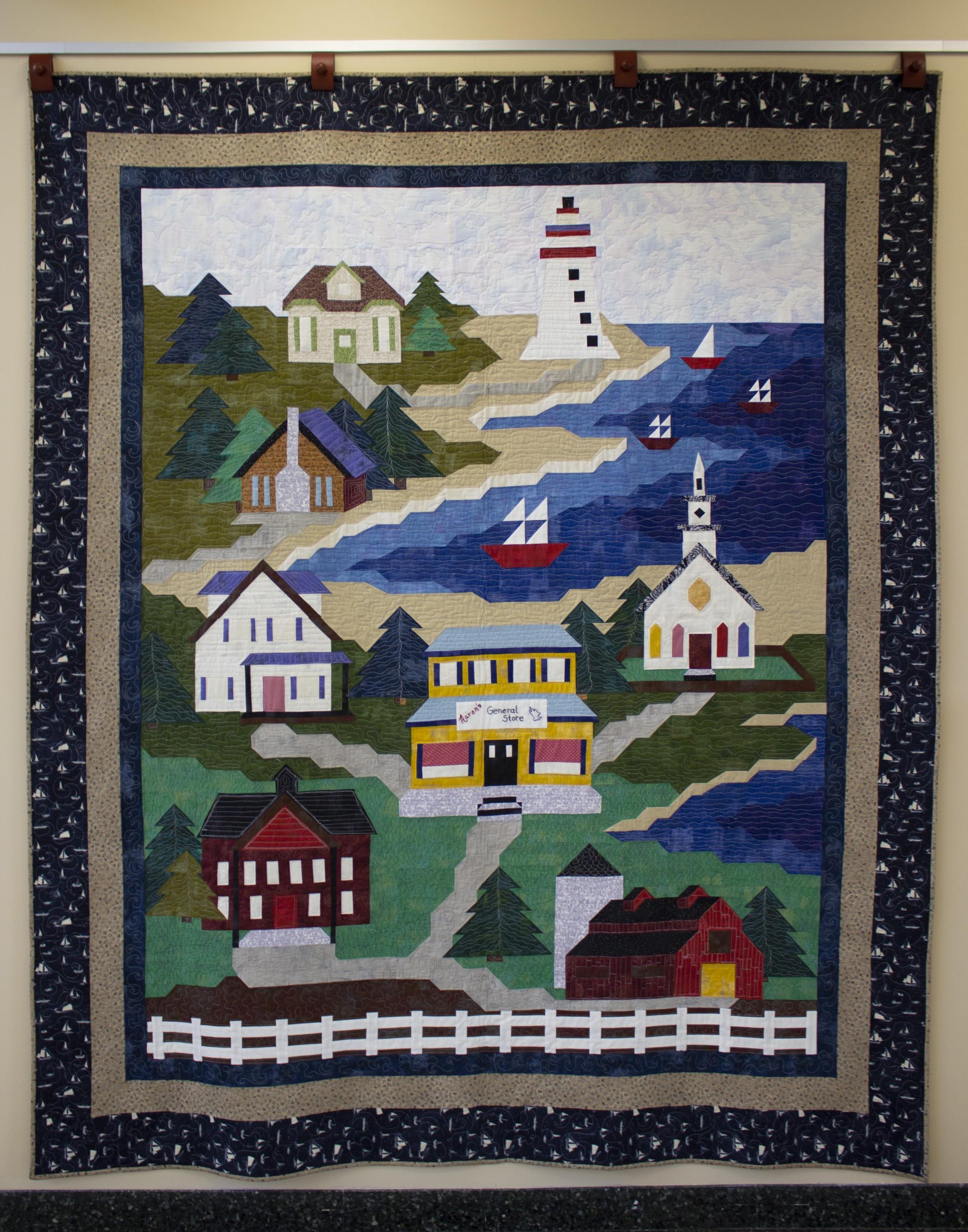 Village by the Sea – Quilt – 2022
Sharon Aaron
I am a retired art educator and began quilting after retirement. I have sewn most of my life, mainly clothing items. I started quilting because I have always admired the design of quilts over the ages. I began with simple designs and began this one to challenge my skills and design of a non-traditional pattern. I love creating illusions of texture and pattern using fabric and color contrasts. Working with the quilter helps reinforce the picture created and textures of the buildings, trees, and water.
Creating is part of who I am. Be it paper, paint, ink, metal, or fibers. I have knitted and sewn most of my life and enjoy the end results as well as the challenge of any media.
Keaton Belli
Keaton Belli makes functional, mixed media, ceramic vessels for plants, candles, and personal treasures. His work showcases the technical aspects of ceramics, knitting, and candle making alongside the playful creativity of handicrafts. The result is colorful, unique household items which invoke serenity, joy, and comfort during use. Keaton's work is made by hand in Oakland, California.
The impulse to investigate via touch is often associated with children. Adults know to keep their hands in their pockets, especially in an art gallery. But why?
Contrasting textures and unexpected combinations of materials entice viewers to reach out and experience my work with their hands, a return to tactile exploration. My work is functional, which heightens the temptation to touch. By juxtaposing materials with dissimilar textures, my aim is to reward those who choose to experience my work with their hands, not just their eyes.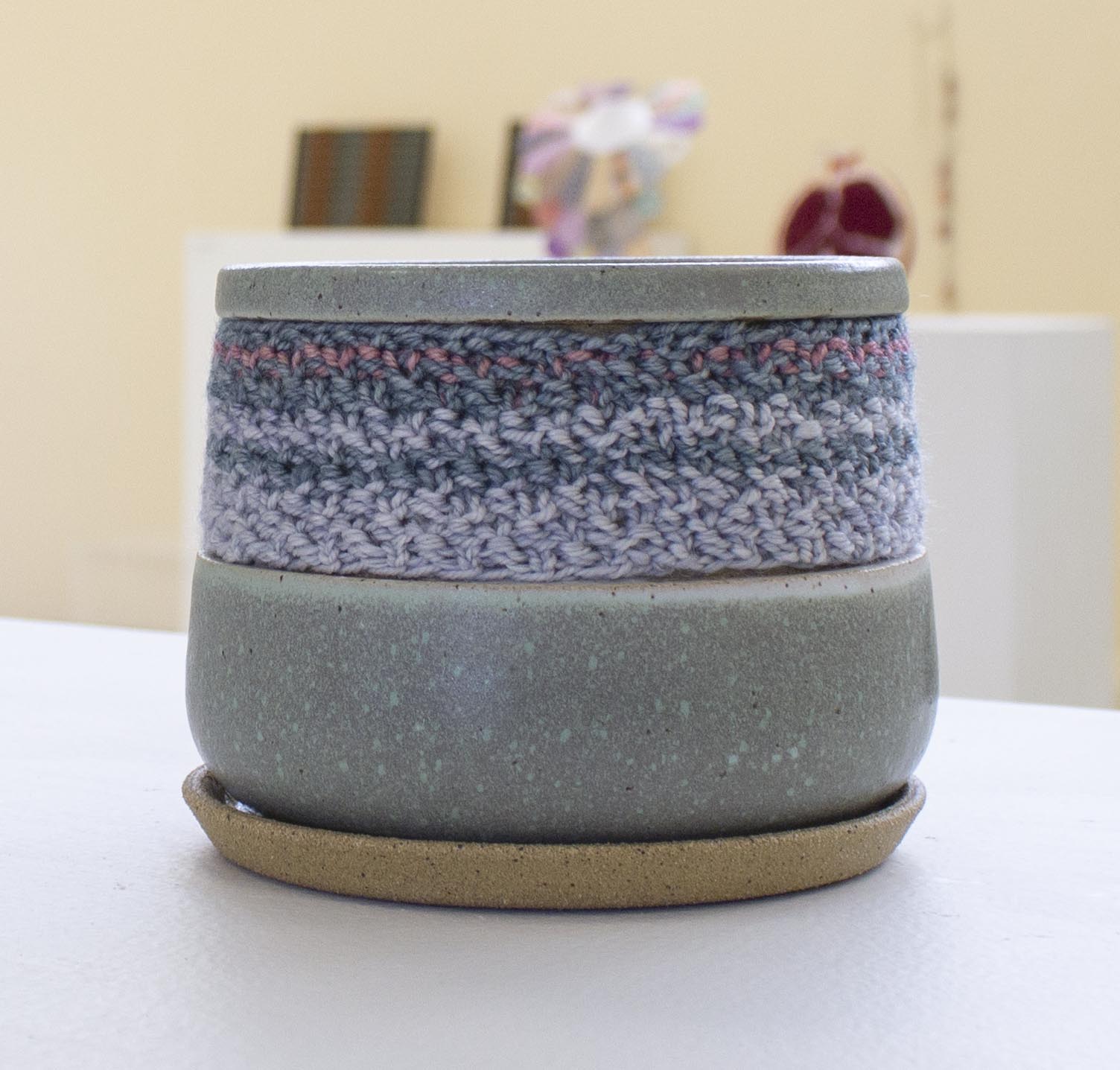 Cool Mint Snugglepot – Stoneware, Mid-fire Glaze, Merino-silk Blend Yarn – 2022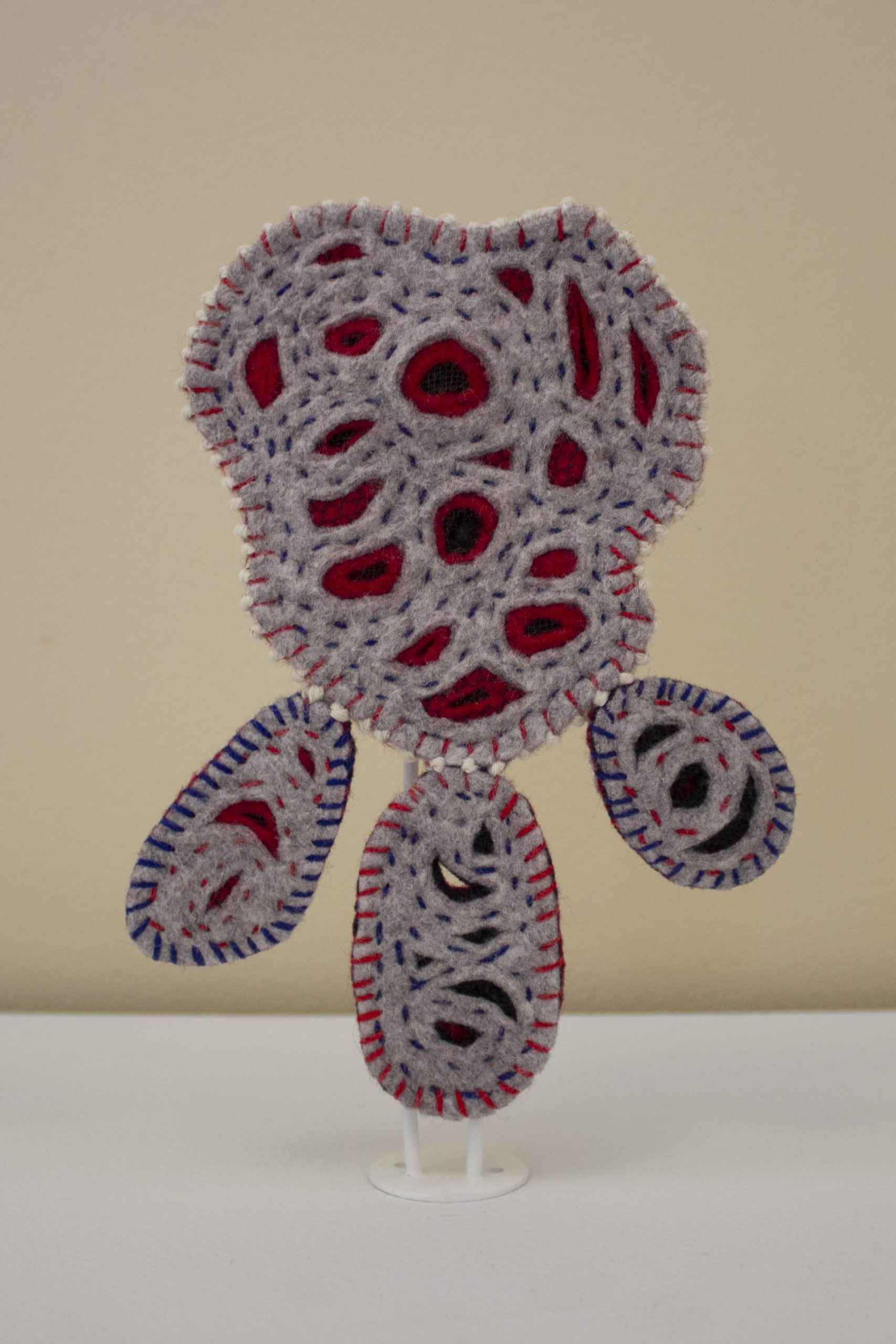 Felt Ocean Forms No.1 – Wool, Felt, Tulle, Brass, Nickel, Embroidery thread – 2020
Arielle Brackett
Arielle Brackett is a metalsmith and mixed media artist based in Portland, Oregon. She received her BFA in metals at the Oregon College of Art and Craft in 2017. She teaches metalsmithing and fiber arts classes at Multnomah Art Center, Ninety Twenty Studios, Wildcraft and Sitka Center. Brackett was awarded best in metals at the Colorado Gallery of the Arts in Littleton, Colorado and the Art Center of Estes Park in Estes Park, Colorado and Juror's Choice Award in Jewelry from CraftForms 2021.
She has shown nationally and internationally. She has participated twice in Romania and once in New York City Jewelry Week. Brackett has shown nationally at; the Armory Art Center in West Palm Beach, Florida, Baltimore Jewelry Center in Baltimore, Maryland, Society of Arts and Crafts in Boston, Massachusetts, Gallery Twenty Fifty Two in Chicago, Illinois, Ann Marie Garden in Solomons, Maryland, Portland Winter Light Festival, Portland, Oregon, Wayne Art Center in Wayne, Pennsylvania, Danaca Design Gallery in Seattle, Washington, InLiquid Gallery in Philadelphia, Pennsylvania, Pocosin Art Center in Columbia, North Carolina, Patterson-Appleton Art Center in Denton, Texas, Edwardsville Art Center in Edwardsville, Illinois, Left Bank Annex in Portland, Oregon, Ton Pottery Gallery in Pittsburg, Pennsylvania, and The Art Center of Estes Park in Estes Park, Colorado. Brackett has shown work internationally at; Craft Council of British Columbia in Vancouver BC, Canada, Arcub Gabroveni in Bucharest, Romania, National Library of Romania in Bucharest, Romania, Winzavod Contemporary Art Center in Moscow, Russia, and at the Museum of Stone-cutting and Jewelry Art in Yekaterinburg, Russia. She received two scholarships to paint in Le Barroux, France and Grand Junction, Colorado. In May 2016, Brackett was granted a full ride scholarship to attend a two-week glass workshop at the Penland School of Craft. In the summer of 2021, Brackett received a scholarship to participate in a collaborative project called Frogwood and was granted another full ride scholarship to participate again in May 2023. In February 2023, Brackett will be a resident artist at Sou'wester Art. Brackett has been published in numerous books, magazines and online platforms. In 2018, she was published in Jams 2018, which showcases her installation piece called, People Don't See the Weight. She was recently published in a book called How Art Heals, by Andra Stanton. She has participated in multiple runway shows including, Shift in Portland, Oregon and Exhibition in Motion in Chicago in 2019 and online in 2021.
As a practicing craftswomen, she has continued to challenge herself through large installations, small scale sculpture and jewelry. Aside from her studio practice, Brackett is building her art community. She is a founding member of a Portland based art collective, New New Collective. She is excited to continue to share knowledge, build community, gain skills, collaborate, learn, make, create and grow. Her enthusiasm for artistry motivates her to be a diligent, invested, and a dedicated maker.
Conceptually, We are all connected from Ocean to Forest, is about how people are often too removed from nature and how it has a detrimental impact on our environments. Ironically Covid-19, has forced people to get out into nature because simply there is nowhere else to go. I created this piece as a reminder that everything in the natural world is interwoven.
Patricia Cleary
I began my life as a weaver over 50 years ago while pursuing a BFA at Carnegie-Mellon University. That is why weaving for me has always been a way to create art. Even when I am weaving a blanket or placemats, I am making art. While I stopped weaving for 30 years to pursue another career, I never lost my love for it. Now that I am retired, I am happy to be weaving again. Although weaving is a solitary pursuit, I need to be with other weavers so I belong to the Butler, PA Guild. I also love to teach others to weave, so if you know of someone who wants to learn, please contact me.
I weave because I love it. I have engaged in a number of other fiber arts and enjoyed them, but I always come back to weaving as my first love. My approach to weaving is both inductive and intuitive. Induction is necessary to handle the highly logical, mathematical process of weaving on a loom. Intuition is necessary for turning a weaving into a work of art. Approaching weaving in both these ways, I am able to create a woven piece starting from several points. It may be the yarn, the weaving pattern or technique, or an image or idea. The fun of weaving is to incorporate all of them into something new, to do something I have never done before. As a weaver, I am always exploring, trying new things. I mainly weave on a standard 8 shaft loom, using commercial yarns, but not always. If there is one theme that drives my work, it is the natural beauty of the woods of NW Pennsylvania where I live.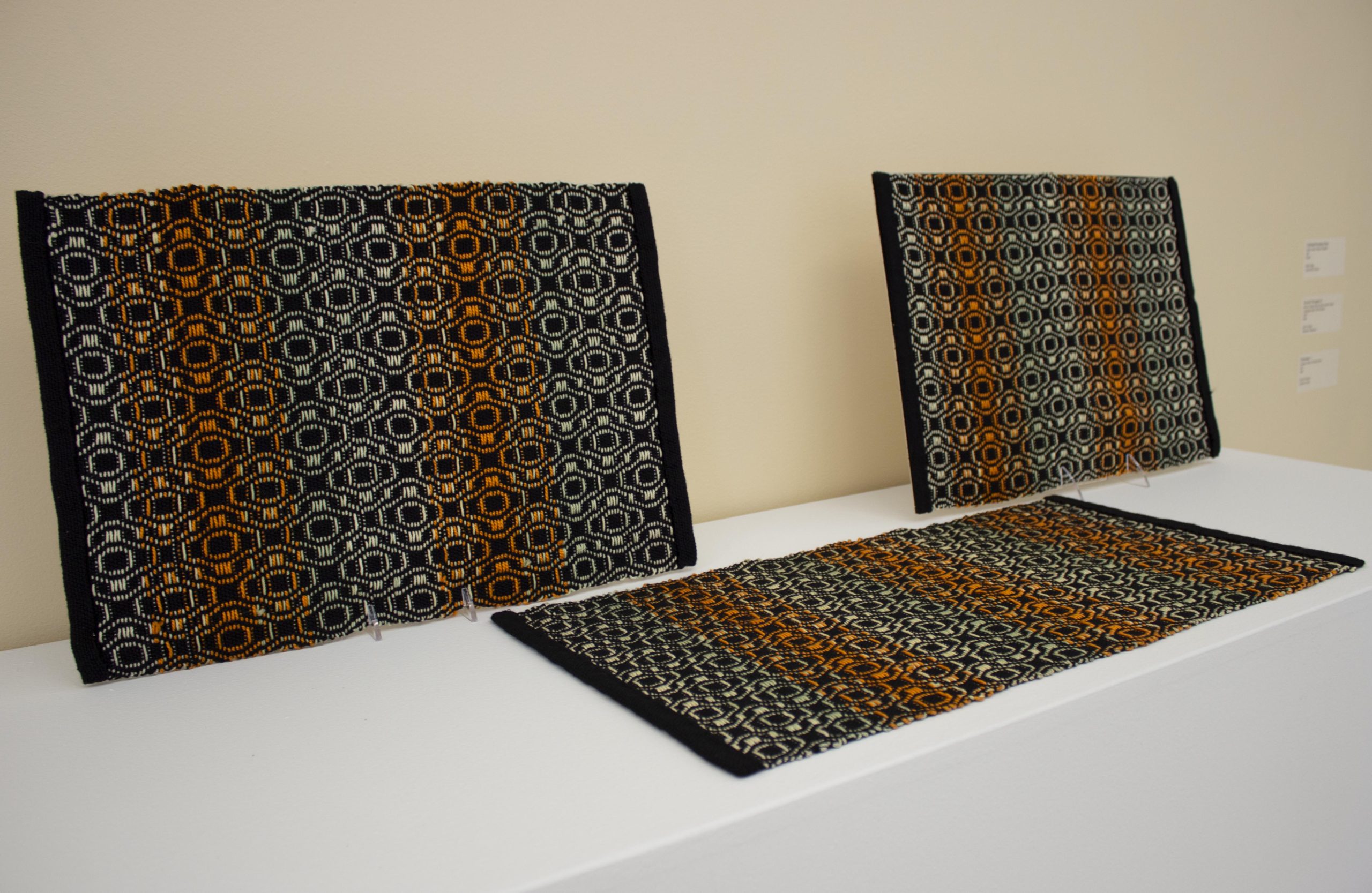 Placemats and Table Runner – Woven using a pattern of own creation. Cotton overshot on bamboo plain weave background. – 2022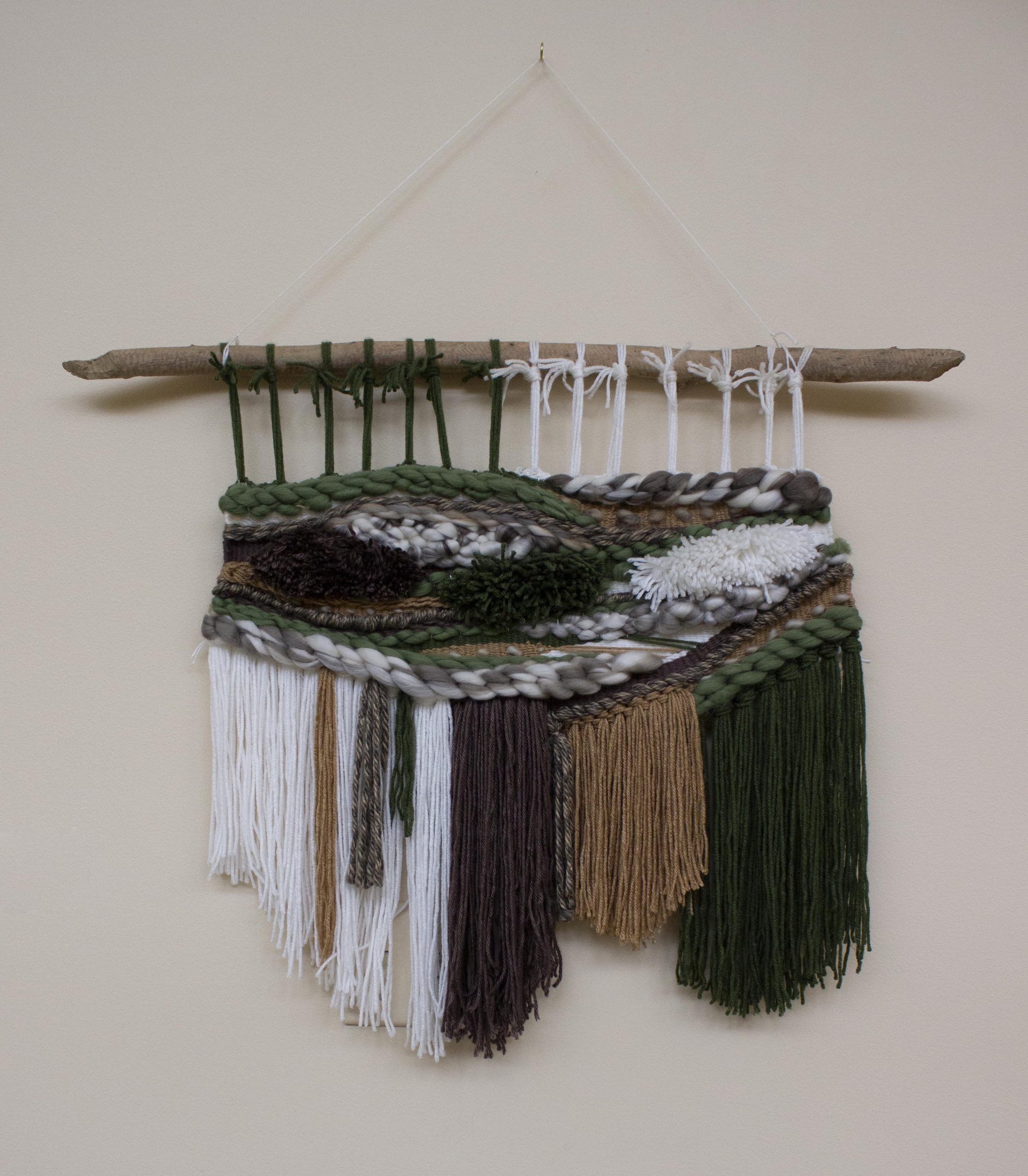 Home – Yarn, Roving/Hand Weaving on Frame Loom – 2020
Casey Frederick
My name is Casey Frederick and I am a professional artist, Licensed Clinical Professional Counselor, and Board Certified Art Therapist. I was raised in Cameron County and went on to obtain a dual degree in Arts and Psychology from Penn State University. Following, I attended George Washington University where I obtained my Masters of Art Therapy and have been providing creative therapy services to a variety of individuals since May of 2020. As a professional artist I have engaged with a wide variety of mediums, including cassette tape ribbon, which prompted three pieces to be sold to Ripley's Believe it or Not! museums around the world. Other creative interests include first responder and military portraiture, pastel pet portraiture, digital drawing, and more.
With being both a professional artist and Art Therapist, much of my work surrounds focusing on the process of making rather than on the product. It is truly about making meaning through creative expression in conjunction with the feelings and thoughts derived from looking at the finished piece. Weaving captures this in a beautiful way by telling stories through interwoven colors, textures, and patterns. These woven stories capture feelings, memories, and states of being from that specific time of creation and change meaning once completed when looked at through different lenses, environments, and even mental emotional states. The beauty of art creation is it's ability to capture a moment in time yet also allow for emotional projection from not only the artist but each of it's viewers.
Shannon Gittermann
Shannon Gittermann is an award winning self-taught artist who is new to the area. As she says Senior Process Engineer by day, Artist at night. Originally from Western New York, art has been a part of her life for as long as she can remember. She dabbles in all types of mediums – paint, wood, fiber arts, sculpture, etc and finds inspiration in the oddest of places. Shannon is always looking for ways to challenge herself, a picture will form in her head, and she will just go for it not knowing if it will work out or not or give her random supplies to see what she can come up with (rarely does she use objects as they were intended to be use). Many of her works have been in exhibitions, offices, and holiday signs in her front yard. Every piece that she does is colorful and with the intent to make you smile.
I take inspiration from the area that I live in and places I would like to visit. I try to use different tools like fabric to make a painting or crochet to create an aquarium, I like to think outside of the box with everything that I use and do.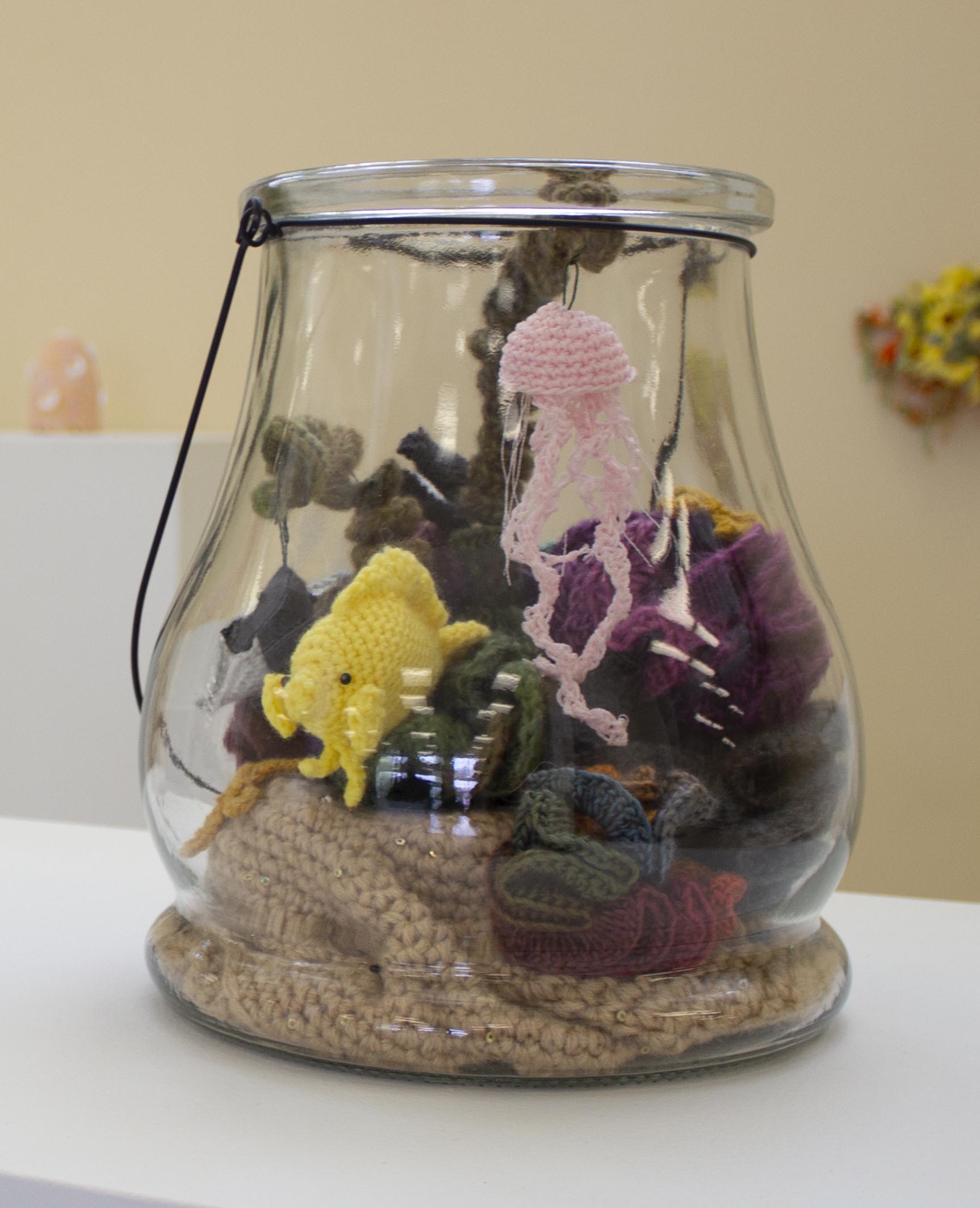 Under the Sea – Crocheted Yarn – 2018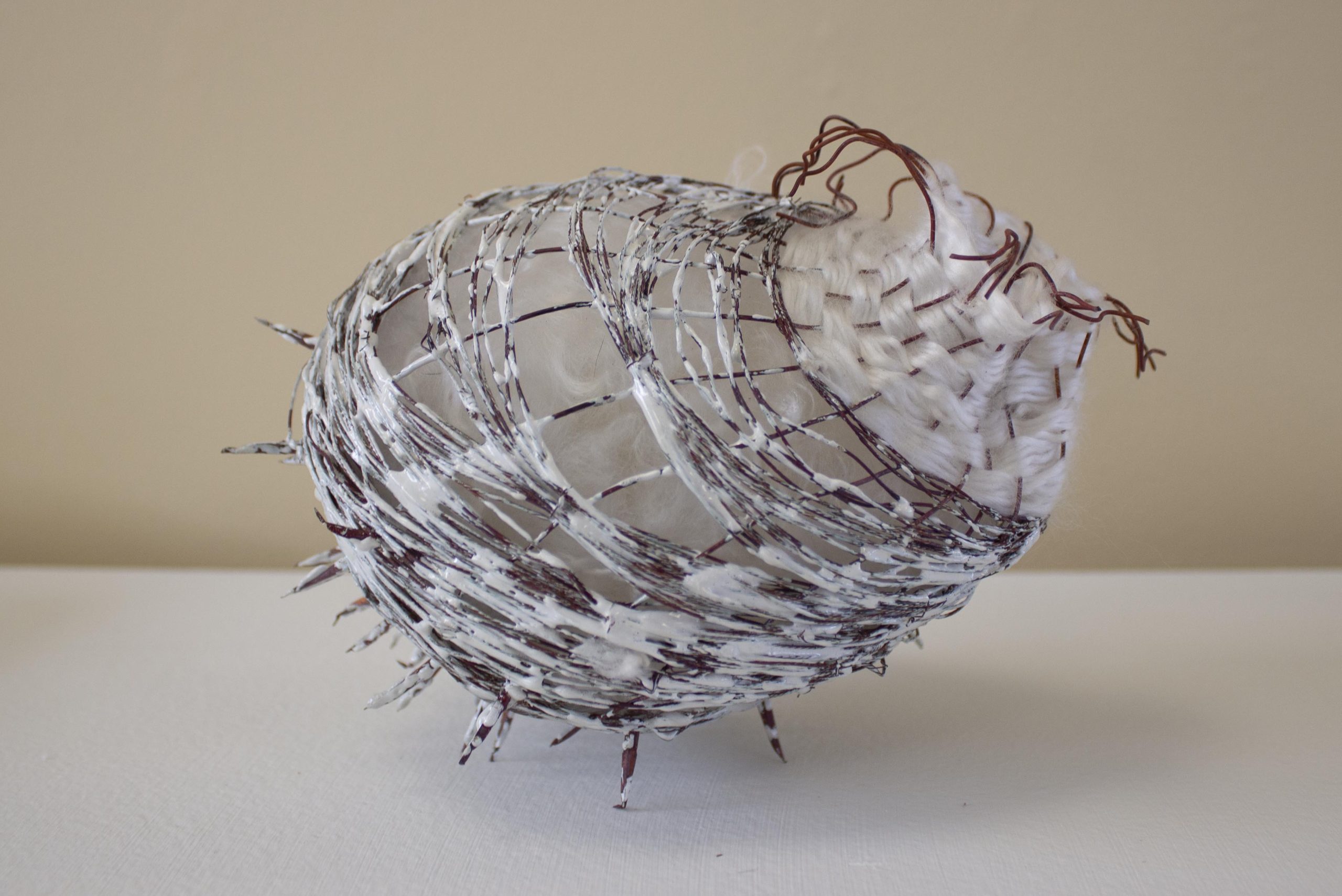 Self – Copper, Enamel, Copper Nails, Yarn – 2020
Brittney Hampton
Brittney Hampton is a metalsmith from Austin, Texas, living in Denton. She received her BFA at the University of North Texas and is a current MFA candidate.
Her work currently involves the combination of textile techniques with enameling. Her art is inspired by cellular structures, natural forms, and natural colors. She incorporates knitted copper wire which is shaped and then enameled. She found through experimentation that the way enamel encases knitted wire resembled cellular shapes. Each knitted form is unique and different from the last, the unique style makes each piece a one-of-a-kind work of art.
Fiber is incorporated into my body of work primarily because of its flexibility. Wool can be felted to conform to the interiors of forms I create in ways metal just can not. While wool is useful for sculpting, it can also be used to contrast the hard materials I use as the body of my pieces; such as metal and enamel. In my self-portrait series, I use wool for its softness, with it being meant to represent my softer more variable feelings. This vulnerability is contrasted with the hard exteriors I display to others, these works of art are representations of anxiety, comfort, and how I view myself.
Abigail Heuss
Abigail Heuss is an Associate Professor of Art at Valdosta State University, where she teaches Foundations and Metalsmithing courses. She holds an M.F.A. from East Carolina University and a B.F.A. from the University of Massachusetts Dartmouth. Abigail's work has been shown in exhibitions around the country and been published in several books and magazines, both nationally and abroad.
Abigail makes small sculptures and wearable objects with an eye toward the domestic, and an unapologetically sentimental focus on narrative. Her work tends toward stories about how we connect to each other, as well as the cultures, and physical spaces we inhabit. Her work is based in the tradition of metalsmithing, but is largely multimedia.
I am fascinated by jewelry and household items because they are objects of intimacy. I am drawn to stories about how we connect to each other and the physical spaces we inhabit. My recent work is an exploration of identity as it relates to memory loss and dementia. If we are all just a collection of memories, what happens to our sense of identity as the ability to recall our own history fades? Without personal narrative do we become lost to ourselves, shadows of our own pasts? Making this work is an investigation of communication and recollection, the habits and hopes that remain as memory fades away.
Textile techniques are an important part of the storytelling process for me. Many of the works in this series recall individuals for whom sewing, and needlework were an important aspect of life, and a way to both provide for and protect those they loved. Incorporating these techniques provides me a connection to the subjects of my narratives, and allows me the opportunity to stitch and mend for them as they did for others.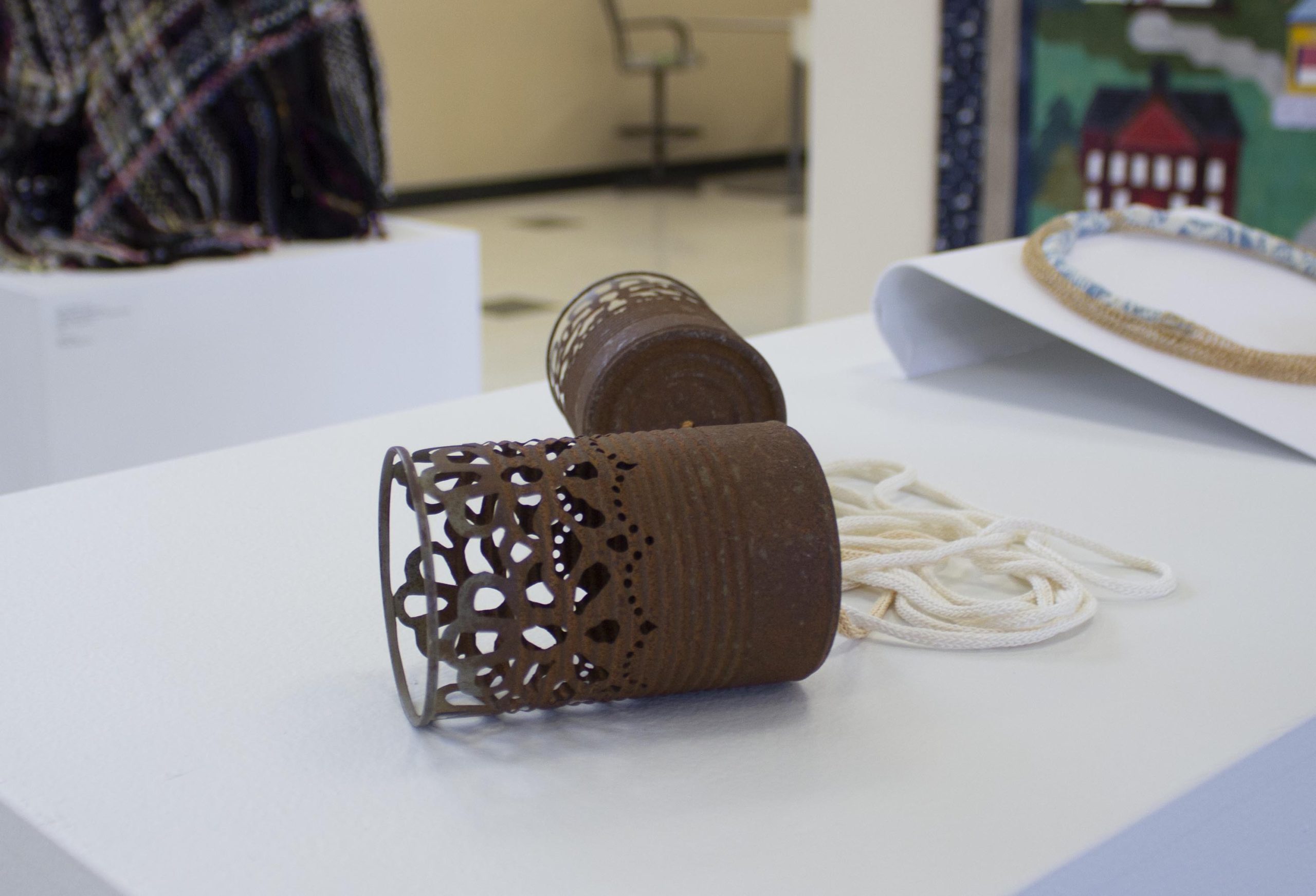 The Sound That Memories Make – Tin Cans, Thread – 2014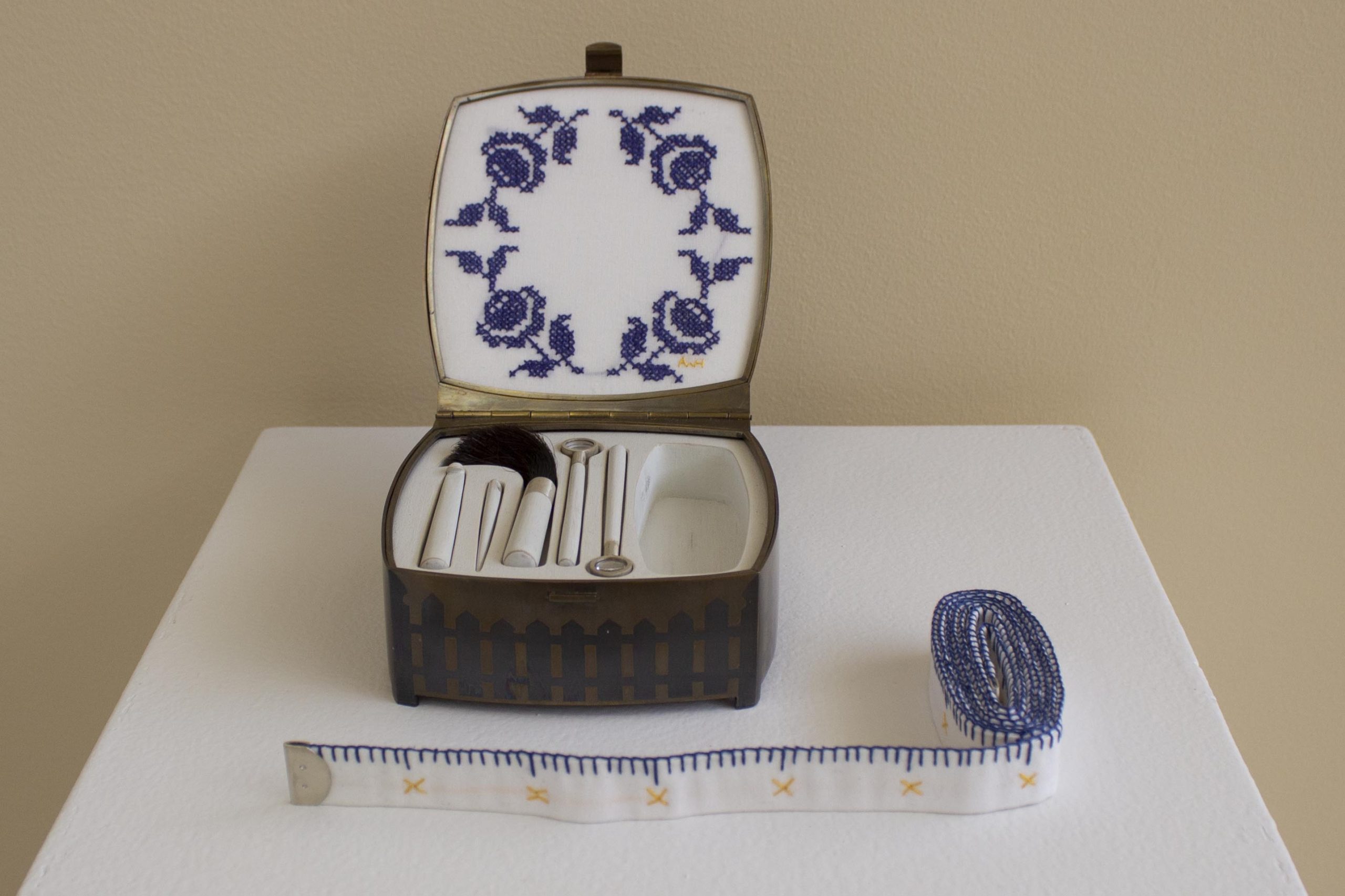 Forget Me Not – Brass, Copper, Silver, Wood, Fabric, Hair, Glass – 2017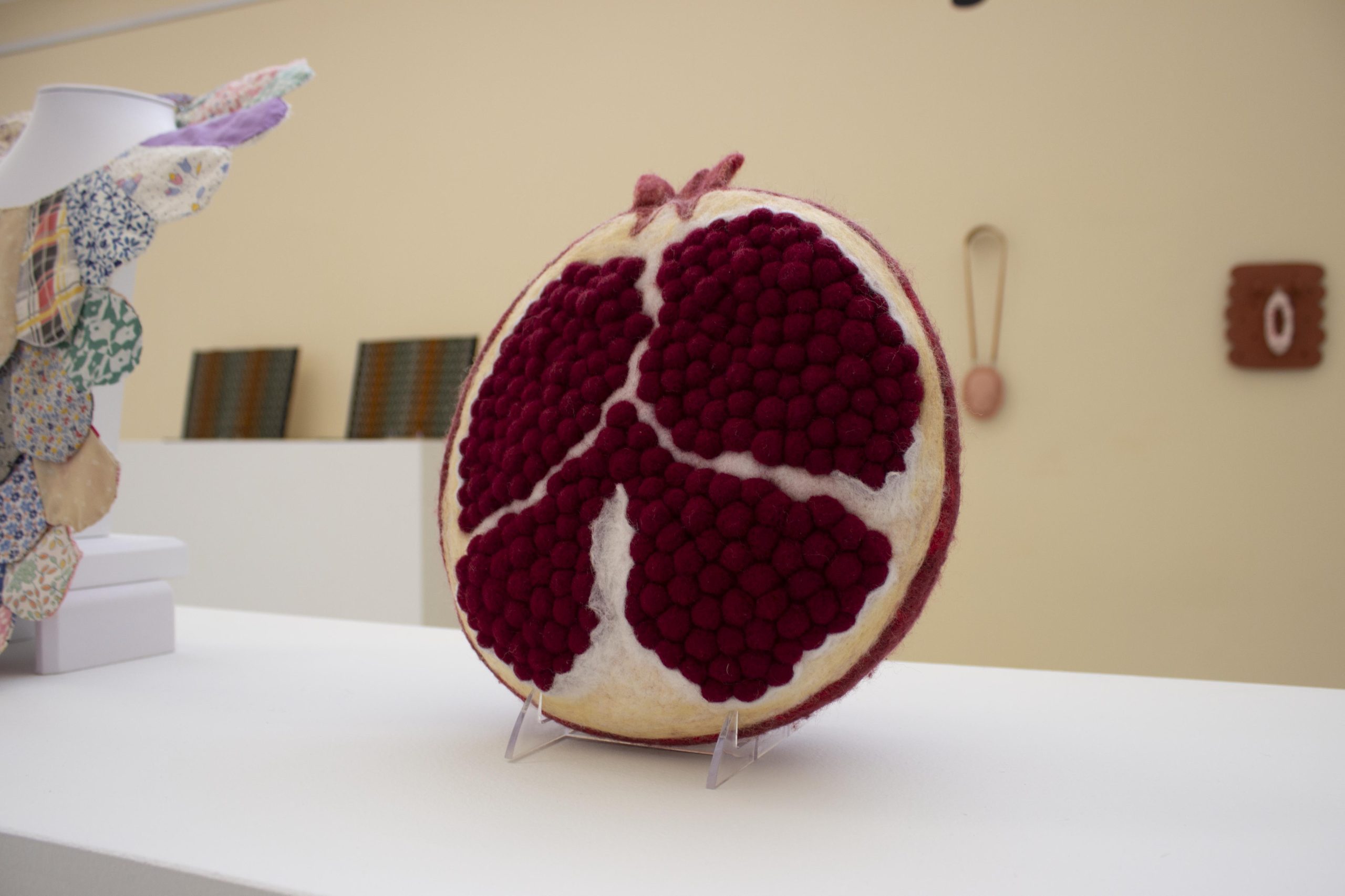 Pomegranate – Needle Felted Wool – 2022
As an artist, there is quite a debate surrounding whether art needs a meaning, purpose, or if it can simply be for visual aesthetic—this is where I prefer to throw caution to the wind. Much of my art has no specific meaning behind it; I do not feel like art needs to convey some sort of underlying message. For me, I create art as a way to express my mind's impulses.
For years I was primarily a ceramic artist until I was introduced to needle felting. I have grown a great appreciation for the art form because it highly contrasts the world I was originally surrounded by in ceramics; hard surfaces and delicate processes compared to the soft nature of wool felting. Working with my hands and being able to truly manipulate a form is what I find joy in doing—as if a form of therapy. While often recreating the natural aspects of the universe through my own perspective I find it important for my artwork to be able to speak for itself, standing alone in a crowded room I want my art to pull the viewer into its space.
At the end of the day, whether my art is just for visual pleasure or if I feel it holds the secrets to happiness, the true purpose of my art and why I am an artist is expression. Having the ability to share these expressions and display a glimpse of my headspace to the world in a way that I am so passionate about is something I will never take for granted.
Hannah Johnson
Hannah Johnson is an emerging ceramic artist from Hamilton, Ontario, Canada. In 2022 she graduated with her Bachelor of Craft and Design in Ceramics at Sheridan College in Oakville, Ontario. Hannah is currently a Ceramics MFA candidate at Kent State University in Kent, Ohio, USA. Hannah has exhibited work throughout the Greater Toronto Area, including in continuum at The Gardiner Museum and Constellations I at Lalani Jennings Contemporary Art. Upcoming shows for 2023 include Colour and Form at Lalani Jennings Contemporary Art, and her first international show, Western Reserve Currents at the 2023 NCECA conference in Cincinnati, Ohio.
My work formally explores form, surface, colour and material integration. Using inspiration from the world around me, I aim to create sculptural objects that reflect my own notions of beauty and the sense of child-like wonder that is lost as time passes. Inspirations include the hardware store, food, nature, and kids crafting materials.
While making, I consider if a person can be hard and soft, serious and playful, youthful and mature, simultaneously. By incorporating play and experimentation in the making process, I reflect on how these contradictions can come together in form, surface, colour, and materiality. Textiles, specifically flocking and yarns, in combination with ceramic, explores the consideration of making a hard object soft. There is an element of illusion present that I find particularly thrilling when these two highly contrasting materials come together as they can cause one to wonder what exactly the object before them is. Child-like wonder is important; it draws you in and encourages you to slow down and look at the world around you a little closer.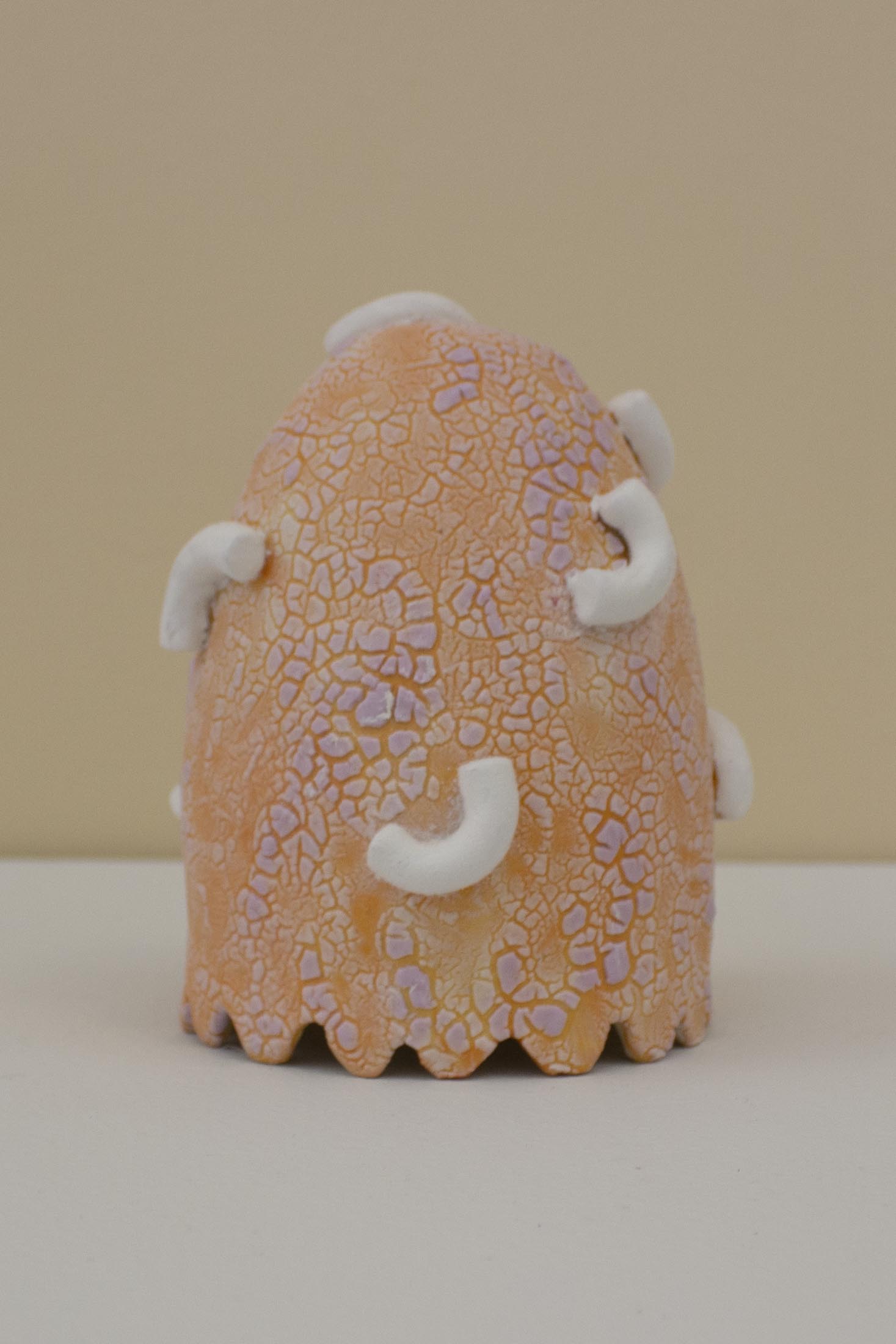 Object #9 – Glazed Ceramic, Paint, Flocking – 2022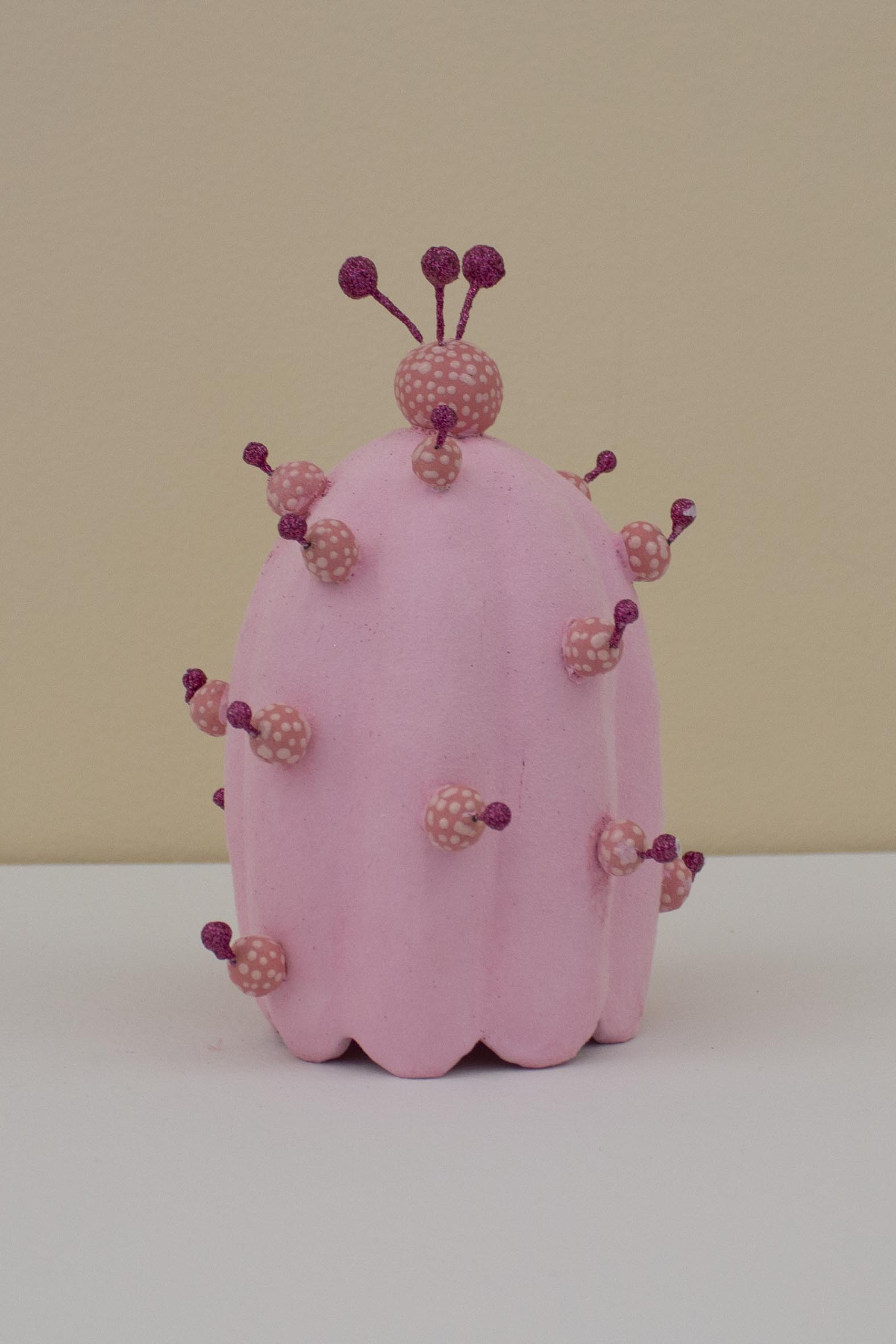 Object #11 – Glazed Ceramic, Paint, Flocking, Glitter, Wire – 2022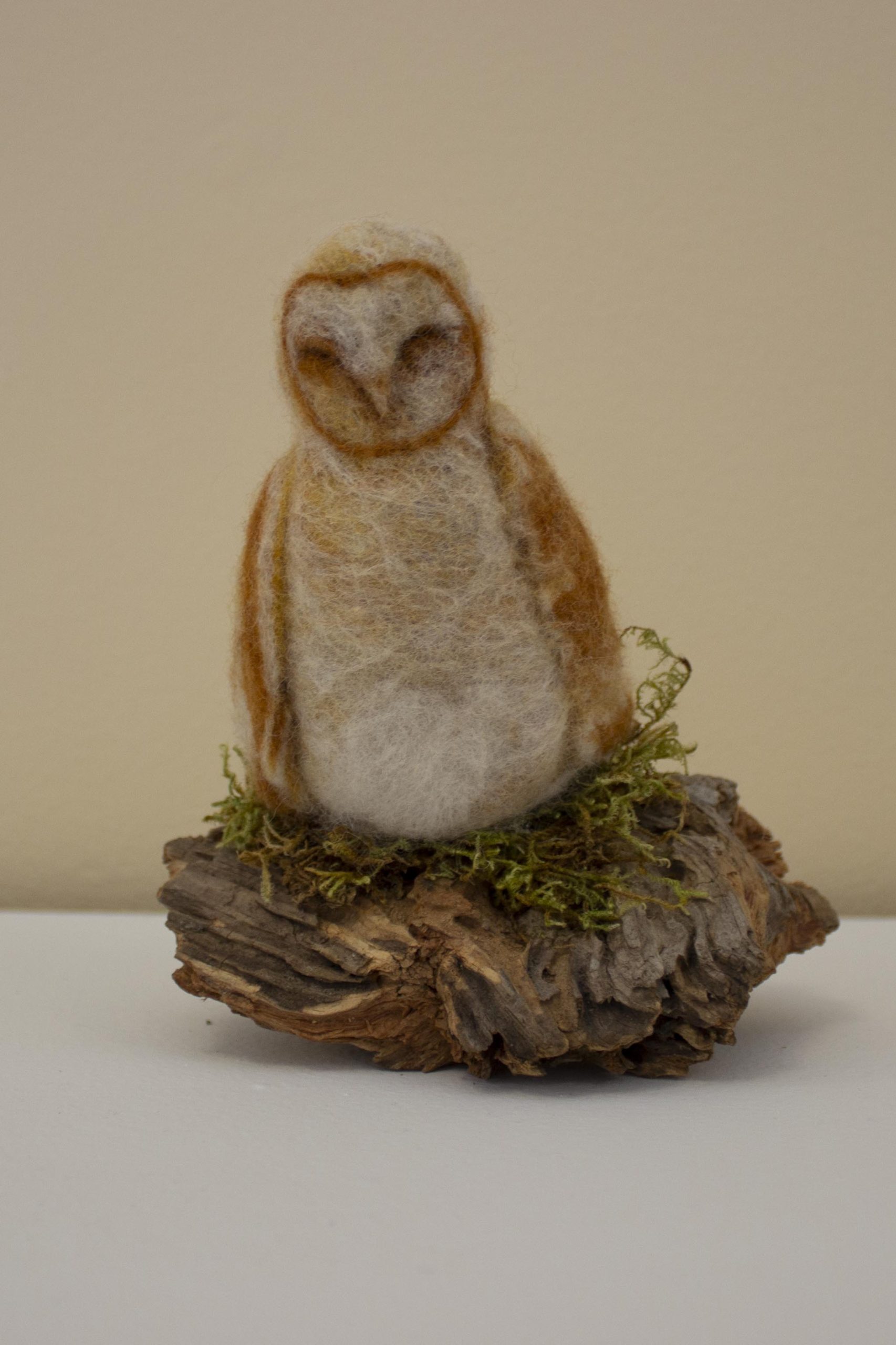 Beyond the Veil – Felt, Cotton, Moss, Driftwood – 2022
Morgan Mine
My name is Morgan Alexandra Mine. I am 22 years old, residing in the city of Pittsburgh, PA. I am currently a student at Slippery Rock where I am studying to obtain my BFA with a concentration in Fabric Art and Psychology. I utilize a wide range of mixed media to produce both two- and three-dimensional artwork. I have worked as an assistant teaching artist for children at Sweetwater Art Center in Sewickley, Pennsylvania and those with intellectual and developmental disabilities at Creative Citizen Studio in Pittsburgh, Pennsylvania. In 2022, my work has been displayed nationally at the Women's History Month exhibition located at the Pittsburgh City-County Building, as well as internationally at the Textile Mood exhibition which traveled from Slippery Rock, Pennsylvania to Lisbon, Portugal.
Throughout the adversities I've faced, it was art that healed my soul. The creative process allows me to transcend into another realm. I get lost in the present moment rather than focusing on negative aspects of external events; further allowing total relaxation of the mind, body, and spirit. Art is a therapeutic healing tool that harnesses energy and telepathically transfers the artist's thoughts and feelings embedded in the work with the observer, subconsciously strengthening the underlying harmonic connection we have with our surroundings. Once we notice this new dimension of existence, we begin to discover that we are no longer isolated entities in separation with one another, we are elemental parts of an inseparable network of interactions.
My art is a physical representation of the energetic connection to everything surrounding us. I am a multidisciplinary artist, with a focus in fiber arts, photography, and art therapy. By combining my thoughts, visions, and experiences, I create mystical artwork that speaks to those who are willing to listen. I use a variety of materials to open the participator's mind to the healing powers located internally and externally, reminding them we are one with the universe. Once we tap into this magical frequency, we begin to free ourselves from the cage of fear and separation; awarding us the opportunity to rediscover the power of love.
Anela Ming-Yue Oh
Anela Ming-Yue Oh is a multidisciplinary artist with a BFA from the School of the Museum of Fine Arts. She uses materials that have a life of their own such as clay, paper, and fiber to feed her studio practice and create environments full of hope. As a mixed race artist of Malaysian Chinese descent, her visual language draws from her heritage as a reminder that there are reservoirs of strength we can draw upon from those who have passed away to imagine and construct new futures.
As a cactus matures through harsh environments, it undergoes a state change through a survival technique called "corking". At its base, soft flesh turns solid and bark-like to accommodate and provide a stronger support for the inevitability of green new growth. The prospect of future growth transforms its present reality.
As humans, we consider the world we wish to build by evaluating our present reality and how we can use it to catalyze a metamorphosis. To build a new world, we must become achingly aware of our environment. I am in love with the potential of the world and the spaces we create because I am constantly confronted with its failings to include and support me. As a person who is mixed race, I am in constant relationship with change and my surroundings; my identity and experiences are hybrid and constantly shifting based on my environment, how I identify, and how I am identified. I have to try and build space for myself in the cracks the intrusion of my otherness creates. We are constantly shaping our environments, just as they shape us; the process of changing, disintegrating, being reformed is constant. Transformation is the space where the past has a reckoning to becoming a future, where there is radical change under intense pressure. In my artwork to build spaces I can belong to and in, I am constantly forced to confront how we divide and categorize ourselves. Is it that I exist fractured and unwhole across the intersection of my cultures? Or am I an opportunity to rethink our divisions?
In my artworks, I utilize imagery from my Malaysian Chinese cultural heritage to draw the line between where I come from and who I will become. Batik patterning and the repetition of natural imagery is woven throughout all of my work. As someone who comes from a history of displacement, these cultural markers give me a sense of place and situate me where I am: home. My art physically manifests my own various states of transformation, as I bring into being environments that are conducive to my growth. I bring together dualities, transform reality, like the cactus who marries bark to flesh. My materials themselves go through transformations, state changes. They reflect physical dualities— hard ceramic, soft fiber— in an effort to reform brokenness into something beautiful and new. In the kiln, clay solidifies, quartz expands within its structure, sometimes cracking as it transforms. When paper dissolves into almost nothing in water, it is reformed through clinging to that which moves through it. I see cracks and fractures as sites full of potential for new growth, sites of change. My worlds are full of breaking, and rebuilding. They are futures for me to look to, environments for me to learn from.
Change is sorely needed: the social and physical structures of our world are falling apart. We live in a state of chaos to which none of us can truly belong. This body of work is for those of us who are trying to grow amidst the brokenness of the world and are being reformed. Our transformation as individuals is inseparable from social transformation. We have to constantly be in a cycle of reflection and action to be in a dynamic state of transformation.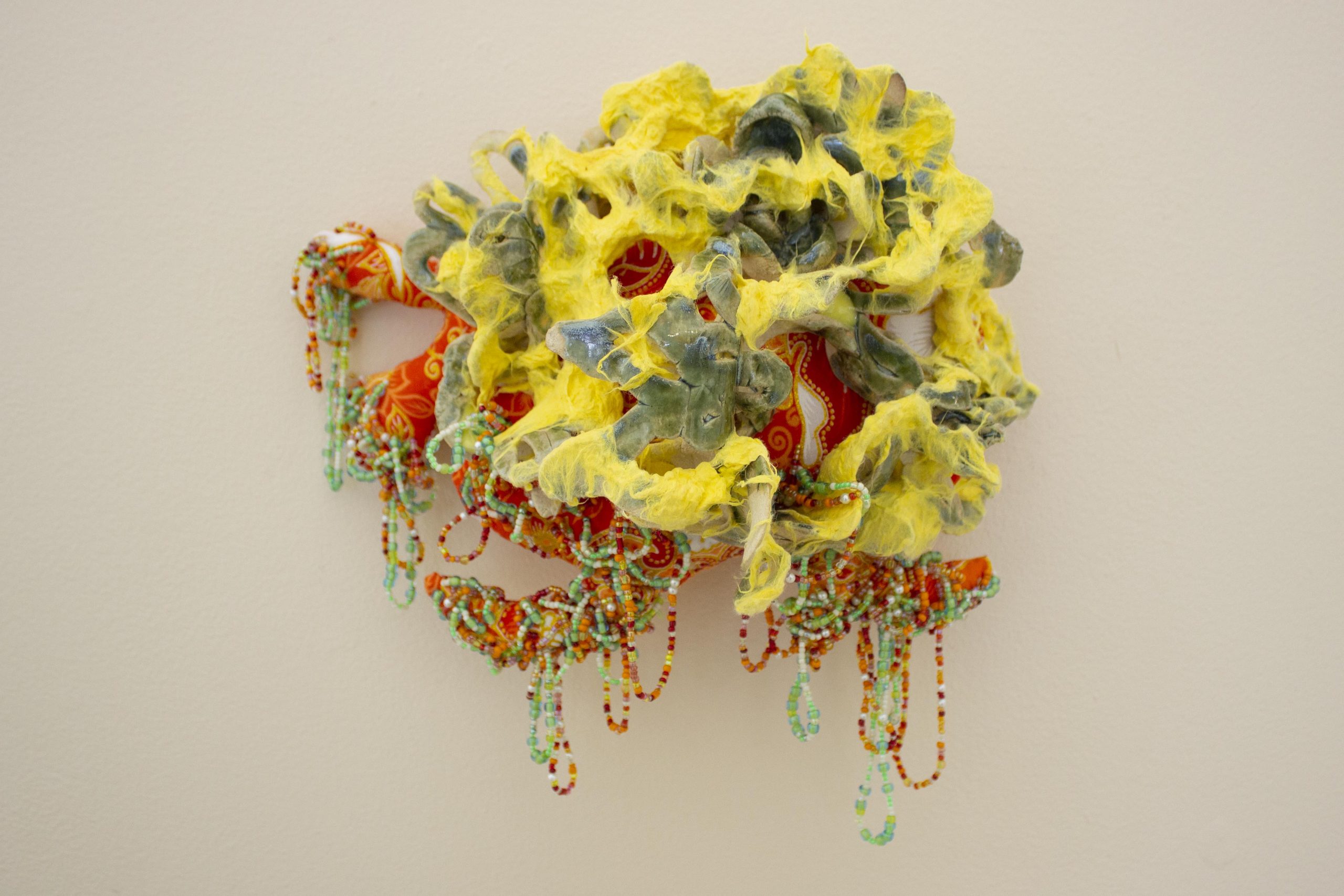 Nyonya Peony – Ceramic, Kozo fiber, Digitally-printed Batik, Beads – 2021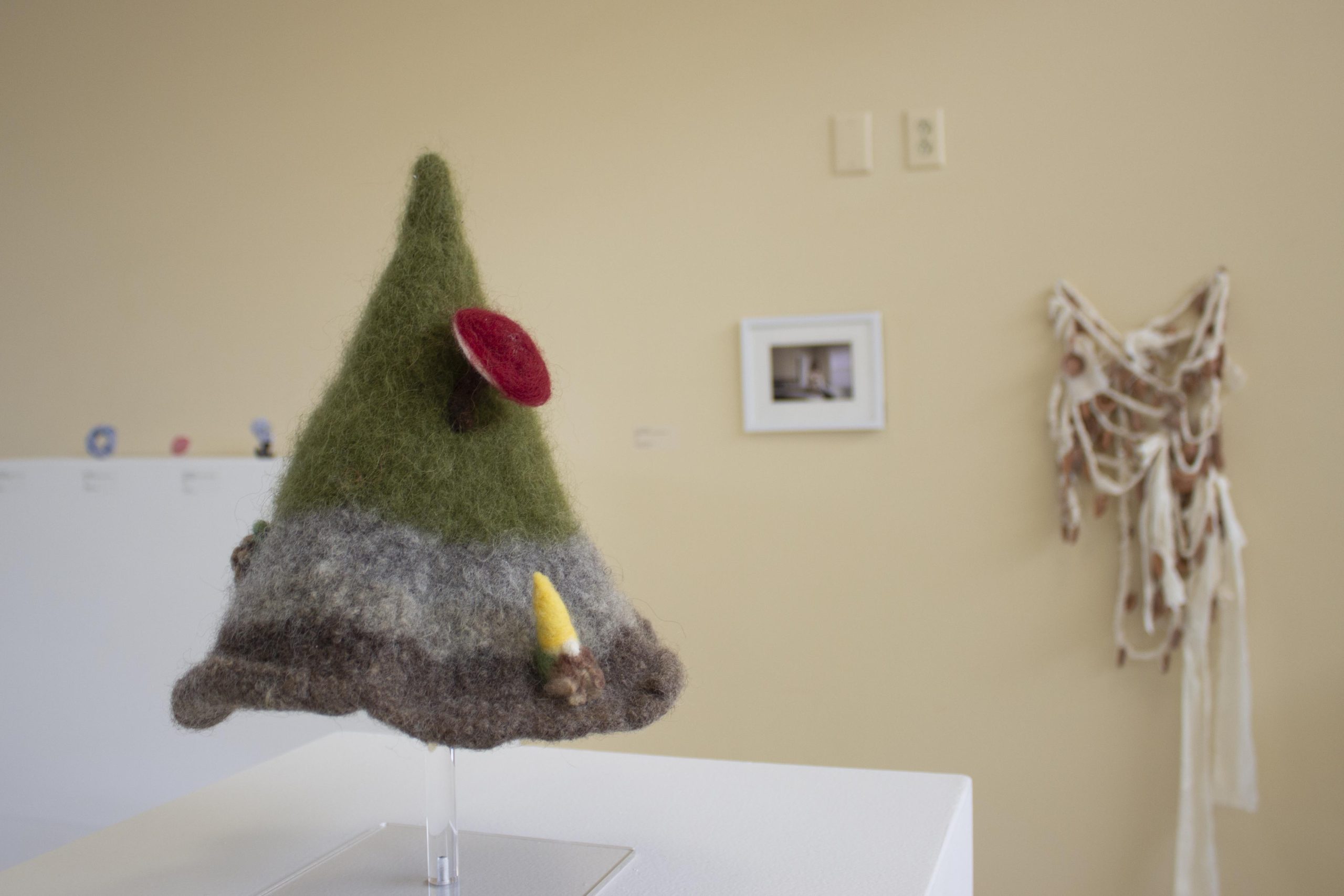 Witches Hat – Wool and Alpaca – 2022
Cheryl Oknefski
Peace, I am Cheryl Oknefski and my business name is Peaces Of Me. I bring the peace I have in my life from my Yoga, Reiki, Organic Farming and living in the Allegheny National Forest into my Art.
I have been creative and crafty since I was a child when I would spend care free days learning art from my Grandma, sister and wonderful school teachers and also being curious and observant of the world around me. I was born in Ridgway Pa but moved away at the age of 20. I lived in many different places in the USA and Germany. I raised two uniquely artistic children James and Jessica. Growing up in a family of nine helped me to figure out new and inventive ways to do things as I was trying to be different then my three brothers and three sisters.
I decided on the name of my business because of my ability to dive into many different mediums all being pieces of me and also because of my life long process of trying to live as peacefully as possible, also pieces of me. Therefore becoming Peaces Of Me. My favorite mediums right now are Jewelry made from silver and cabochons and also fold forming metals; Knitting, mainly with specialty yarns; Chainsaw carving, needle felting and stained glass. I also sew; paint on canvas; Tie Dye; make dream catchers and many other crafty endeavors. I am also an Organic farmer, Yoga instructor, Reiki Master and Lover of life! I am happy to spend my days in Elk County and enjoy the beauty that we here in PA are blessed with. Spending much of my time in nature or creating.
My fiber work as of late has been knitting hats with shrinkable wool and felting them. Once felted and shaped as I like I add needle felted objects to them to include mushrooms, gnomes, animals and more.
Kathryn Osgood
Kathryn Osgood is a metalsmith, enamellist, and former Associate Professor at College of The Albemarle. She received her MFA in Metal Design from East Carolina University. Her work is included in the collections of the Arkansas Museum of Fine Arts, Yale University Art Gallery, Mint Museum, Crocker Art Museum, Gregg Museum, Racine Arts Museum, and The Enamel Arts Foundation. Publications include The Art of Enameling, 500 Necklaces, The Art of Jewelry: Wood, Contemporary Enameling: Art and Techniques, Steel Wire Jewelry, The Art of Fine Enameling, and Metalsmith magazine.
I create dimensional jewelry pieces, interpreting organic shapes and natural forms. My work is influenced by my time spent living on the Outer Banks of North Carolina, reflecting the colors, textures, and forms of the coastal environment. The elements of water, wind, and sand combine with my interest in the botanical to inspire my jewelry. I use enamels and fiber elements to add color and contrasting textures to my work. In developing my pieces, I am interested in exploring the juxtaposition between the hard surfaces of metal and glass enamel and the soft surfaces of fiber. The addition of sewn and felted fiber elements creates an opportunity to add color and tactile interest to my pieces. I am not concerned with accurately representing a specific organism in scientific detail, but in capturing a spirit or essence and the dynamic growth cycles of the natural world.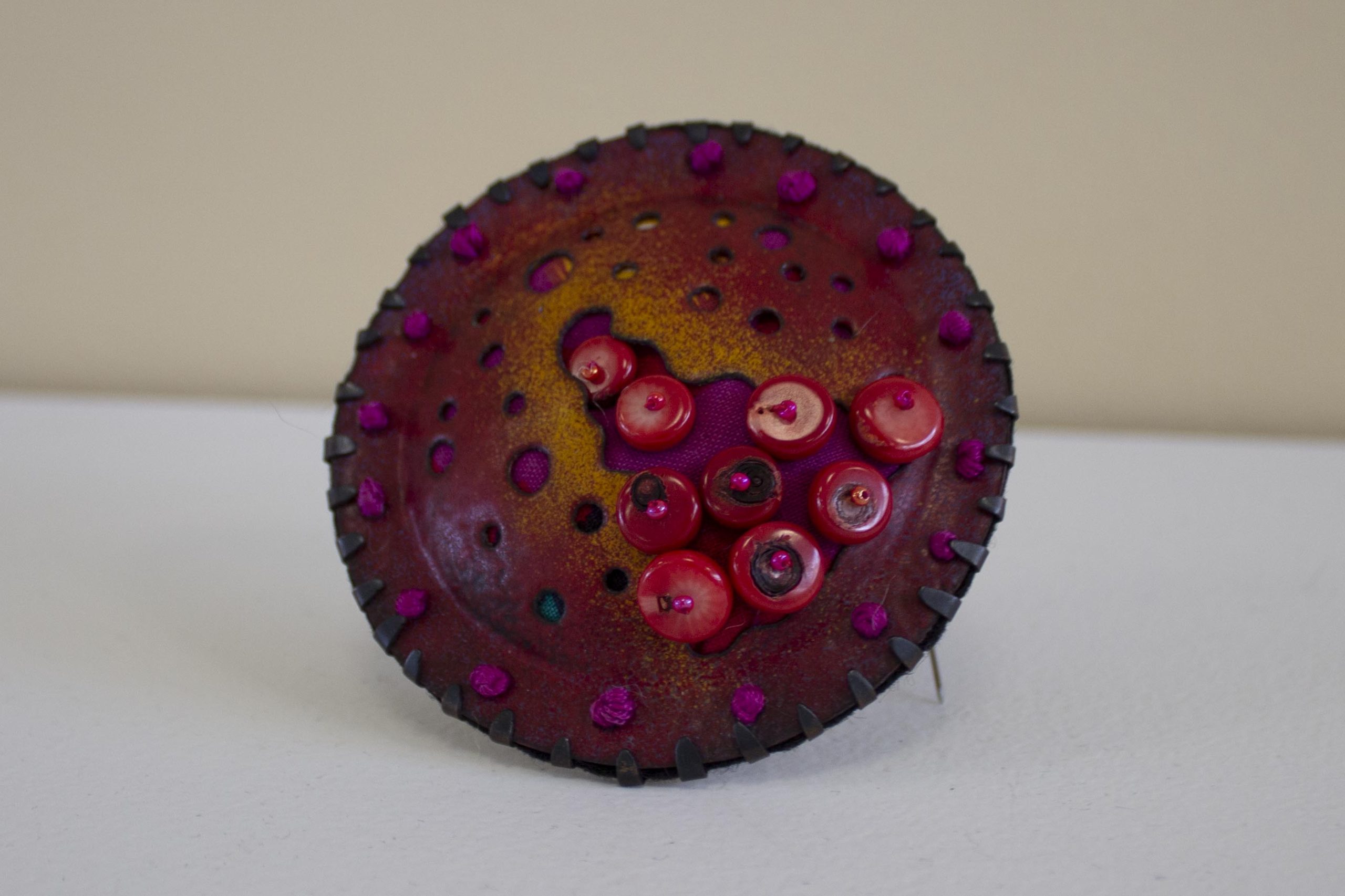 Red – Copper, Enamel, Sterling, Fabric, Coral, Embroidery Floss – 2021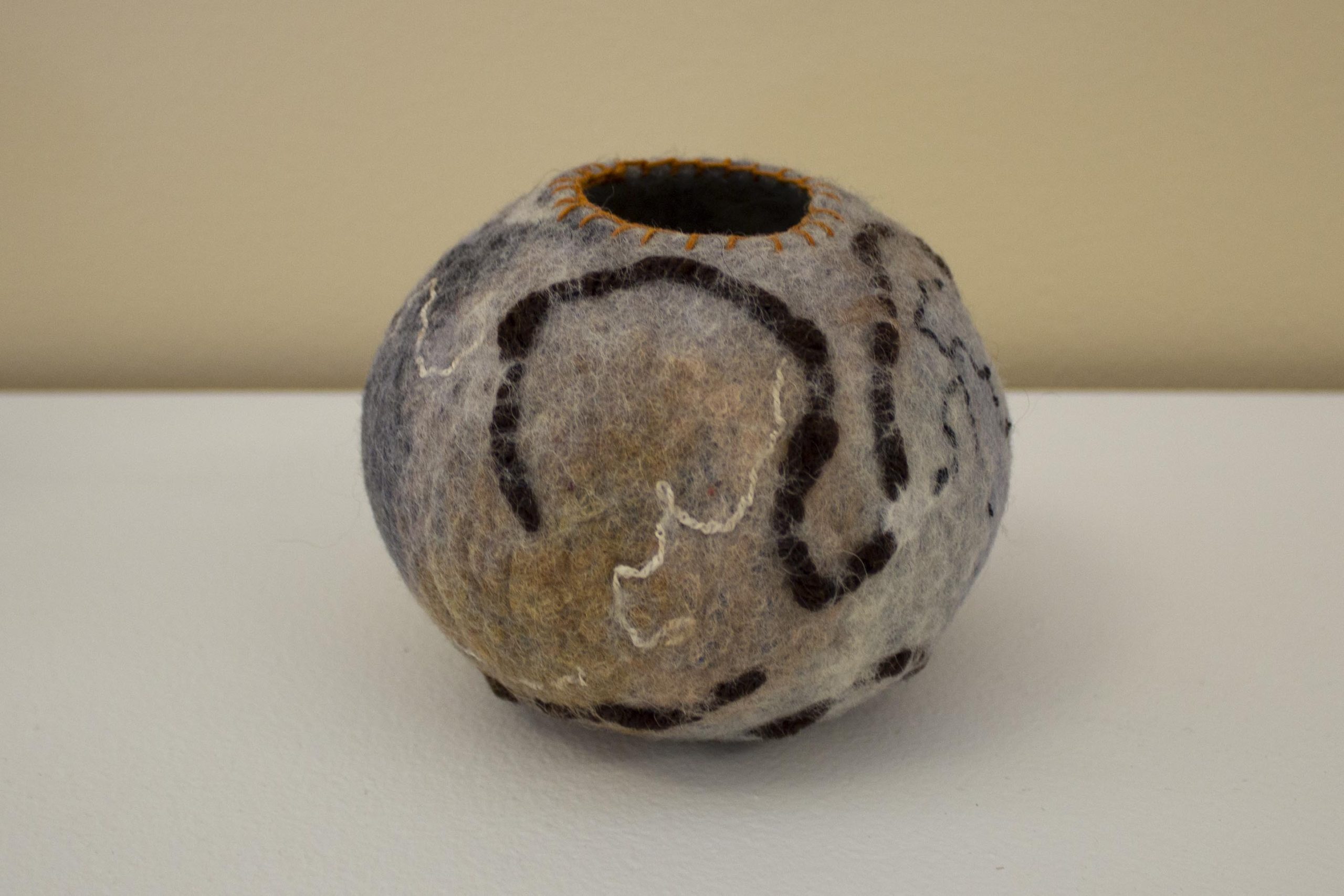 All is Well – Wet Felted and Embroidered – 2022
Debbie Penley
I have been working in fiber for 7 years after starting in handbuilt pottery many years ago. I am self-taught through magazines, books, and online groups. I have been juried multiple times into several prestigious art festivals and am a juried member of the PA Wilds. I am a serving member in several felt and fiber guilds and teach both workshops and classes in fiber art.
I like to explore the idea of "play" in my work, experimenting with color and shape in a way that brings a sense of wonder to the viewer. I often waiver between detailed realism and imaginative pieces, bringing a balance to my collection of animals, creatures, and organic forms. I create most of my work by felting wool, either with a needle or with soap and water. I use needle felting as a way of sculpting the wool into the shape I desire by building up the piece slowly. Similar enough to sculpting with clay, this is where I began my journey into feltmaking. I like the predictability of creating a piece that comes together as I work. The other method I use is wet felting. This ancient method has evolved to using resists and other techniques to create intricate detailed sculptures almost by magic. What starts off as flat layers of wool, opens up to become a hollow form with protruding parts. This particular method of wet felting requires much more planning than needle felting, and I enjoy the challenge of figuring out a certain shape or form.
Beryl Perron-Feller
Beryl Perron-Feller is an interdisciplinary craftsperson based in Brooklyn, NY.
Humans evolved not with ceramics but because of ceramics, the same argument can be made for fiber arts. Without the development of fiber arts ancient people would've been significantly more limited in their quest for survival. Fiber has played an important role in my work for years giving me the opportunity to express familial and historic connections in a free form medium. At the age of 4 my mom taught me to crochet, the same age she was when my grandmother taught her. This generational connection informs the larger picture of my work and allows me a way to pay homage to the craft and dedication that led me to where I find myself today. Crocheting enhances my work by creating an eternal juxtaposition between the rigid male dominated field of ceramics and the traditionally ascribed female world of craft art creating the non binary child that is my work.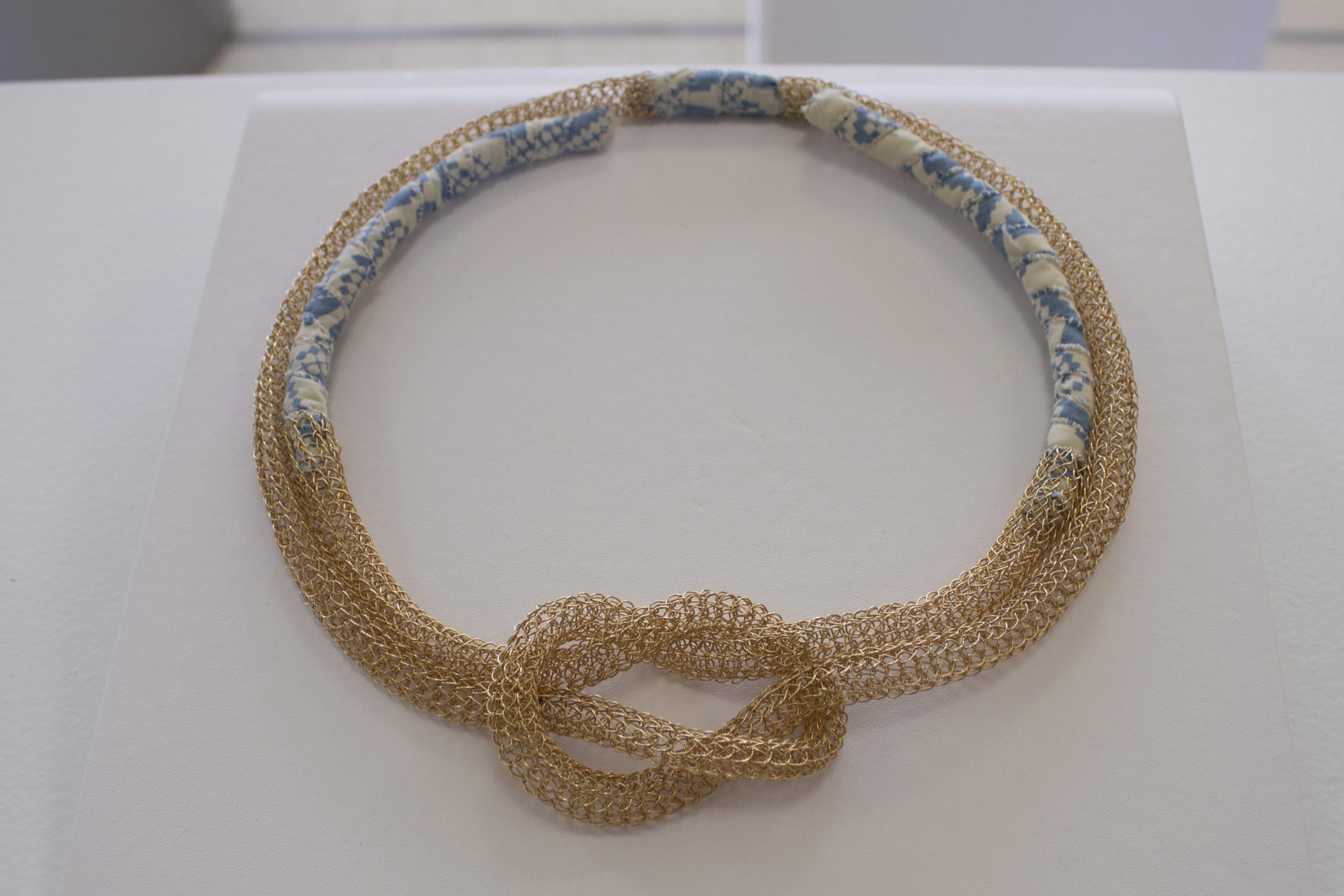 Square Knot – Gold-fill Wire, Recycled Fabric – 2019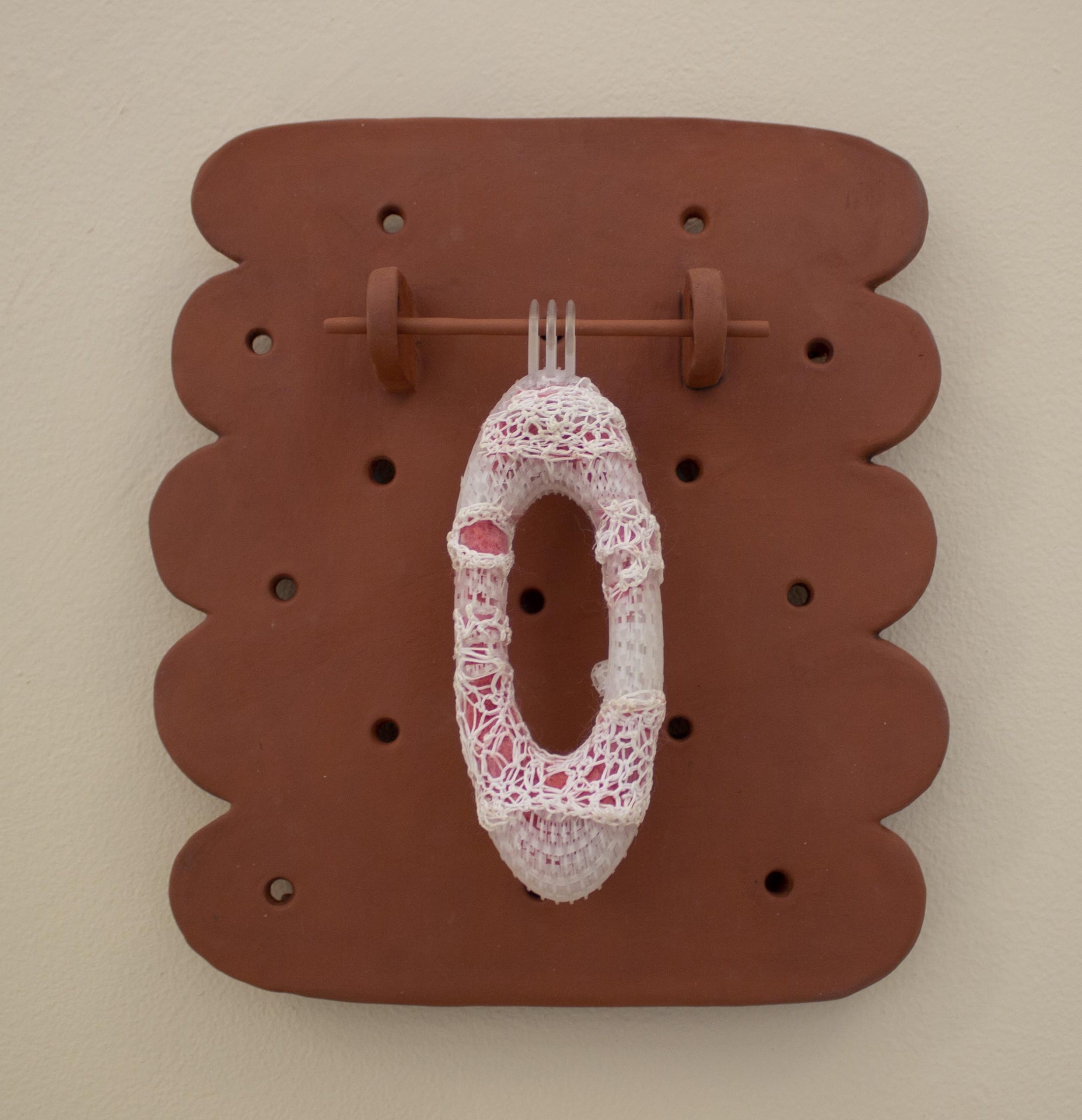 Permutare 1 – Ceramic, Fiber, 3D Resin Print – 2021
Naomi Peterson
Naomi received an MFA in ceramics from the University of North Texas (2021) her BFA in ceramics at the University of Wyoming (2017). She has been an artist-in-residence at the Houston Center for Contemporary Craft and participated in the annual, short-term, Neltje artist-in-residence program in 2018. Peterson has exhibited nationally; recently, she has participated in the Greater Denton Arts Council's 36th annual Materials Hard and Soft exhibition.
I use material and process to construct contexts to better understand and define connections between seemingly disparate ideas–such as hard and soft materials as well as hand-made and machine-made methods. Integrating both analog and digital methods including 3D printing, I embed layers of material and processual information in collaboration with computer-aided design: using a direct manipulation of material through hand-building, sewing, felting, and crochet, I embed layers of personal experiences and history into each object. I reflect on how these melded relationships expand rather than diminish their individual potential. Each element goes through stages of transformation including pinching, stretching, or undergoing extreme temperature changes. I use many representations of 'softness' throughout and the inherent adaptability of material is a reflection on softness as strength rather than as weakness.
Kari Roslund
Raised in Woolrich, Pennsylvania, I grew up in a community with a long history of textile and wool production. Early in my youth, I began to develop an appreciation for natural fibers and handcrafted textiles. I attended Lycoming College for four years and received my BFA in Studio Art with a certification in teaching, in the late 90s. After graduating, my husband and I moved our family to the mountains of rural Pennsylvania. During this time, I was able to teach a variety of ages and exhibit my art locally. Our location in a rural farming community allowed us the opportunity to operate a small hobby farm. While we experimented with raising a variety of different livestock, we finally settled on sheep. During our time raising our small flock, I began to explore fibers as an artistic material. As the farm grew, so did my understanding of wool's unique potential. From shearing the animals ourselves to hand-dyeing the wool, I learned firsthand the process required to transform raw fleece into one-of-a-kind, hand-felted art. I began to reach out to other fiber artists in order to learn more about the process of felting. As a result, I began to explore the possibilities of using my painting skills in conjunction with fiber arts.
I am a fiber artist drawn to capturing the wonders in nature. I enjoy the process of layering a variety of materials such as wool, silk, wire, wood, and paper to create a captured place or moment. As I introduce the viewer to the tactilely enticing juxtaposition of various textures, I invite them to examine subtle, yet delicate details found only when we stop and ponder.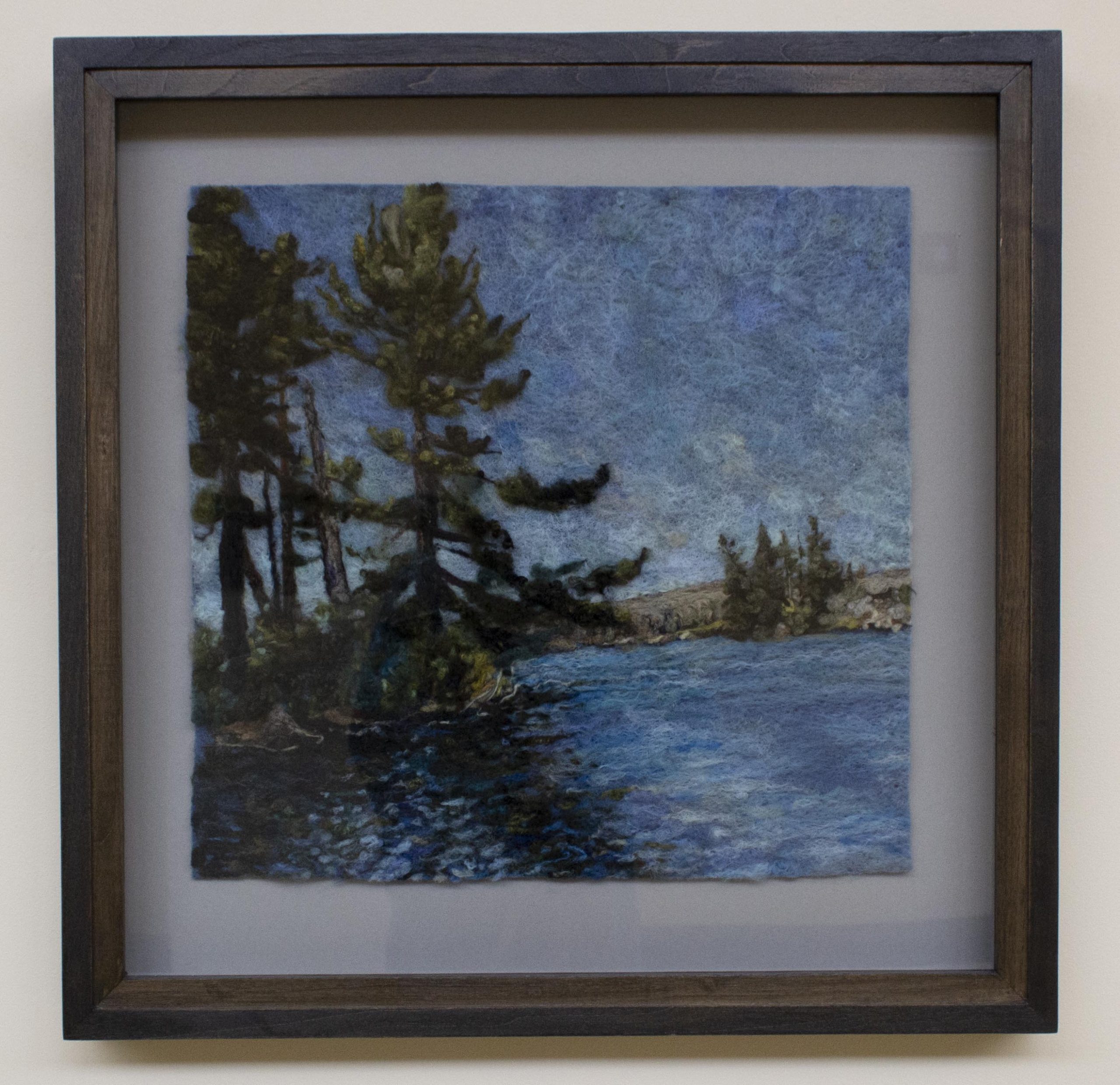 Summer- Red House Lake – Wool – 2019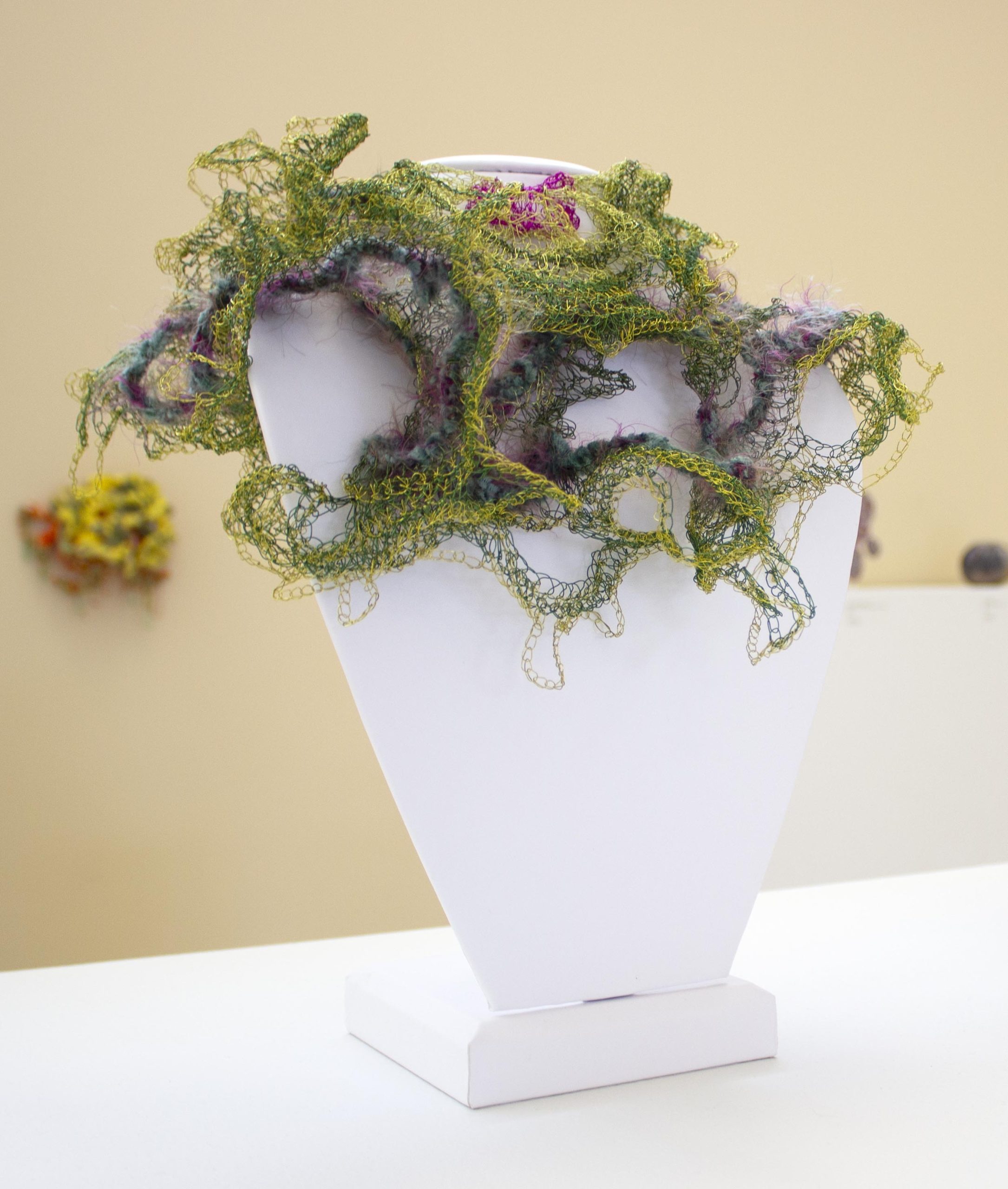 Mermaid's Lace – Crocheted Wire and Recycled Yarn – 2022
Emmie Tallman
Emmie Tallman received her BFA in Studio Art concentrating in Jewelry, Metals and Enameling from Kent State University. Tallman is now a first-year graduate student studying Metalsmithing + Jewelry Design at Indiana University. Working in metal, fiber, recycled and alternative materials, Tallman creates sculptures for the body that explore natural relationships and interweave current, historical, and personal narratives.
For me, the combination of metal and fiber came naturally. As a child, learning textile techniques like knitting and crochet led me to explore materials and the creation of functional and wearable objects. The addition of metal did not come until many years later but sparked a sense of wonder in the objects and mechanisms possible beyond what I had experience in. Metal, resilient, architectural, and diverse, is now a sort of home base and grounds my practice while also providing an exciting foundation for new ideas. Exploring the forms of metal that can extend and stretch my work conceptually has been my recent focus and led me to work in a combination of crocheted wire, fiber, and recycled materials. In creating these wearable and sculptural art objects, fibrous materials such as wool and yarn lend themselves to the conception of art that bridges that physical gap, adding comfort and tactility that can be related to more easily. Inspired by the relationships and organisms within marine ecosystems, I use felted wool, silk, and various found and recycled yarns to add another dimension of color, texture, and physicality. The metal wire provides color and luster, its malleable nature allows for the expansion of the material in many directions while holding its shape, reflecting the physical and visual elements of underwater environments. The body is the environment these forms live on, like a reef to coral or ship to a barnacle, symbolizing the relationship between two organisms through adaptation, instinct, and necessity.
Kelly Temple
Kelly Ann Temple is an artist and jeweler who is interested in our relationship with medical interventions; she is both fascinated by and fearful of the body's ability to adapt, accept, reject and repair. She works in materials and forms that reframe her thoughts about the disparate connections between the organic and inorganic, living and non-living, the human and machine. Her work addresses ideas of surface, acceptance, and transformation as it captures intimate moments where the biological and mechanical touch. She is the head of Jewelry and Metalsmithing at the University of Central Oklahoma as Assistant Professor. She received her MFA at San Diego State University in Jewelry + Metalsmithing. Kelly's work has been exhibited nationally and internationally and is currently represented by Intro in Amsterdam, and has work at Baltimore Jewelry Center in Maryland.
My work questions the reaction to the failed or supplemented body. The work explores this through a series of jewelry objects that combine bodily forms and surfaces with structures and shapes prevalent in jewelry and ornament, oscillating between references of ornamentation and bodily organs. The work highlights the surface of the human body through mimicry. Inflated skin-like forms framed in metal imply sites of imagined interventions. Microbial cellulose (MiC), a fiber woven by bacteria and material used in medicine for wound care, represents the human body. The use of microbial cellulose and leather comments on ideas of surface, and how it becomes more than a barrier. It collects pieces of its environment and silently communicates to its viewers. Growing, manipulating, and combining these materials with fabricated metal parts allows me to create a dialog between the living and non-living, the human and the machine.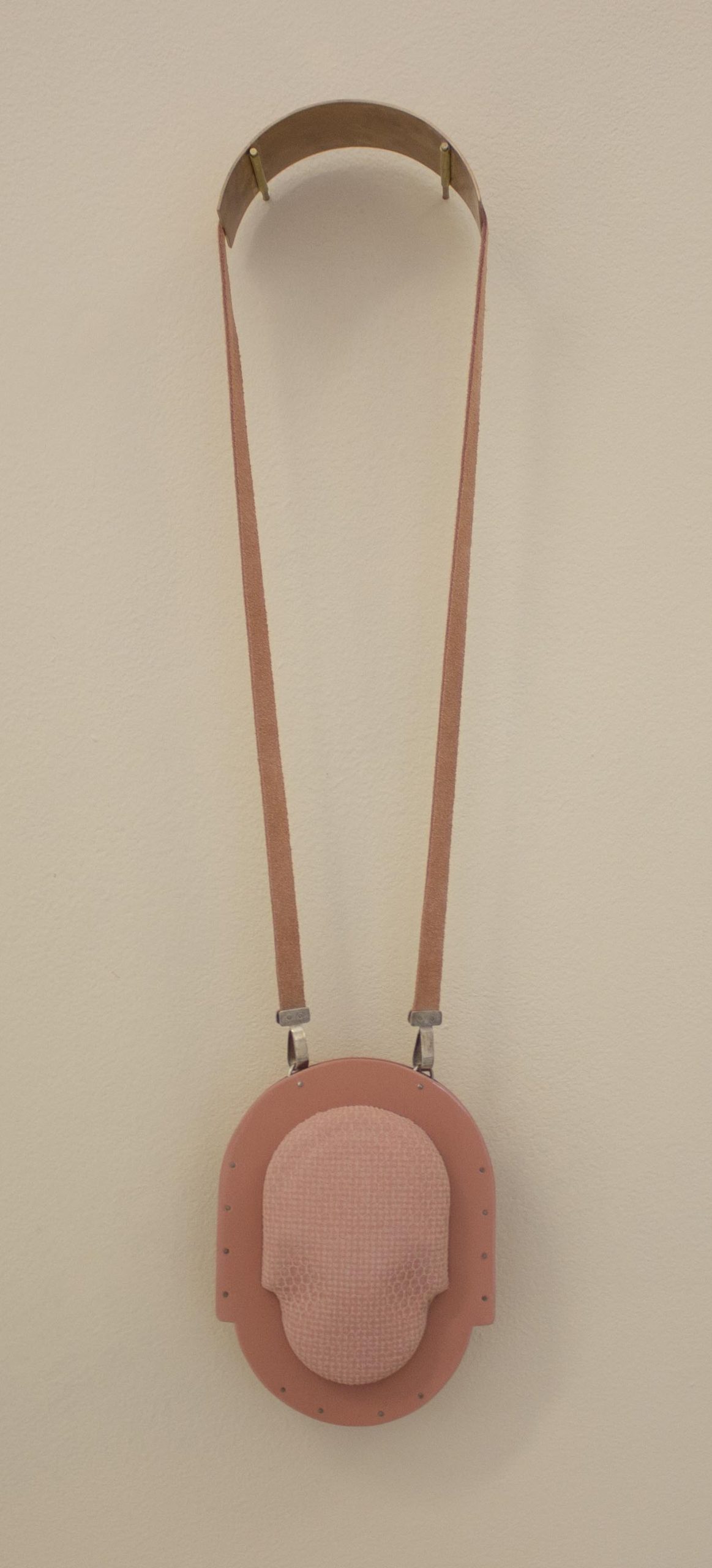 Second Thoughts II – Silver, Leather, Silk, Powder-coated Copper, Aluminum, MiC, PETG Plastic – 2020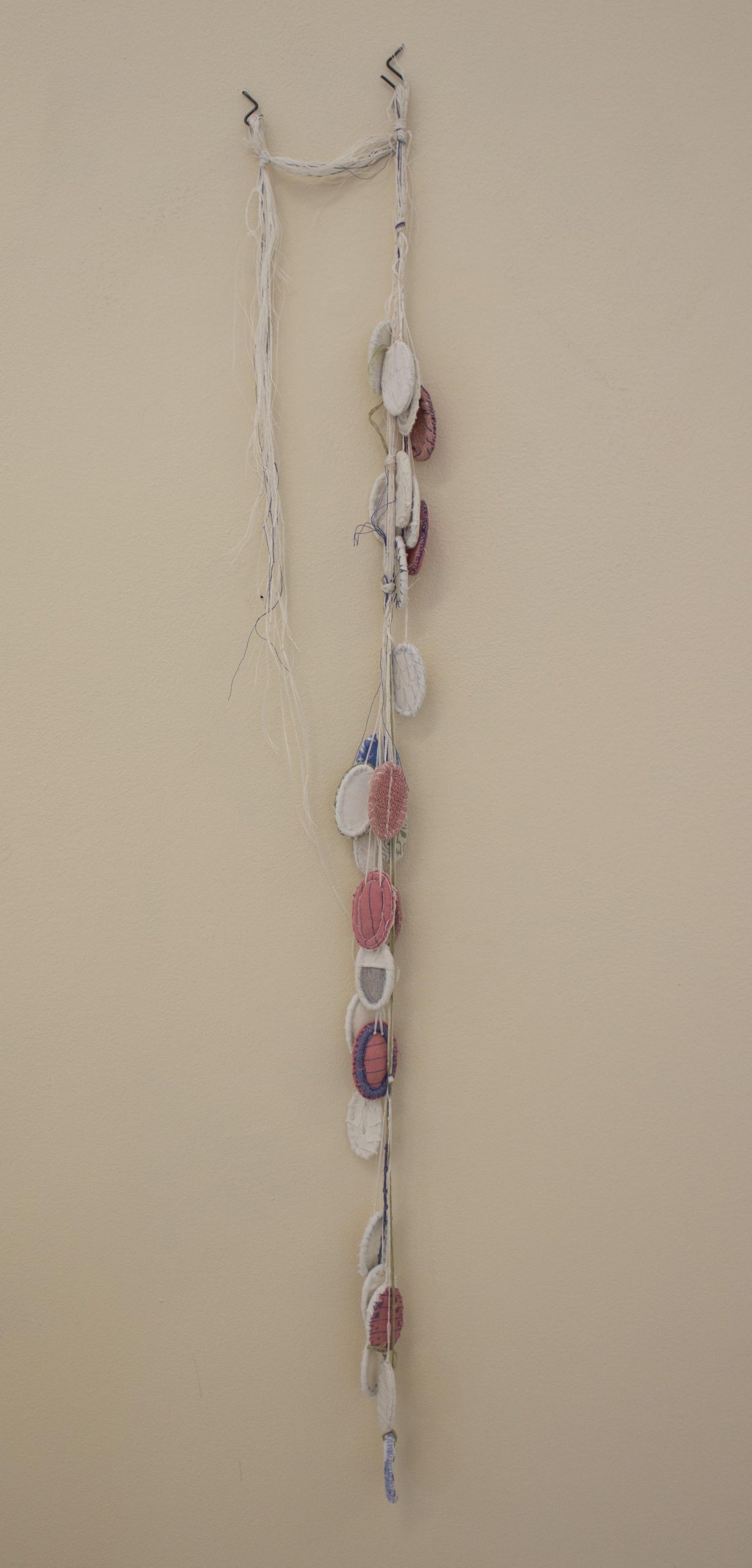 Calendar/Keeping Days – Fabric, Steel, Thread, Graphite – 2021
Jillian Vang
Jillian Vang is a contemporary jeweler from Libertyville, Illinois. She completed a BFA in Metals and Jewelry Design at the Rochester Institute of Technology in 2022. Interested in the transient, her jewelry and small sculpture feature unique ephemera such as tea bags and bedsheets. Her work uses reclaimed and modern elements to render emotions and experiences. Intrinsically process based, her pieces interpret memory through material. With a focus on color and pattern, they invite conversation about ritual, routine, nostalgia, and femininity. At this time she is working at Pistachios Gallery in downtown Chicago and producing work in her home studio.
Using sensitive household materials such as fabric and thread allows my work to speak of the domestic spaces where personal rituals appear. Media such as bedsheets and blankets, as well as tea bags and wallpaper, can all be dyed, cut, and sewn. By using vintage ephemera, my jewelry and sculpture explore the sweetness of the impermanent, while elevating and preserving these often discarded materials. A threadbare bedsheet calls to the daily cycles of life tucked inside the private bedroom. Upholstery fabric references a luxurious adornment of domestic space, and canvas contrasts this in its stark stiff blankness. Mark-making on these surfaces, whether that be in thread or graphite, allows me to record process and time. These materials are rich in context and by working with and altering them, I examine the allure of ritual in the domestic space.
Raven Volos
I started weaving at the beginning of 2020 as a hobby. With the extra time afforded to me during the pandemic I focused more on my skills and became dedicated to the fiberarts. After a year of weaving I tried my hand at spinning my own yarn in May of 2021.With the leftover fiber from spinning yarn I added needle felting to my growing list of fiber skills. In August of 2021 I started a crafting group to learn from and share with fellow fiber artists. Yarn Arts Anonymous became a place to practice my art and to reconnect with people after quarantine. A fellow fiber artist recommended me to the BCAT for teaching a needle felting class in June of 2022. Teaching at the BCAT and interacting with the students was an amazing experience. It opened my eyes to see what I could bring to Elk County to share my skills and teach others about the fiber arts. Going forward I plan to develop my fiber arts skills, continue to teach and learn through Yarn Arts Anonymous, and show my love for the fiber arts to inspire the same passion in others.
To create my fiber art I spin cleaned and prepared loose fiber into a spun fiber or single then ply that spun fiber into a yarn. After collecting several colors and styles of yarn, I plan out a project calculating the yardage of yarn needed. Then I tie the yarn to my loom in long vertical strands, after which I pass yarn horizontally through the vertical strands to create a weave. The weave is completed by pushing the horizontal yarn down firmly to create a cloth, cut from the loom and washed to tighten it into place and ready for use. Before starting with fiber arts I had a 15 year career as a massage therapist. I retired from massage to prioritize the health and the function of my hands. I started fiber arts to keep me busy and to give my hands less strenuous work. After learning about the history of fiber I became inspired by human ingenuity and found connections to my faith and community. There have been multiple themes and concepts for my work inspired by my faith, themes suggested by mentors, by utility, or by commission. What drives me during my work is the passion to discover something new and to challenge myself.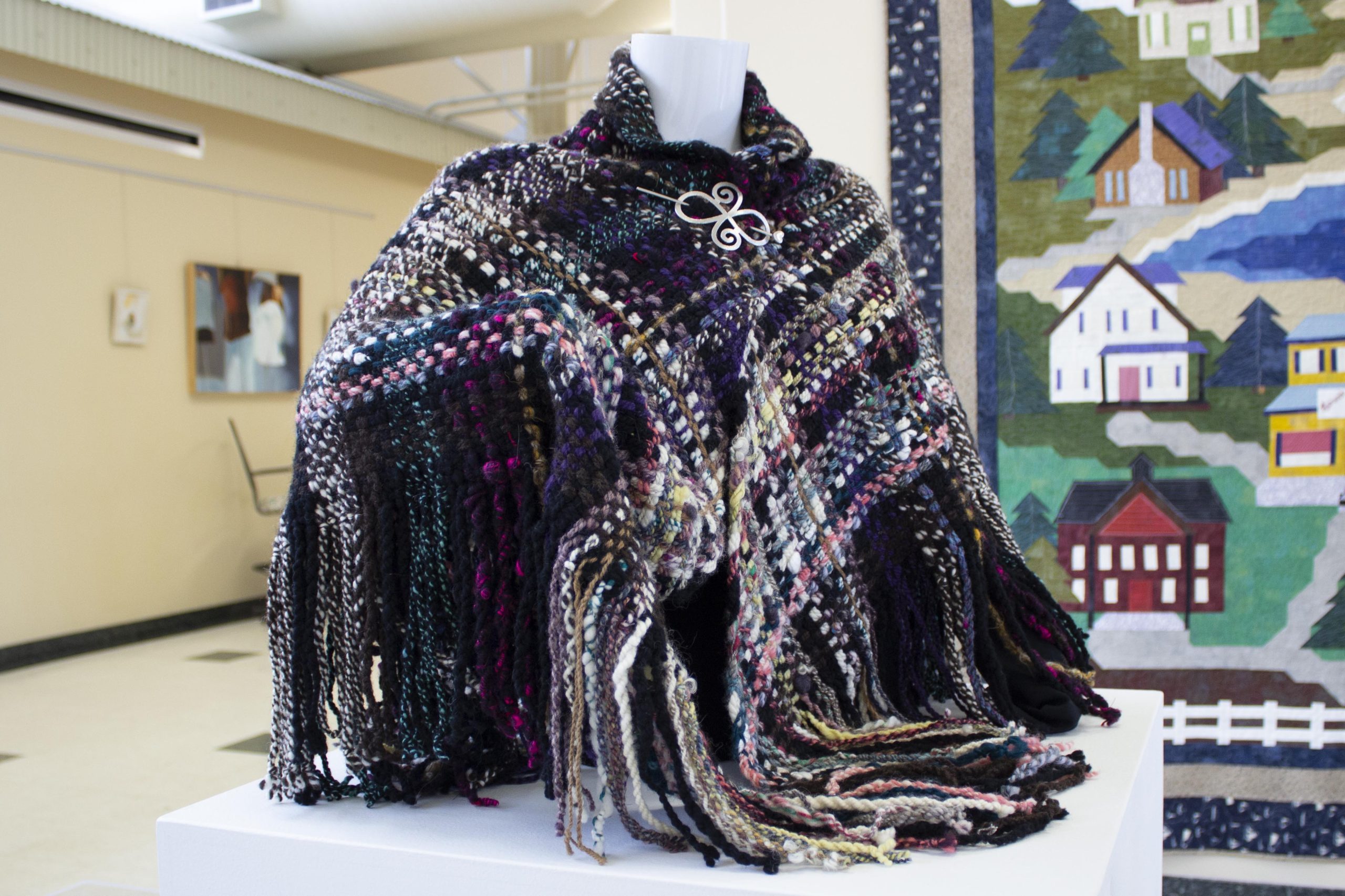 Spin, Weave, Love – Hand-Spun Wool and Plant Fibers – Hand woven on a Tri-loom in a 'Cut Strand' method – July 2021 – January 2023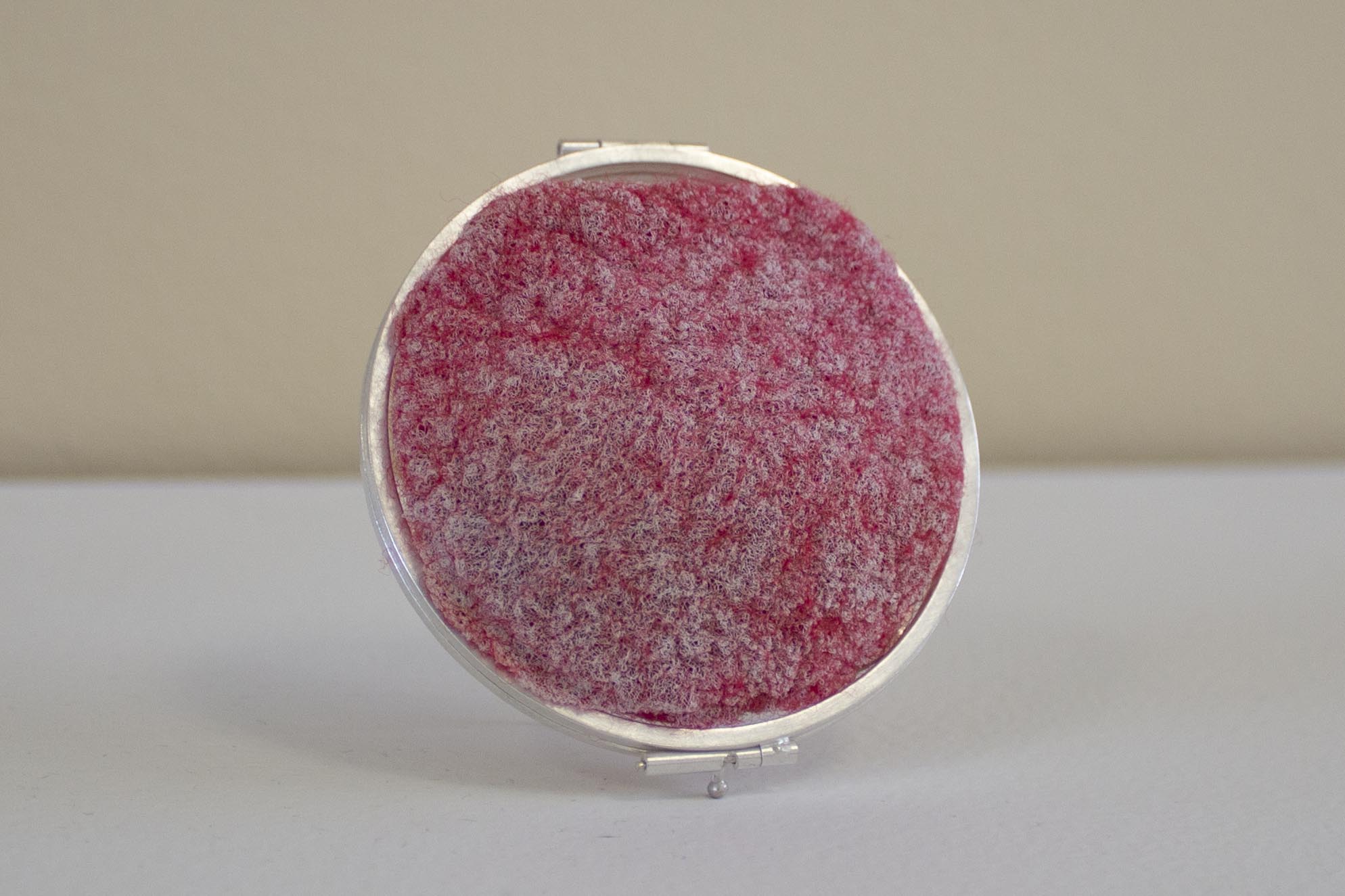 Sachet Pouch – Silk, Felt (Nuno Felt), Silver, Steel, Lavender – 2022
Sishi Wang
Born and raised in China, Wang received a BFA in Metal Design at East Carolina University in North Carolina. She is pursuing her MFA in Metalsmithing + Jewelry Design at Indiana University Bloomington, Indiana. Wang's work is rooted in the formal traditions of silversmithing. Drawing inspiration from botanical forms and her personal background, Wang creates work using hand fabrication techniques and elements from everyday life.
Sachet pouch was one of the common wearable pieces for Chinese before the end of Qing Dynasty. It is an embroidery pouch, usually made of silk or other fabric. Inside the pouch, there are herbs, flowers, and spices. It is tightened by thread, and people wear it on their waist. Since western revolution, China started to be influenced by western culture. Chinese changed their clothing from layering to suit, which is more practical to store things in pocket. Nowadays, we can only see the pouch in ancient Chinese shows, instead of real life.
Nuno felt is a new technique that developed couple decades ago. I used nuno felting technique to combine felt and silk in a modern way in the piece, as the intention to merge now and the past. By making this sachet pouch into brooches, I tend to bring back this traditional wearable object into life in a contemporary way. I hope that by making it into a brooch, people can wear it wherever they want. Since it is a fabric pouch with dry lavender inside, locked in a silver frame, the person who is wearing it has the choice to make their own scent, and it will become a sign of their identity.
Barbara Westman
I have been a resident of Pennsylvania since 2002 when I moved from Poland. I obtained a dual MFA in Fiber Art and Printmaking at The Academy of Fine Arts in Poznań, Poland (currently: University of Arts). Since my arrival to the US I have been dividing my time between teaching and working on my own art.
I evenly enjoy fiber art and printmaking. My interests are in textures and structures, whether natural or man-made. My observation and interpretation of both is presented in my prints and fiber art works. Currently I am Professor of Fiber Art and Printmaking at Slippery Rock University. Over the years I have participated in numerous national and international art exhibitions.
My work in both areas: printmaking and fiber art reflect my interest in natural and man-made world. The richness of textures, structures and forms in our environment inspire me. I look for the beauty in microscopic detail or in a large architectural structure. My methodology is consistent: I look, analyze, deconstruct, build and assemble my vision. Materials and techniques are similar in all my work, but in each piece there is a new view of my experience. My works are mostly monochromatic or achromatic to maintain the simplicity and to focus on composition and textures. By continuing work in a series, I create a representation of my observations and recollections. I analyze while searching for answers on the co-existing of two worlds: nature and man-made.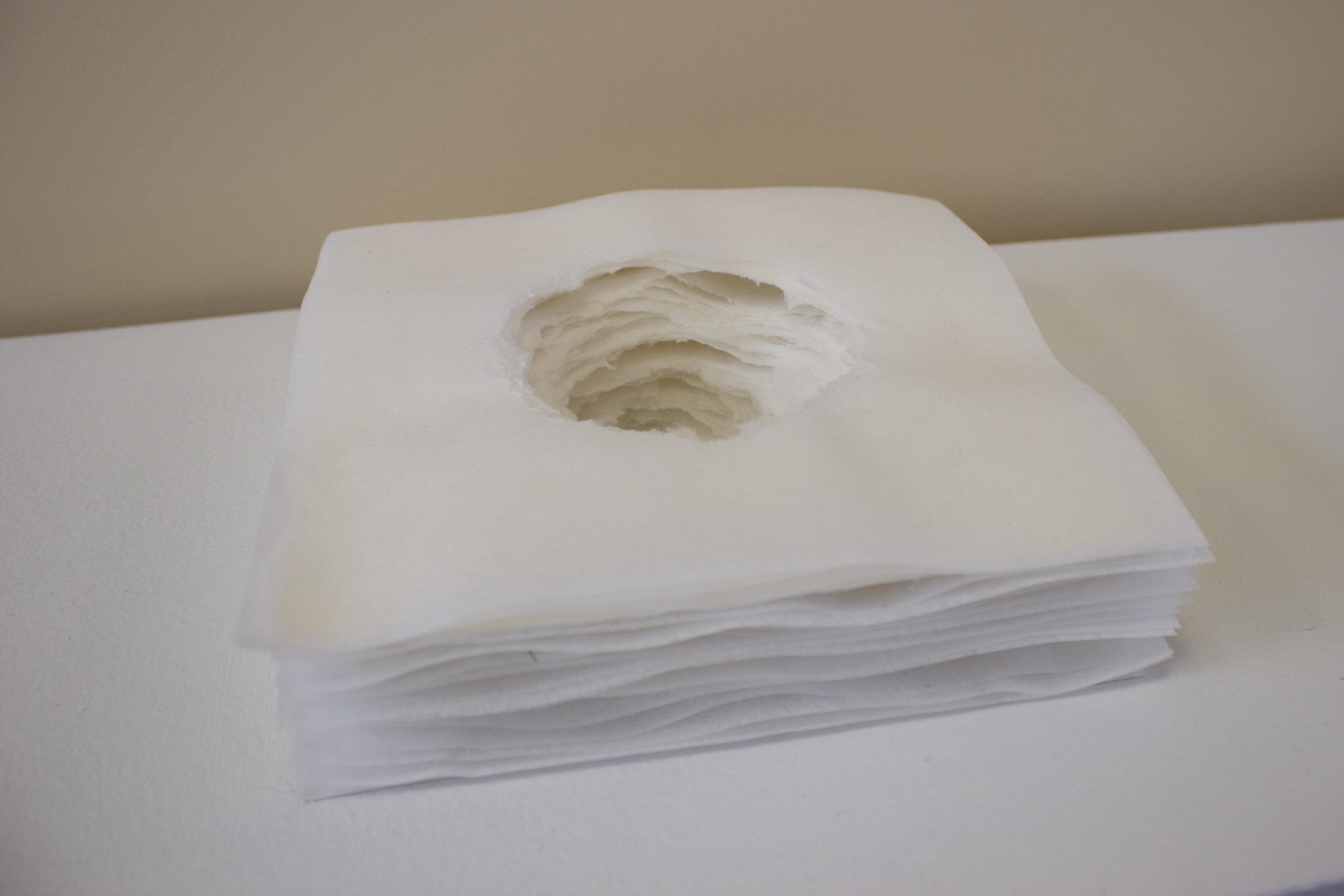 Depth – Interfacing Textile – 2019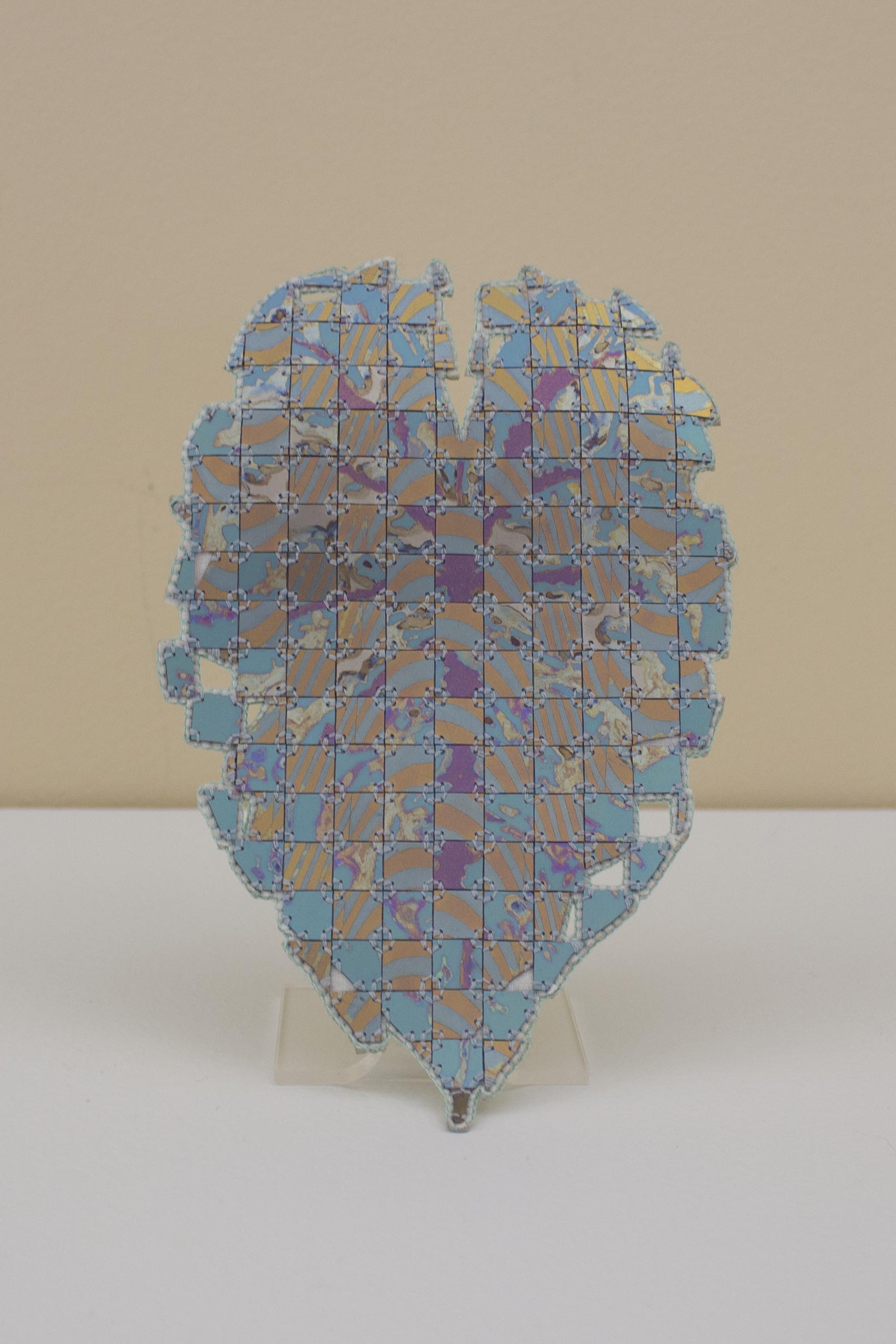 Pixel Leaf Brooch – Anodized Titanium, Nickel, Leather, Cotton, Powder-Coat – 2021
Mallory Weston
Mallory Weston is an artist currently living and working in Philadelphia, PA. She received her MFA in Jewelry + Metalsmithing from Rhode Island School of Design, graduating in 2013. Mallory works as an Associate Professor of Metals/Jewelry/CAD-CAM at Temple University's Tyler School of Art and Architecture in Philadelphia. Mallory maintains an active studio practice as a member of the JV Collective, a group of seven art jewelers that's anchored in Philadelphia, but national in scope. She is an engaged participant in the global art jewelry community, regularly collaborating with other makers and artistic platforms. She recently completed artist residencies at Baltimore Jewelry Center and with the Françoise van den Bosch Foundation in Amsterdam. Her work can be found in the permanent collections of the CODA Museum and Design Museum den Bosch in the Netherlands and the Museum of Fine Arts Houston and the Museum of Arts and Design in the United States.
This series explores the familiar landscapes of a digital world superimposed on the foliage of rare tropical plant specimens. Coincidentally, these lush species also lead a double life as popular houseplants with a sometimes cult-like following and appeal. How did this happen? Well for one, these striking plants make excellent content, with their splotches of pastel pink or polka dotted patterning or otherworldly solid white leaves. But there's also the darker and more recent phenomenon of the desire to latch onto any other life form available to tend and care for during the months of isolation that we've recently endured. The excitement and anticipation of watching a new leaf slowly unfurl or fresh buds appear after a long period of dormancy, something to look forward to during quarantine.
Kristi Rae Wilson
Wilson received her MFA in Jewelry/Metals from the University of Illinois in Urbana-Champaign (2010). Here she was the recipient of the Creative and Performing Arts Fellowship and the Brodie Material Grant. Her work has been included in international and national publications and exhibited throughout the United States. The Society of North American Goldsmiths (SNAG) awarded her the Educational Endowment Scholarship to participate in the Jewelry Opere Workshop (Netherlands) where she studied with contemporary jeweler, Ruudt Peters. Wilson was an Artist-In-Resident at the Houston Center for Contemporary Craft (2010-2011), a guest lecturer at Bowling Green State University (2012) and New Mexico State University (2014). Wilson teaches Jewelry + Small Scale Metal Construction at the University of New Mexico in Gallup (2014-2023).
Kristi Rae Wilson is an interdisciplinary jeweler who's work investigates the contrast of hard and soft materials. These juxtaposing materials are fabricated, to construct wearable art that integrate quilt components. Wilsons' work attempts to contemplate ideal notions of comfort. The metal used in this work provides structural integrity, via mechanisms, to permanently connect the two materials. This medium also serves as a way to memorialize the fabric. Wilson achieves this by etching quilt designs directly onto silver sheet. In addition, she permanently combines her metal and fiber scraps by sewing and/or soldering them together. Quilts comfort us; they provide warmth, preserve familial legacies and prove our universal appreciation of the handmade. Sometimes small-scale quilts or "lap quilts" are displayed as wall hangings, for this reason, Wilson's work can be viewed as a low-relief sculpture when viewed off the body or as jewelry when worn on the body.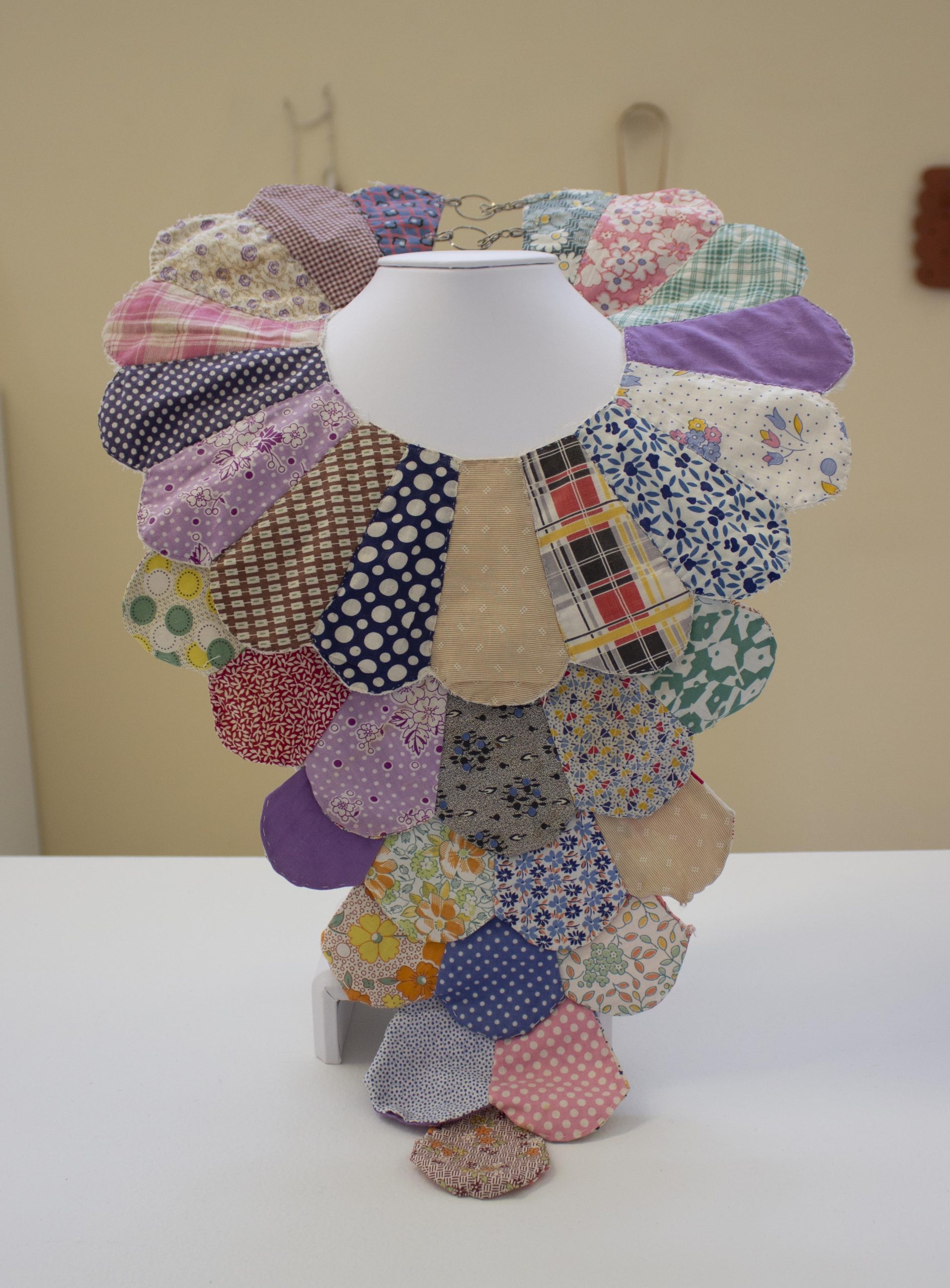 Dresden Quilt Necklace – Fiber, Silver – 2010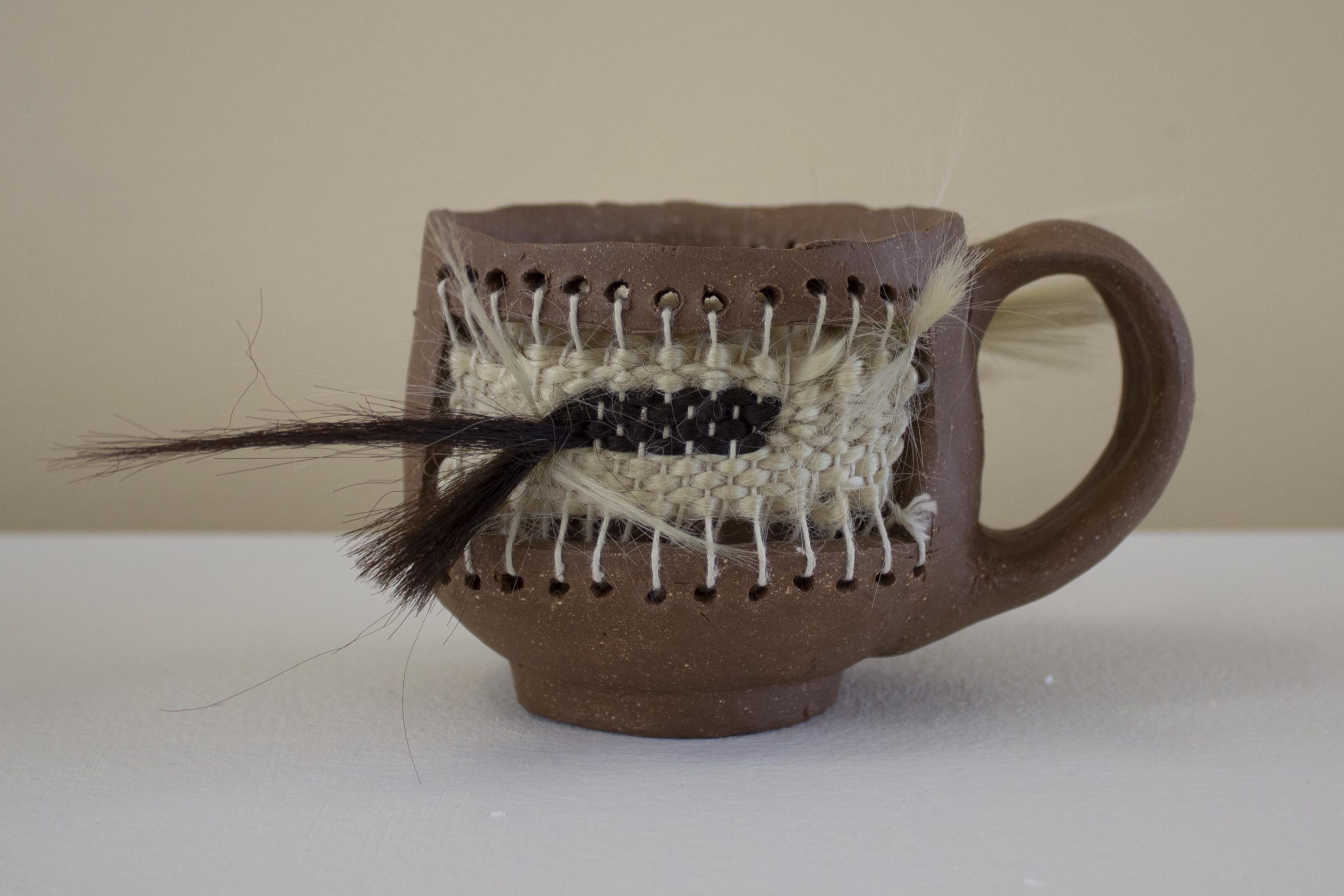 Tapestry Mug Vol 2.0 – Clay, Hair, String – 2022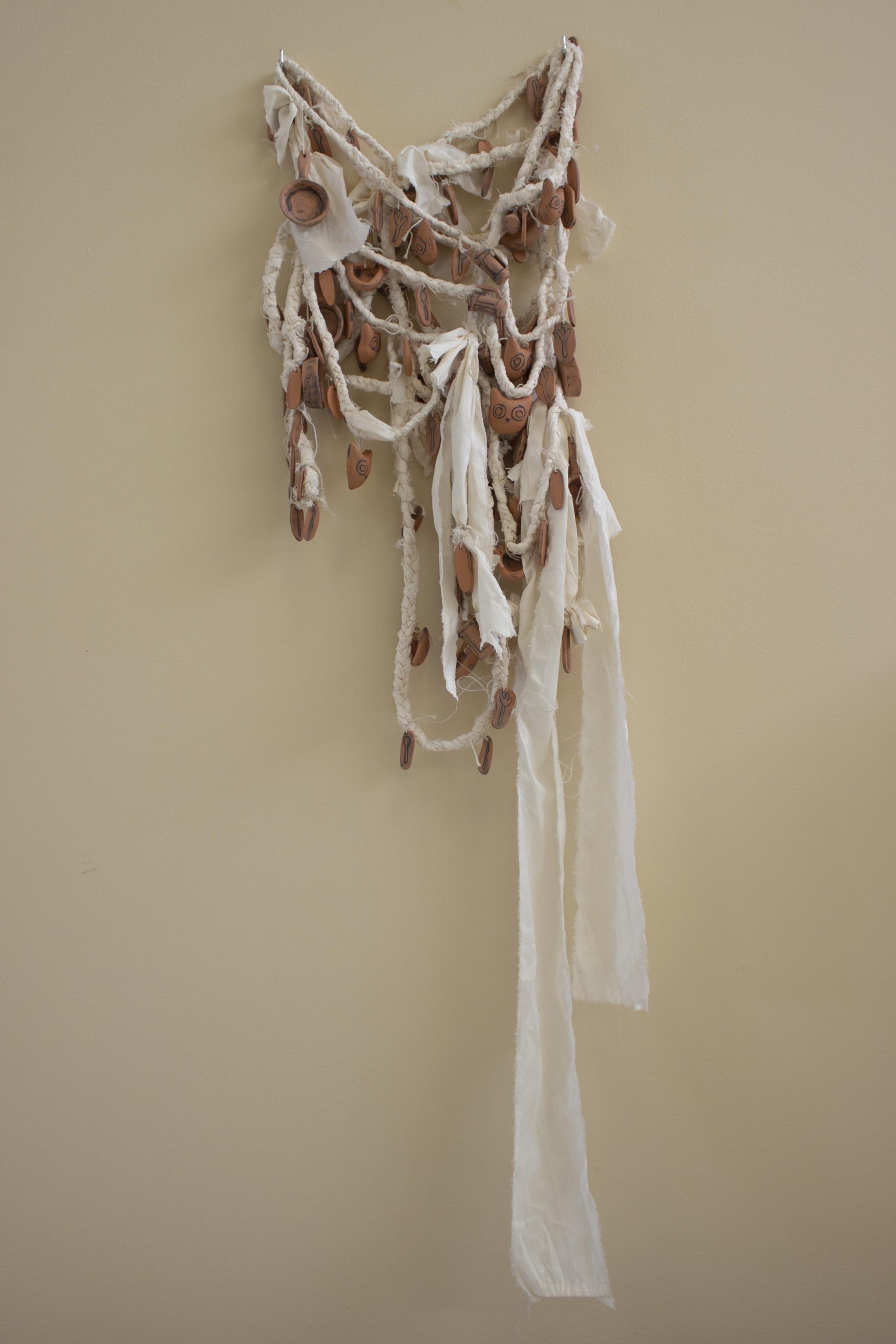 The Essentials – Clay, Bedsheet, String, Underglaze, Photo – 2021
Sarah-Anne Winchester
Sarah-Anne Winchester grew up near Atlanta, Georgia. She received a BFA in ceramics from Union University in 20016. completed a post-bac at SUNY New Paltz in 2021 and is currently in the second year of her MFA at Southern Illinois. Winchester has been showing her work since 2013 across the country through prints, pottery, and sculptures. When not working Sarah-Anne often learns new skills by making art of her cat Mr. Boo and relaxing on the couch with a book.
I strive to engage the dichotomies that surround social and familial standards of the idea of femininity. This is done by using hair as it is often viewed as a shield, with disgust, or as beautiful, but often only in specific areas of the body. This, combined with the bittersweetness of growing up. Losing the freedom of self as simple acts such as growing out leg hair can be seen as an act of rebellion. I reminisce on this childhood innocence by braiding hair with a light blue bow that is in stark contrast to the raw clay that holds it.
Dongyi Wu
Dongyi Wu (she, her) was born and raised in China. She is a contemporary jewelry artist based in San Antonio, TX, USA. Dongyi received her Master's Degree in Metal and Jewelry Design from Rochester Institute of Technology in the United States, and her Bachelor's Degree in Jewelry Design from Beijing Institute of Fashion Technology in China. Dongyi has her works shown nationally and internationally, such as JOYA 2020 in Barcelona and Schmuck 2018 in Munich. Dongyi was one of the winners of Preziosa Young 2020 in Italy, the finalist for the LEAP Award 2019/2020 in the United States in 2019, and the finalist for the ENJOIA'T 2017 Contemporary Jewellery Award in Spain in 2017.
I am a jewelry artist who fascinates playing with a wide range of unconventional materials, such as plastic, rubber, fabric, and found objects. I transform and repurpose the alternative materials into wearable art, giving them special texture, distinct tactile, and new meaning during my creation. "Passerby" series aims to capture the moments I observe people who walk next to me on streets, or people that are pictured in the photos inside fashion magazines. The inspiration for "Passerby5" came from a young man who wore a mosaic suit, huge sneakers, and a cap with blue color on the street, and "Passerby"2 was inspired by a backstage photo from a fashion magazine. I transform these quick images into jewelry pieces that can be worn. To picture my impressions of these quick images, I deconstructed and reconstructed the fashion elements and introduced them to my pieces including fabric and buttons. The inspiration for "Tired" series came from a small and interesting moment in my life, a tired afternoon. When I took my pen and sketchbook to figure out what to do next, I was very sleepy. I felt my eyes and eyelashes become so heavy and almost falling off from my eyes. I want to express the warm feeling that always comes with tiredness by using gloves and fabric on the artwork. The eyelashes were formed with light and flexible aluminum cans, which can express the eyelashes' texture while creating a contrast with the soft materials on the main body of work.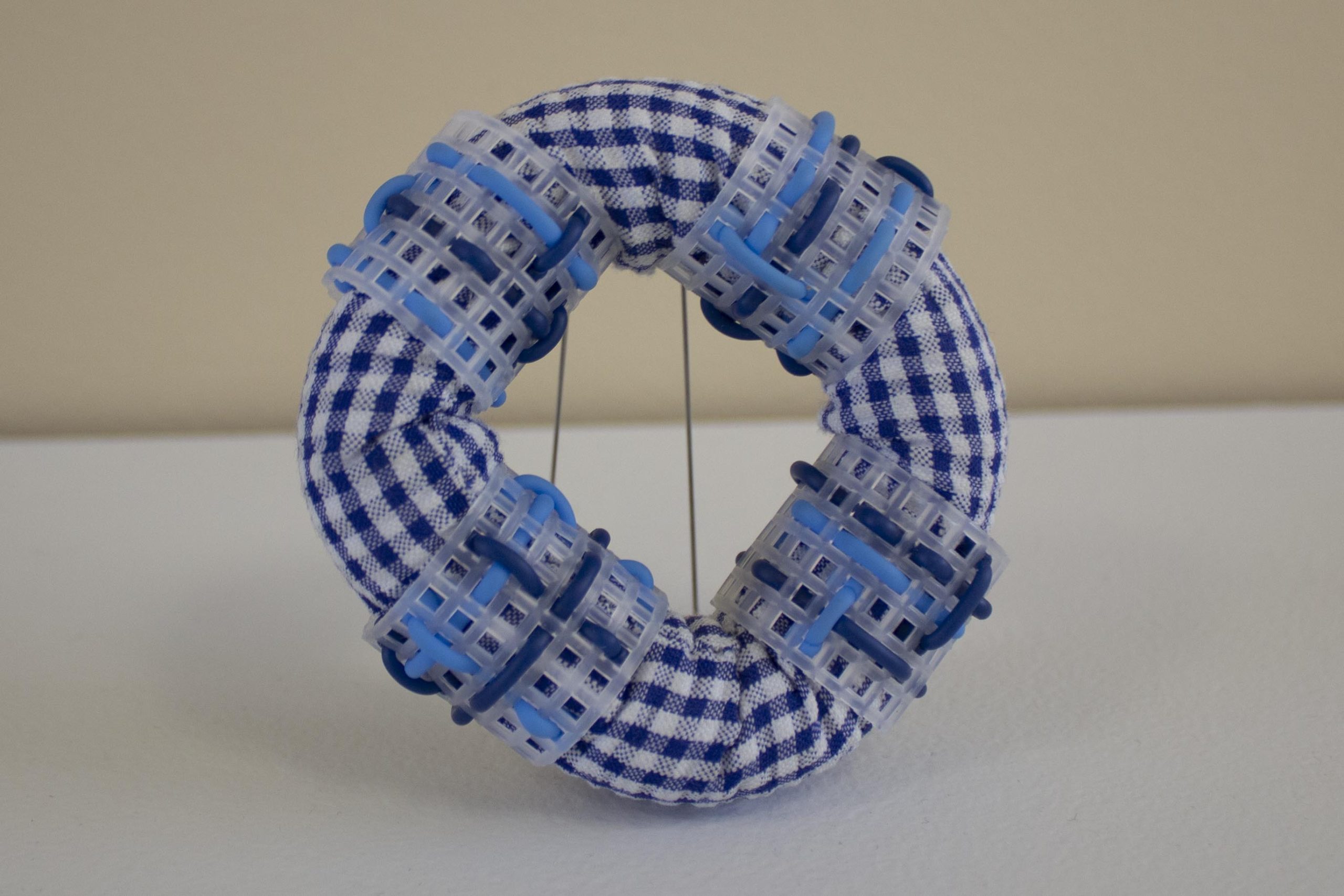 Passerby 5 No.6 – Fabric, Plastic, Rubber Cord, Cotton, Sterling Silver, Stainless Steel, Sewing Thread – 2020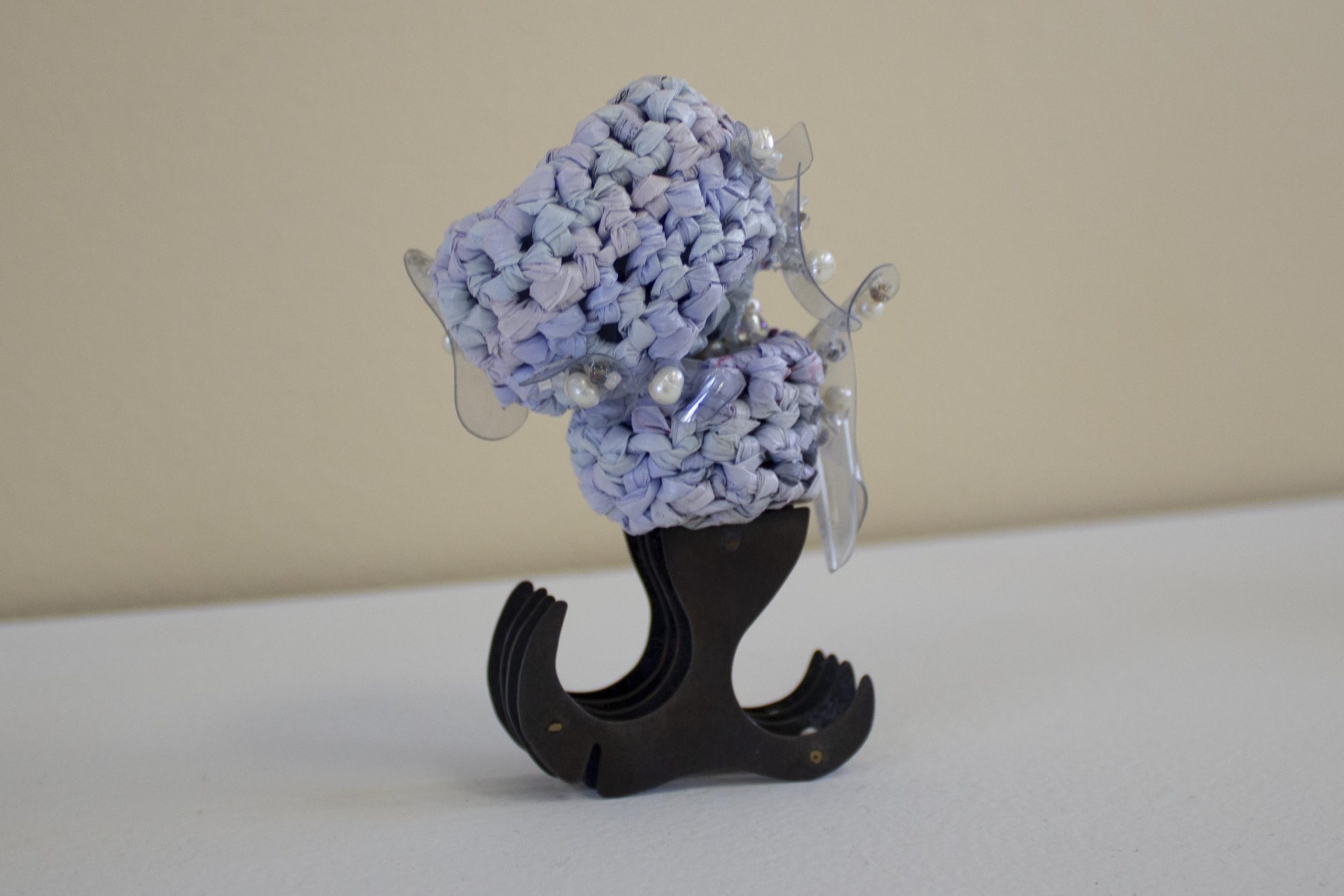 Stranded Fish I – Recycled Plastic, Beads, Pearls, Threads, Copper, Brass, Steel Wire – 2022
Jiashi Ying
Jiashi Ying was born in Wuhan, China. As a child, she was greatly influenced by her mother and had a great interest in making jewelry and crochet. She moved to the United States in 2015 and graduated from the University of Evansville in 2020 with bachelor's degrees in Mathematics and Pre-art therapy. She continued to pursue her dream after graduating from MFA Jewelry at Savannah College of Art and Design. During her studies, she gradually discovered that she was passionate about nature and expressed her views in the form of jewelry in unique materials.
As a jewelry designer, Jiashi has a keen interest and curiosity in life, nature, and environmental protection. She specializes in making jewelry out of different recyclable materials, reusing the most insignificant and easily discarded "trash" and giving them precious meaning. Through her jewelry, Jiashi hopes to raise people's awareness that environmental protection starts with the details of everyday life.
Plastic doesn't break down naturally and burning it also causes air pollution problems. As plastics are discarded, they can seep into ecosystems and cause incalculable damage to Marine life. So she made unique "yarn" out of garbage bags carelessly discarded by people around her and gave them new meanings by crochet. She hopes to remind people of the pollution and harm of garbage to the environment through the series "Stranded Fish". The collection will use recycled plastic bags and bottles as the main materials.