Framing: Margins and Mirrors
Exhibition Dates: June 17 - July 29, 2022
Cumulative Residency Exhibition by Osgood Bender

The aesthetic sensibility of the show could be described as Barbie dreamhouse, from the miniatures, the color palette, the uncontroversial, classically inspired forms. I think part of this comes from my experience of girlhood, or lack thereof. As a kid I mostly rejected girly things out of disdain, maybe the sense that it was cliche or disempowering maybe to distance myself from being seen as a girl. But in the last few years I've really been able to revisit femininity on my own terms and it feels so powerful to be able to have girly things and not be perceived as a woman. The colors I gravitate toward tend to be vibrant, eye-catching, unnatural and plasticky. I like them for their loudness and their attention to artifice.
The organizing principle of the show comes from the self portrait brooches and all their layers of mediation. Each brooch bears a picture of me, or one of the many mes that have existed over time. It's a rendering of a version of me, but the rendering is based on another rendering, a representation of a photo of a reflection of me. On top of all that, the rendering is framed and the brooch itself is pinned within another frame which is hung on the wall (not placed on a pedestal) drawing attention to its status as representation, not object.
The idea of a frame, or a framing mechanism interests me because of its marginal status, both literally and metaphorically. The frame is the border between the work and the exterior. An elaborately ornamented frame, like in an art museum, is supposed to lend status to the art it frames, while being fairly unimportant itself. I like the idea of wearing more frames on our bodies. This inspired my series of frame pins and crown molding brooches, which can accentuate a shirt collar or an epaulette.
In the furniture-inspired work, the bright, sometimes trendy colors also speak to my interest in the process of commercializing, over producing and commodification of personal property as a signifier of identity. This connects to my fascination with John Hall and his contemporaries because I believe the changes in the American economy around 1820-1890 herald the beginning of the importance of personal signification. The disempowerment of craft guilds and the market niche created by the new middle class introduced demand for stylish goods that weren't exorbitantly expensive, which eventually developed into the market for cheap and trendy costume jewelry, fast fashion, cute household goods designed to break and be replaced.
A huge way this manifests now is products sold in a handful of fashionable color options, but the 1850's equivalent in America was the many historical revival styles, layers of reproduction curated for current tastes and current needs.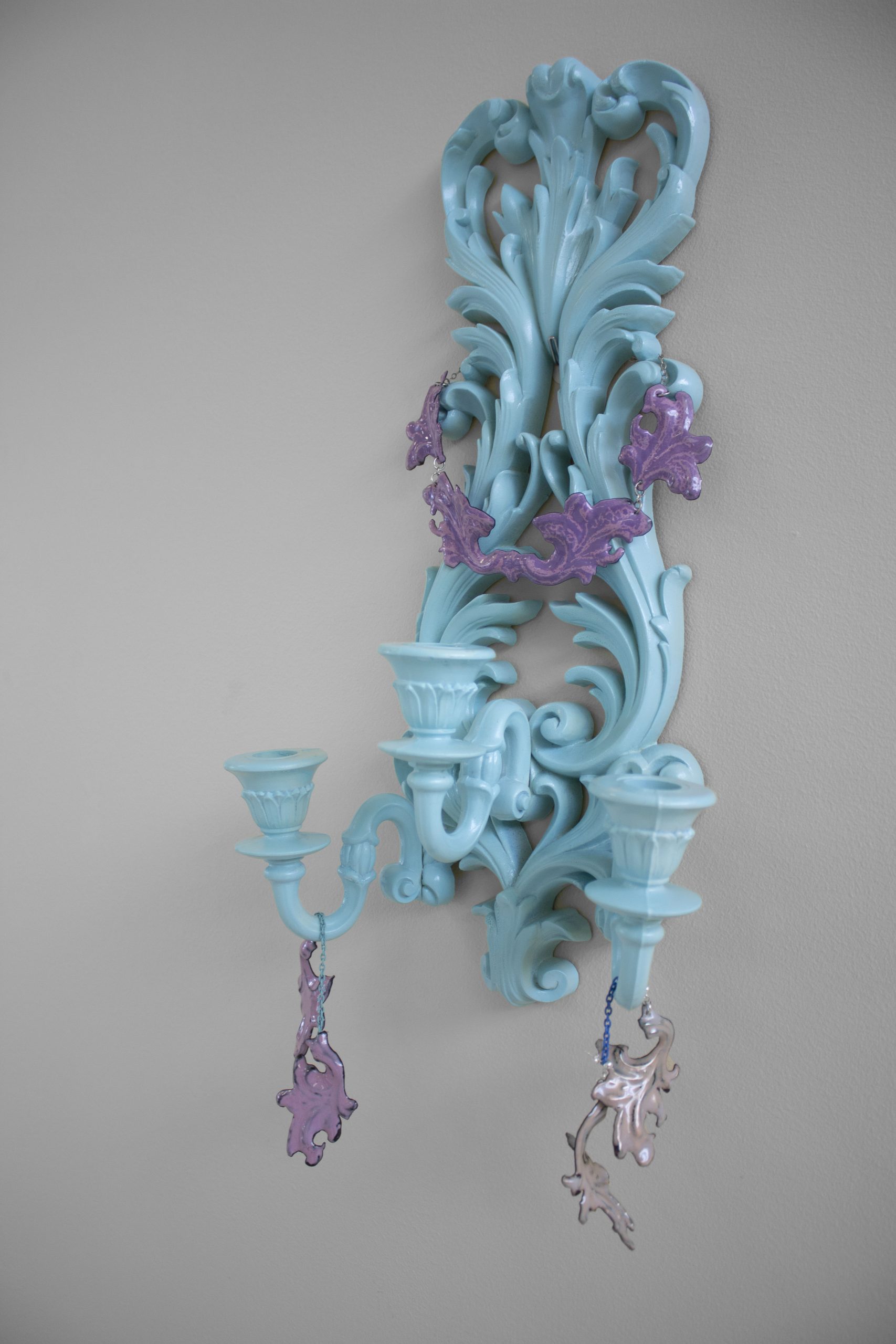 Acanthus Simulacra, pink necklace, pink and nude earring sets
vitreous enamel on copper flashing, sterling silver findings and chain
Acanthus Simulacra, beaded necklace and blue earring set
vitreous enamel on copper flashing, various found jewelry components, powder coated chain, sterling silver findings, fabric stand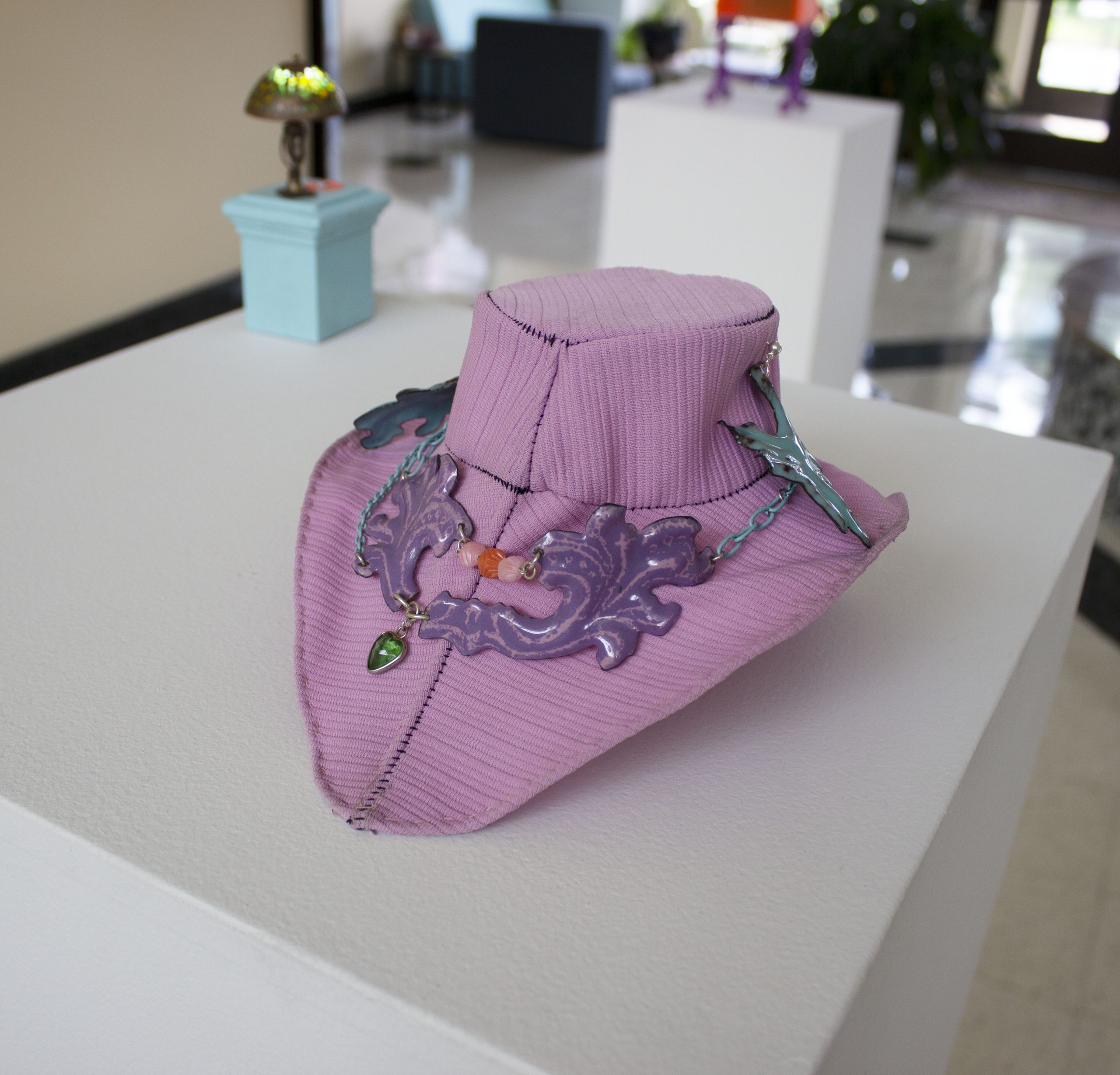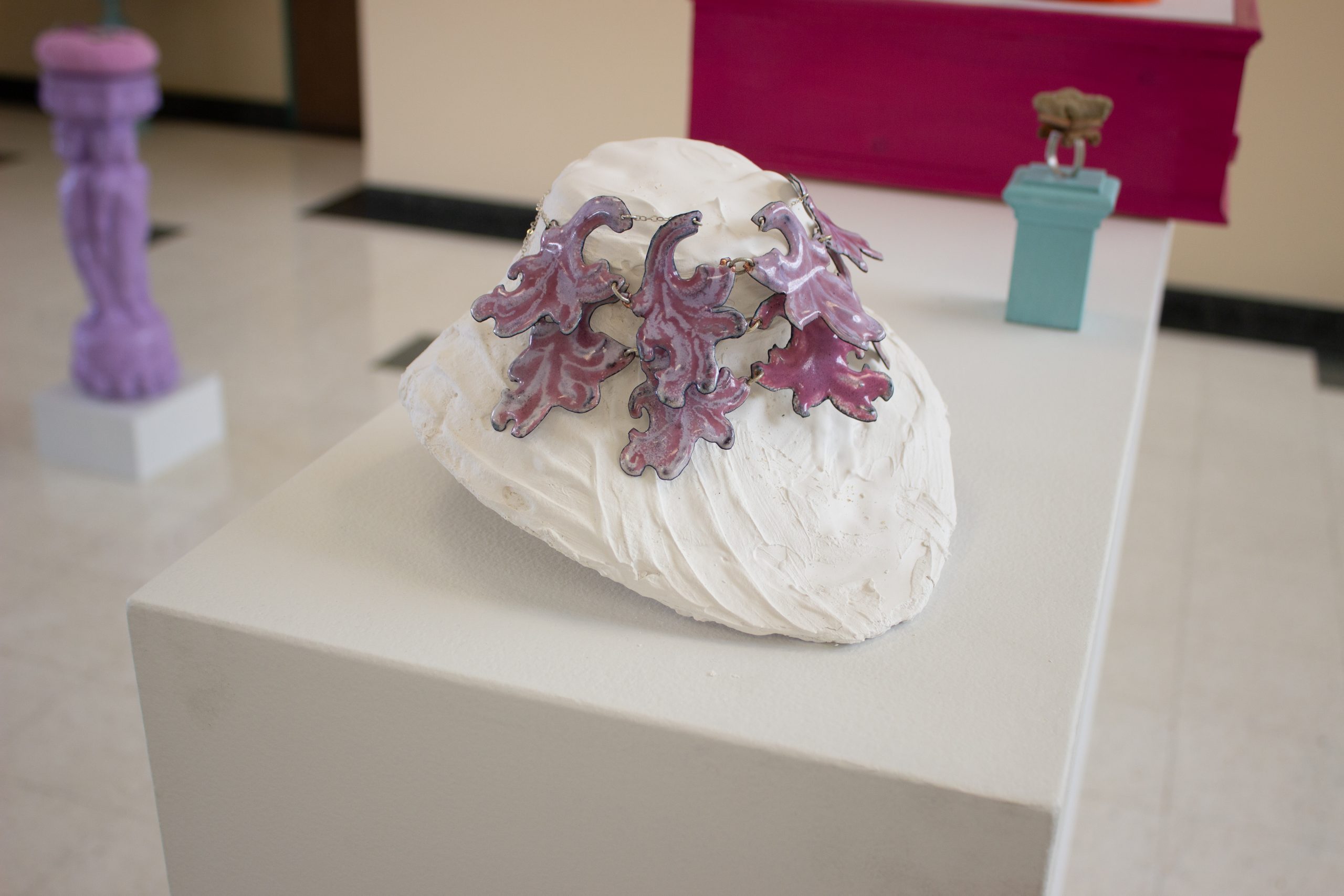 Acanthus Simulacra, enameled collar
vitreous enamel on copper flashing, sterling silver findings and chain, plaster stand
Acanthus Simulacra, green necklace and green earring set
vitreous enamel on copper flashing, powder coated chain, sterling silver findings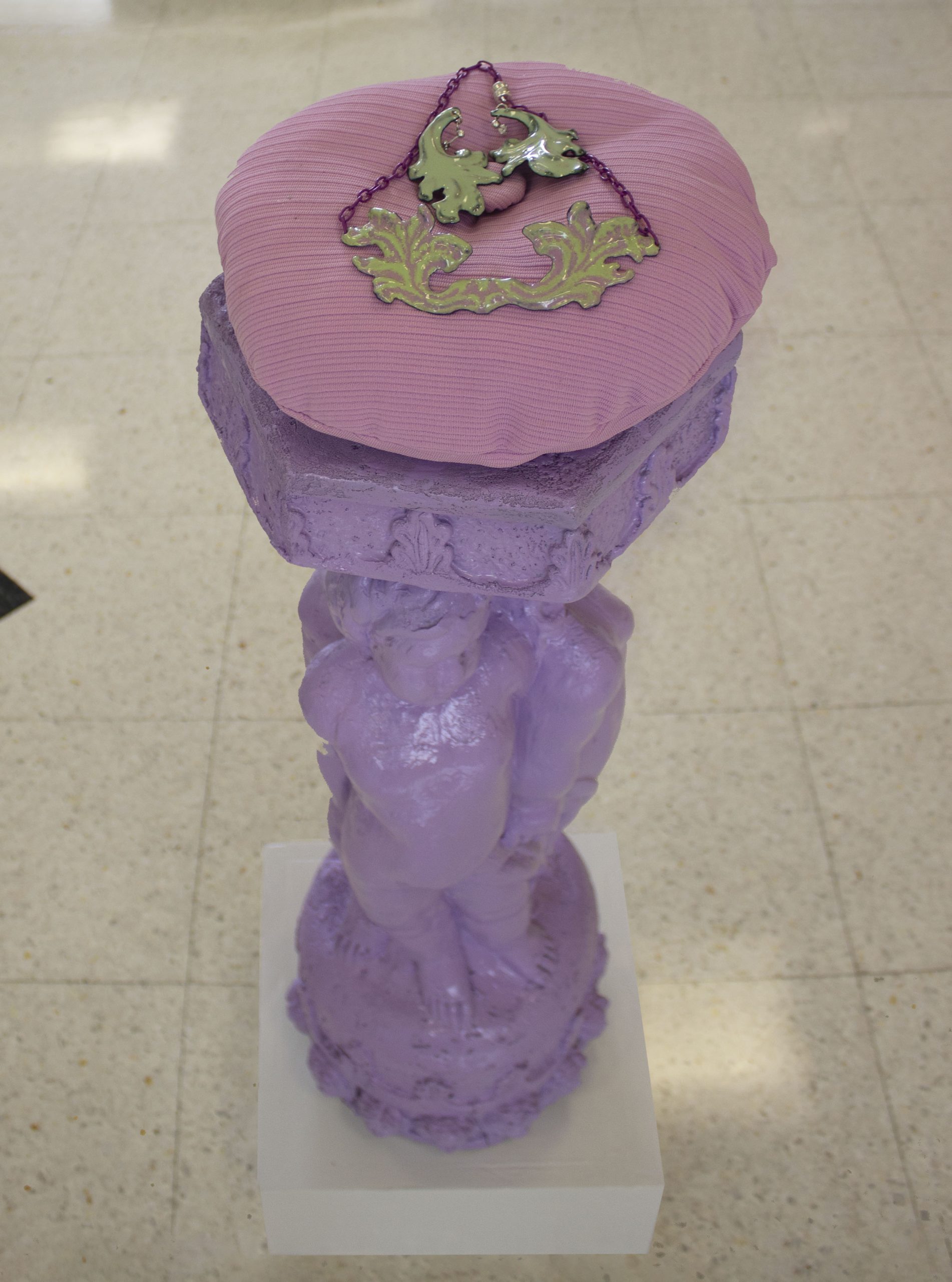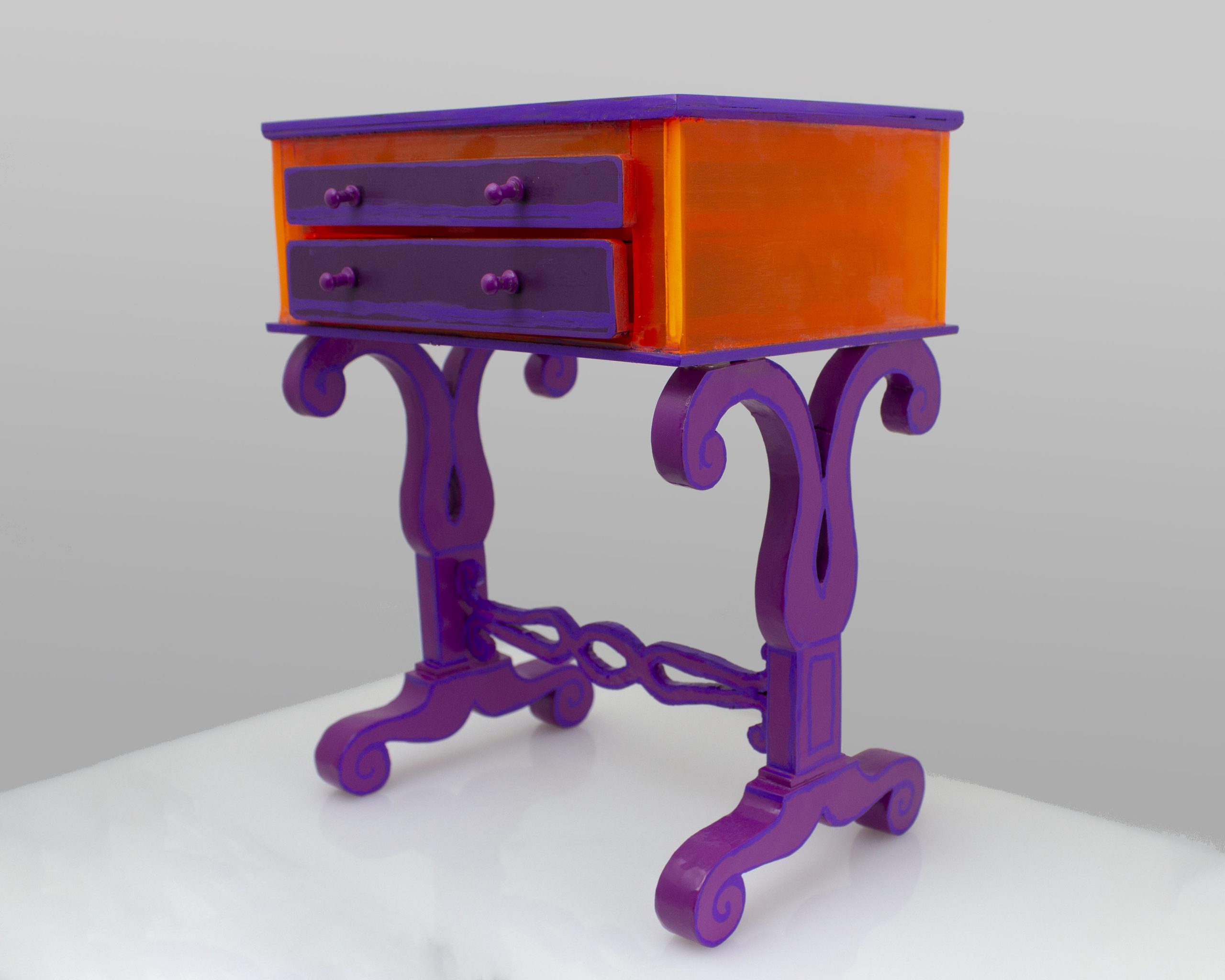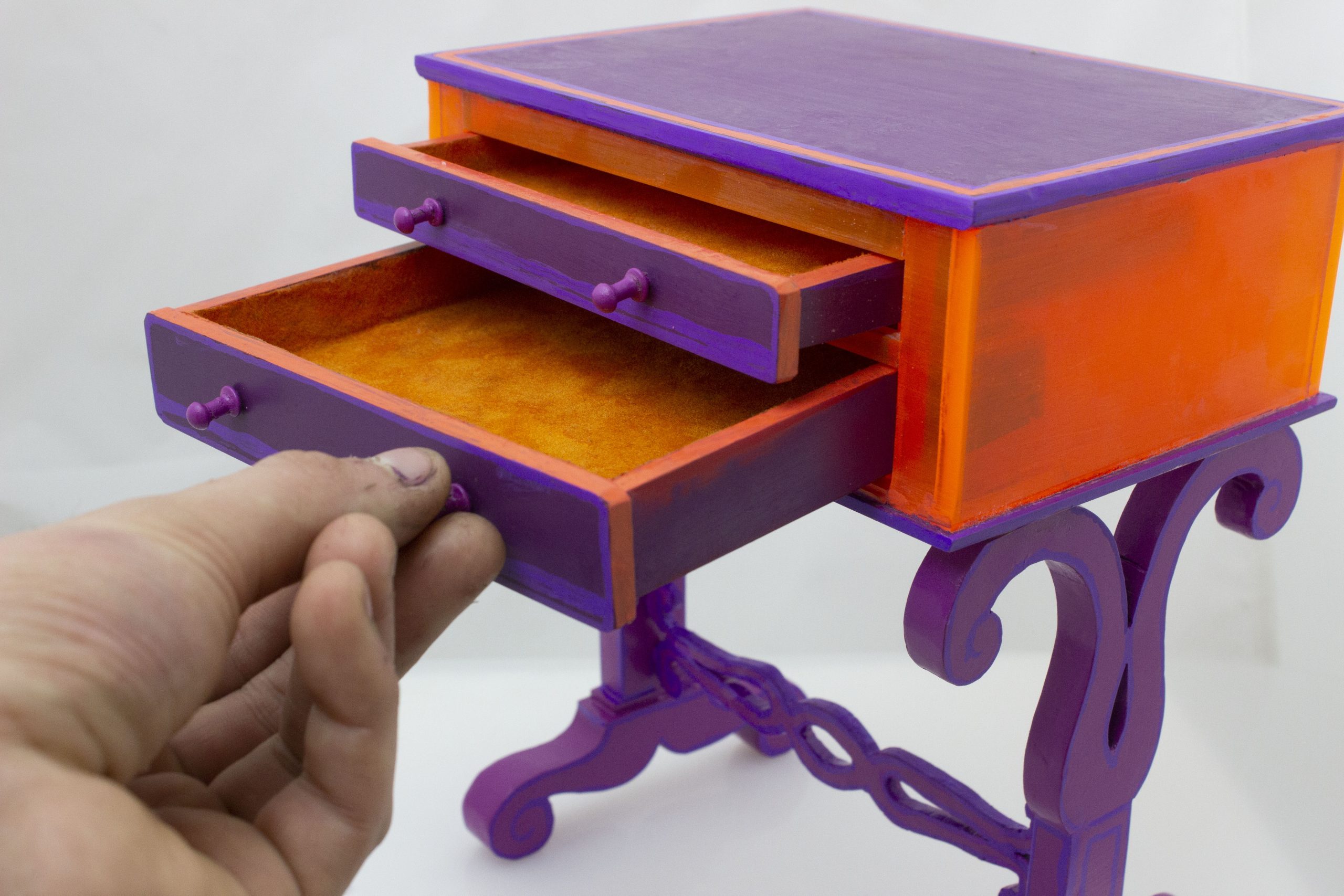 ahistorical Reproduction: John Hall Ladies Worktable
hollow constructed brass and forged copper base, acrylic carcass and drawers with flocking, copper knobs
A 1/4 scale replica of a 1840 design for a ladies work table by John Hall. John Hall's book, The Cabinet Makers Assistant, was one of the first widely circulated furniture design book written and published in America, but is largely dismissed because of the "ugliness" of the clunky Greek revival style. The primary difference between Hall's designs and other more acclaimed furniture books from the period (Sheraton, Thomas King, etc) is the importance of designs that could be cheaply produced. Hall's designs have relatively plain scrolls which could be cut on a bandsaw, and often curves have an awkward bulkiness to avoid thin areas of end grain that would otherwise require extra joinery.
a historical Reproduction: Ring with John Hall stool
sterling silver, oak, textiles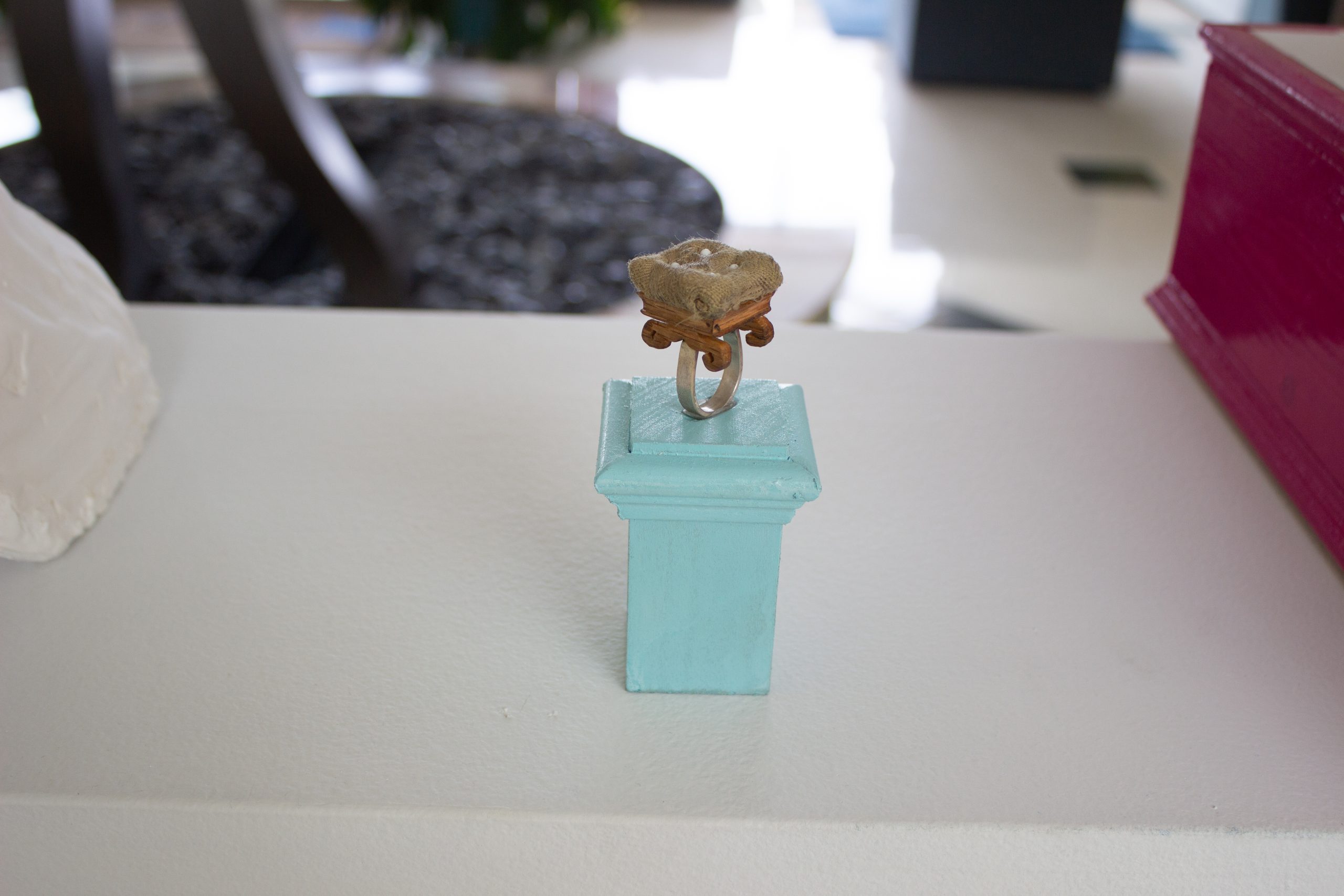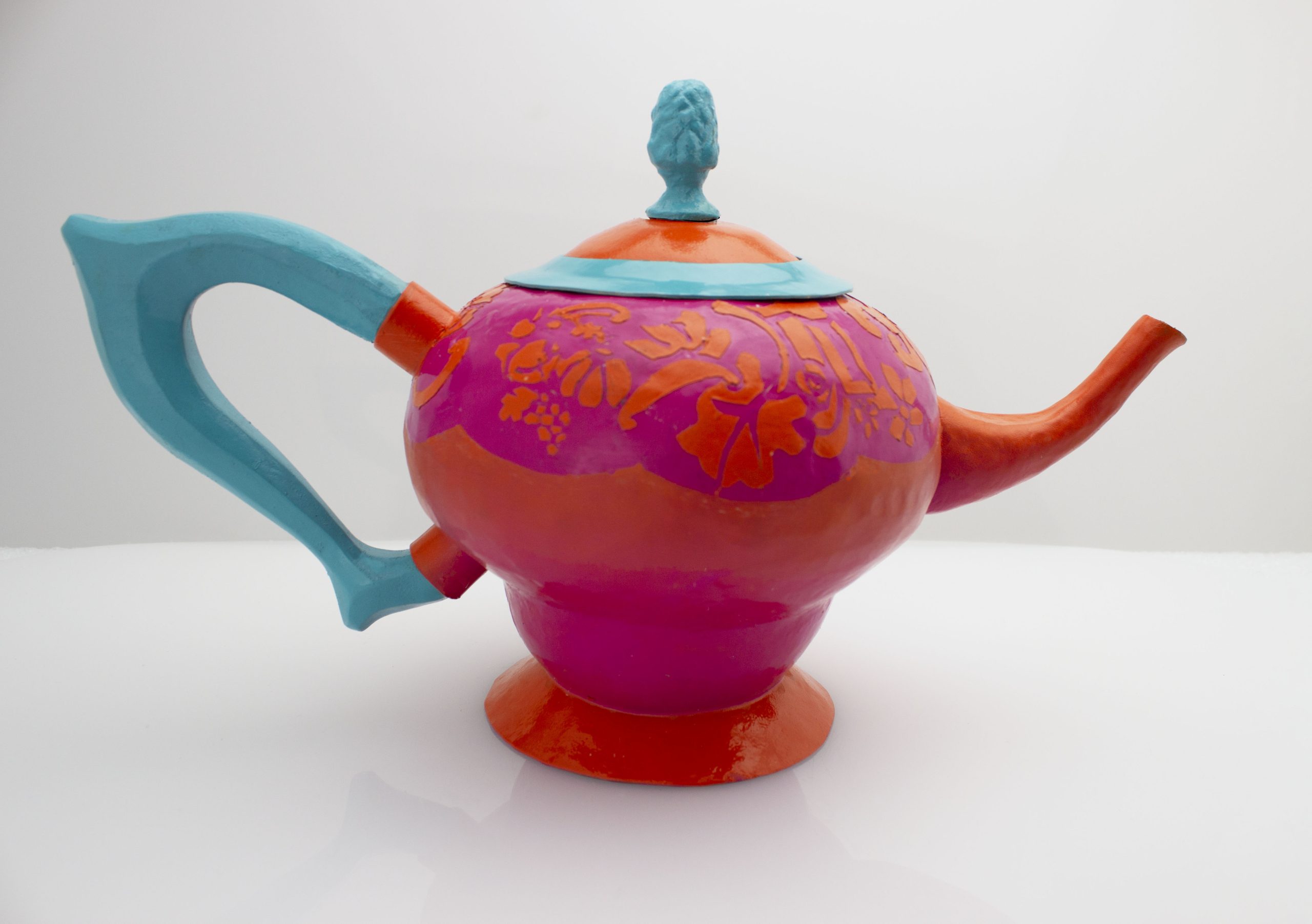 a historical Reproduction: Paul Revere Teapot
copper with powder coat, cast bronze, poplar
A raised copper teapot based on a late 18th Century teapot by Paul Revere. This particular teapot design interested me because of its curvaceous shape and its opulent cast and chased decorations. It stands in contrast to most of Revere's work which is in the more restrained neoclassical style. Much of the decorative art around the Revolutionary and early Federal periods in the US was in the classical revival style, which visually referenced the historic Greek and Roman democracies the US sought to emulate. The teapot I chose to reproduce is more aesthetically aligned with French Rococo, a notoriously decadent style which verges on campy to the modern eye.
I've been fascinated by the relationship between Revere's political activity and his craft aesthetic. I'm mulling over the parallels between a teapot and the Tea Act, the conflict between a pointedly democratic aesthetic applied to an elite craft like silversmithing, and the resonance of remaking a teapot with copper instead of silver and painted poplar instead of ebony.
a historical Reproduction: Tiffany Lamp
plique-a-jour enamel, copper, wooden pedestal, electrical parts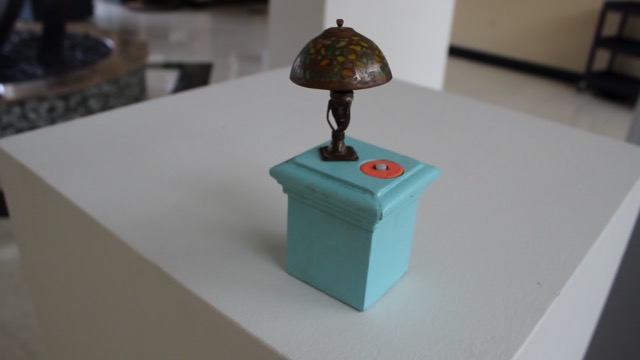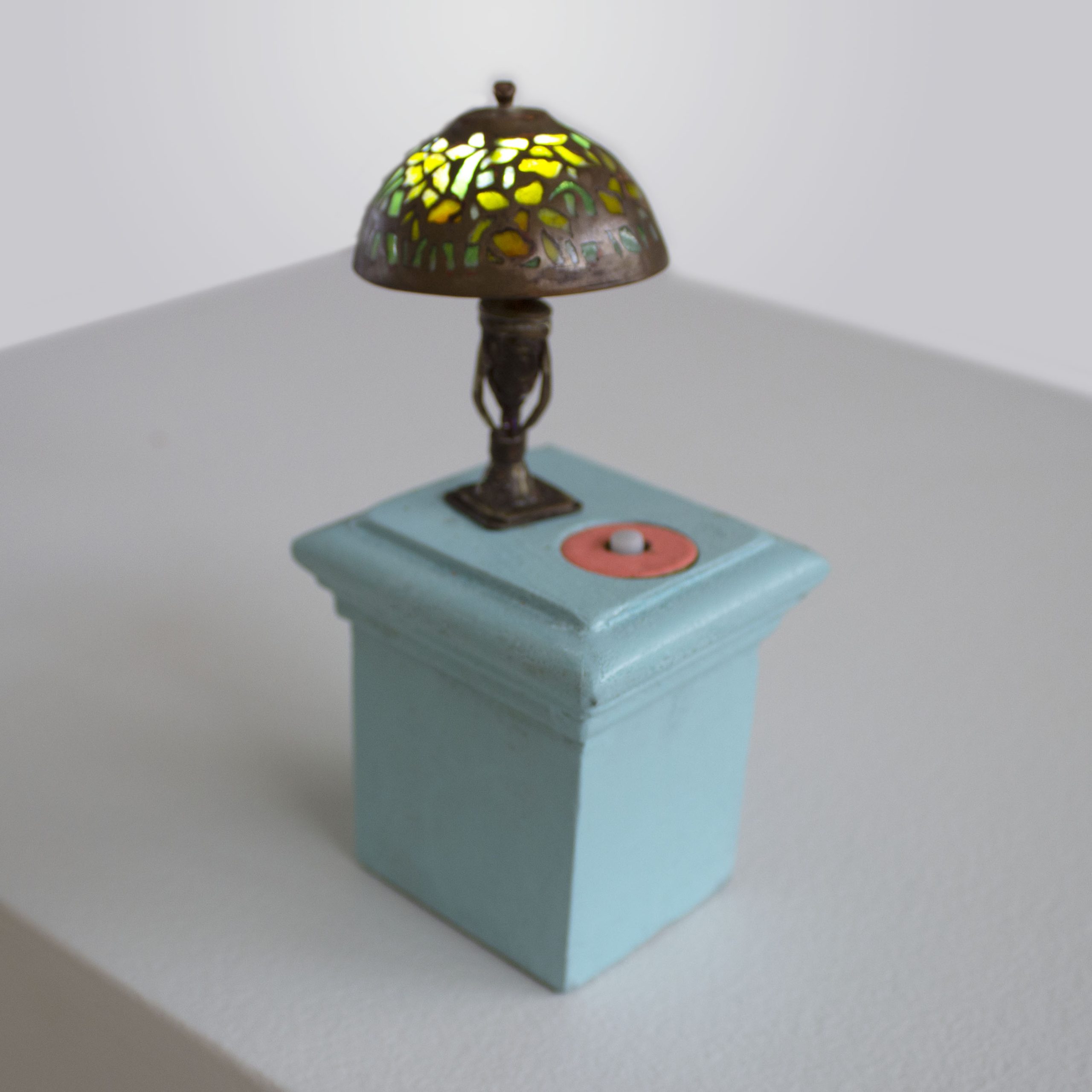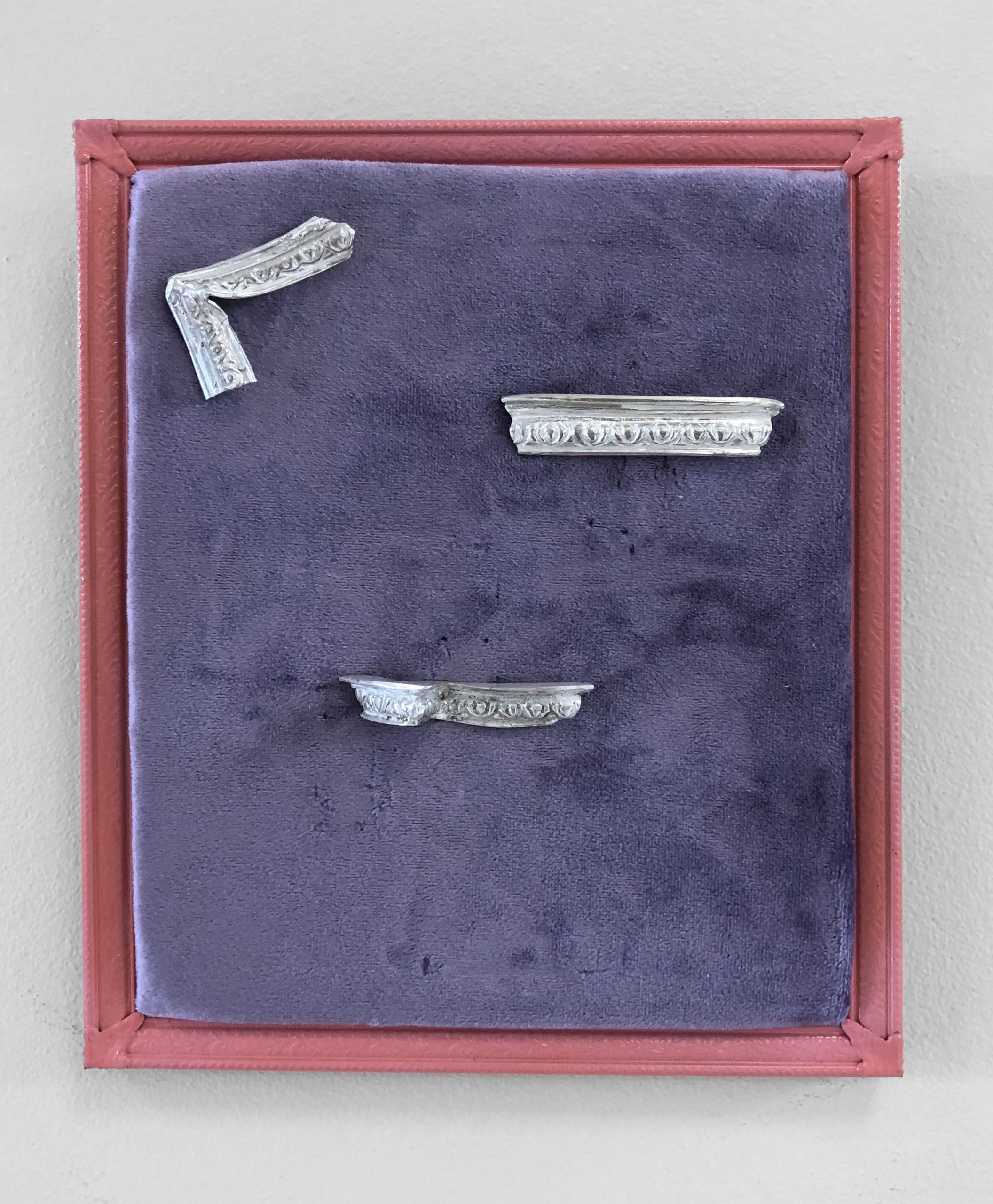 Egg and Dart Molding Brooches 1-3
sterling silver, spring steel
Empty Frame Brooches 1-8
cast bronze with powder coat, spring steel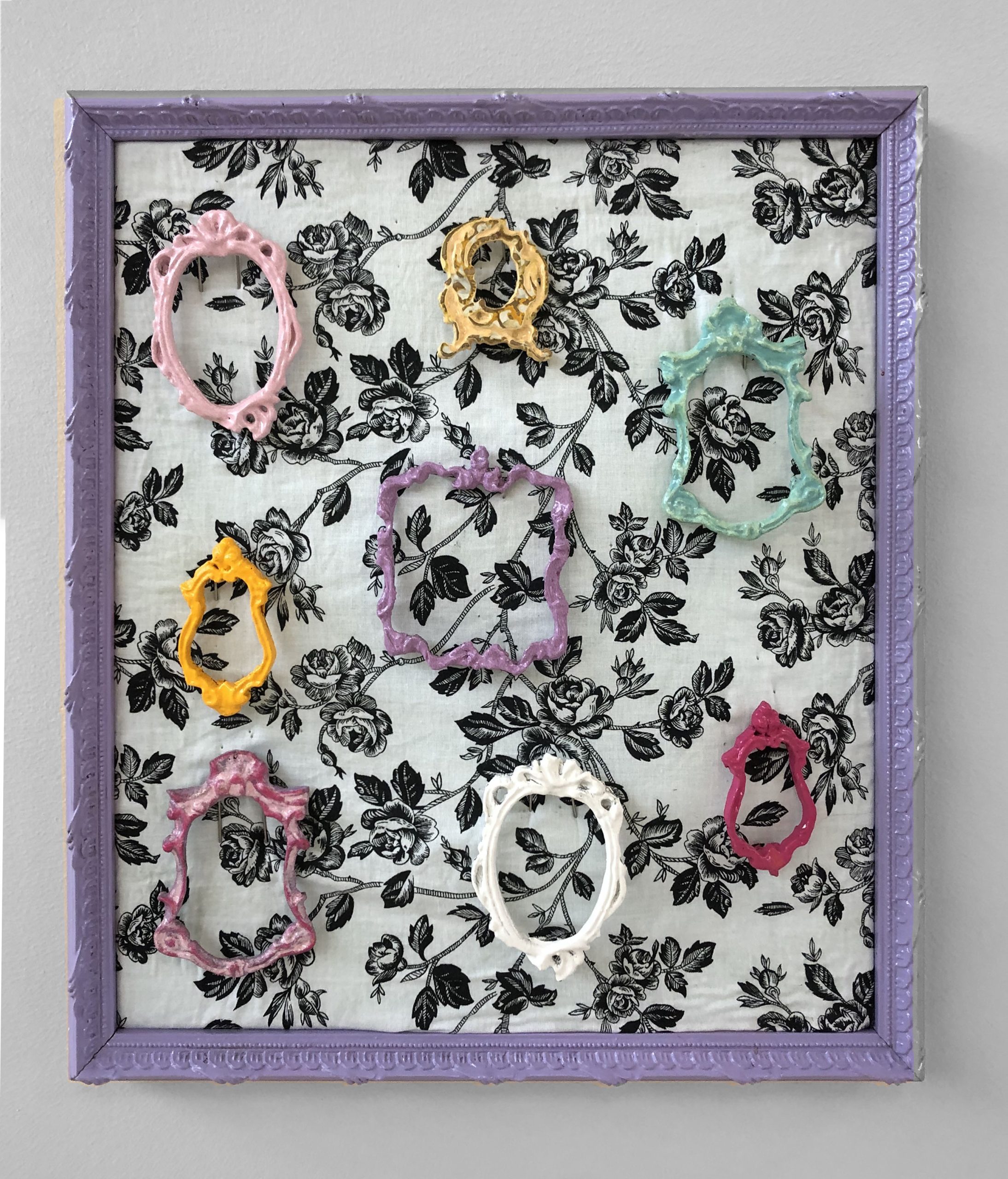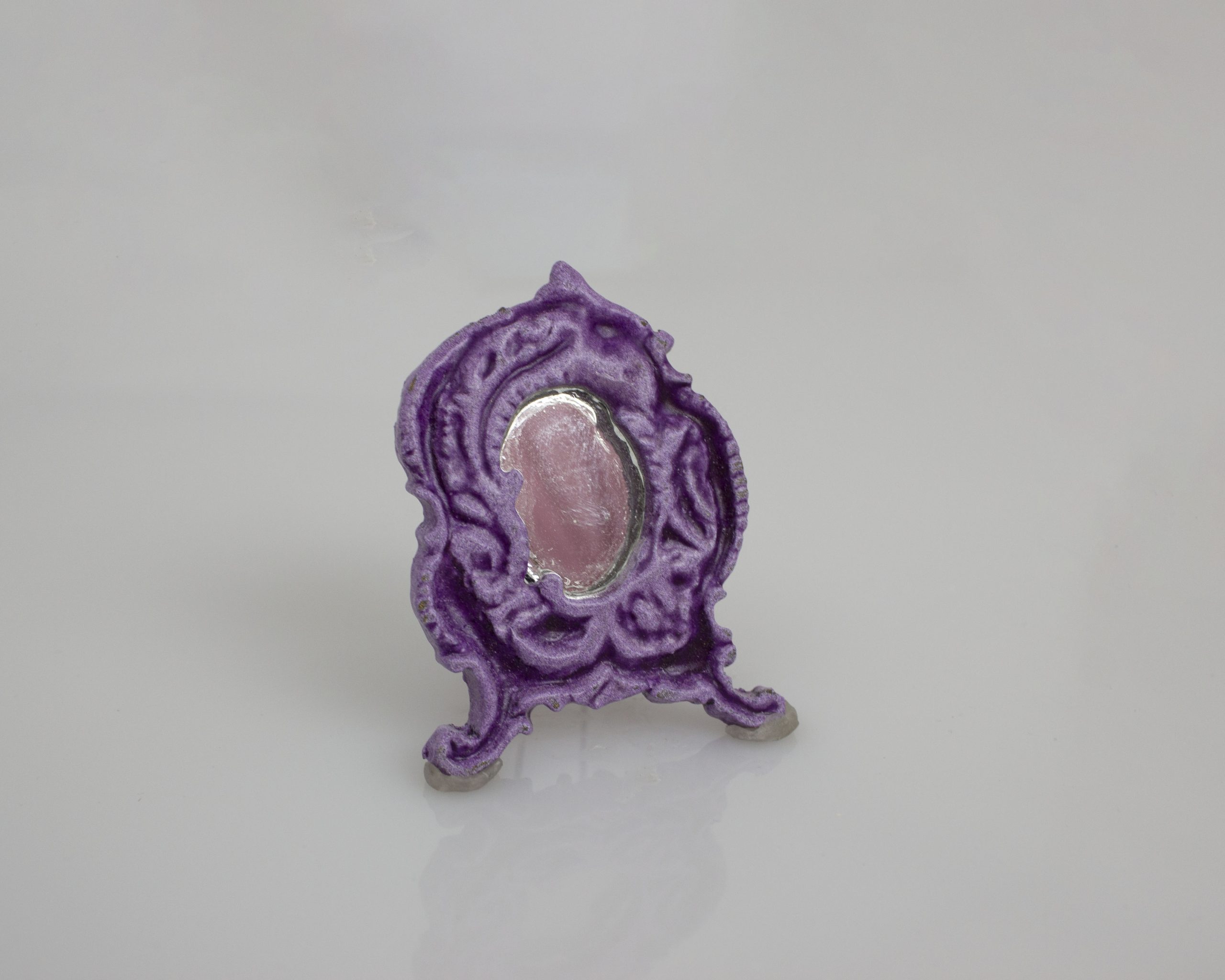 Mirrored Frame Pin
mirror, cast bronze with powder coat, spring steel
Selfie-Portrait with Frame
chased copper, cast bronze with powder coat, brass, acrylic stand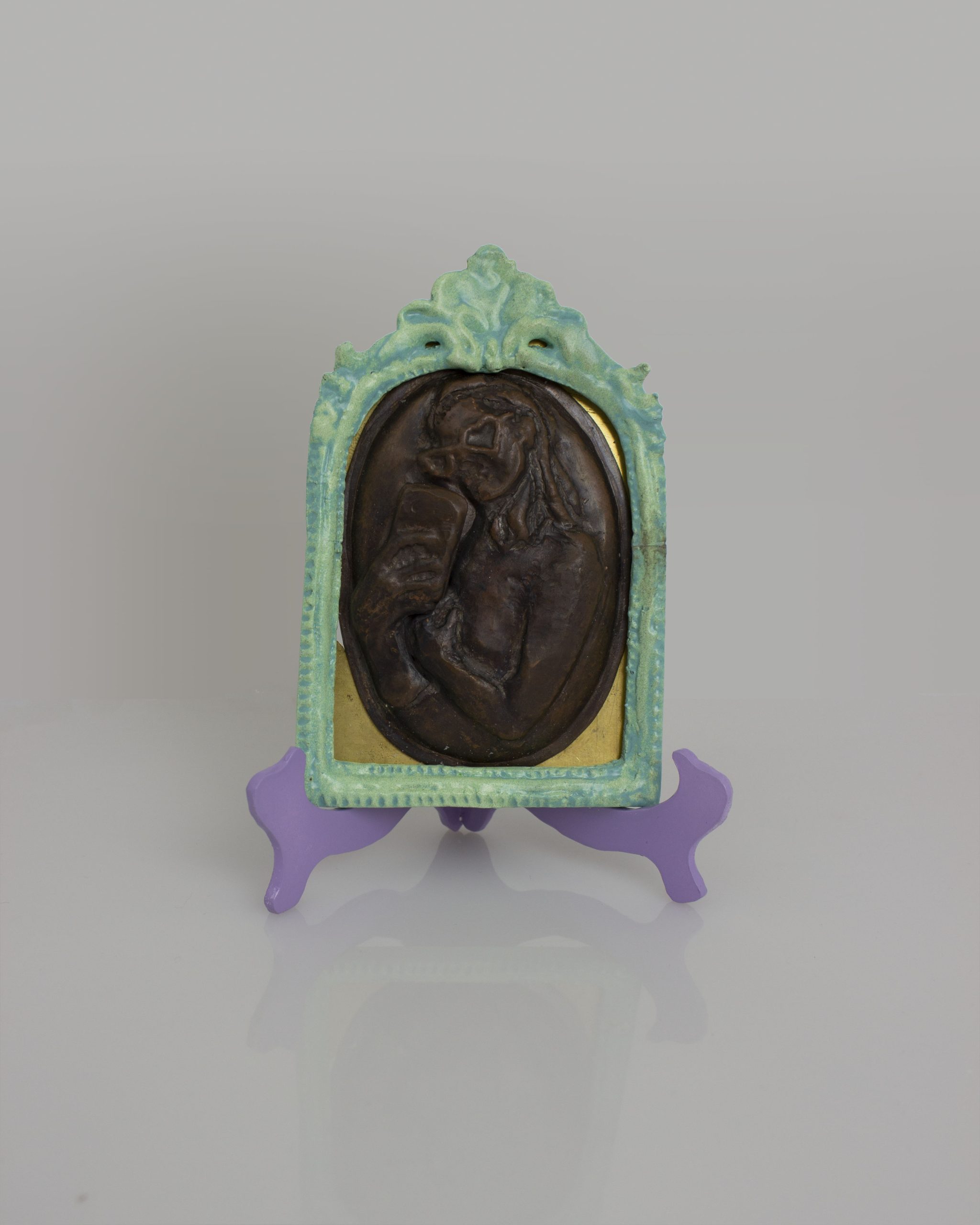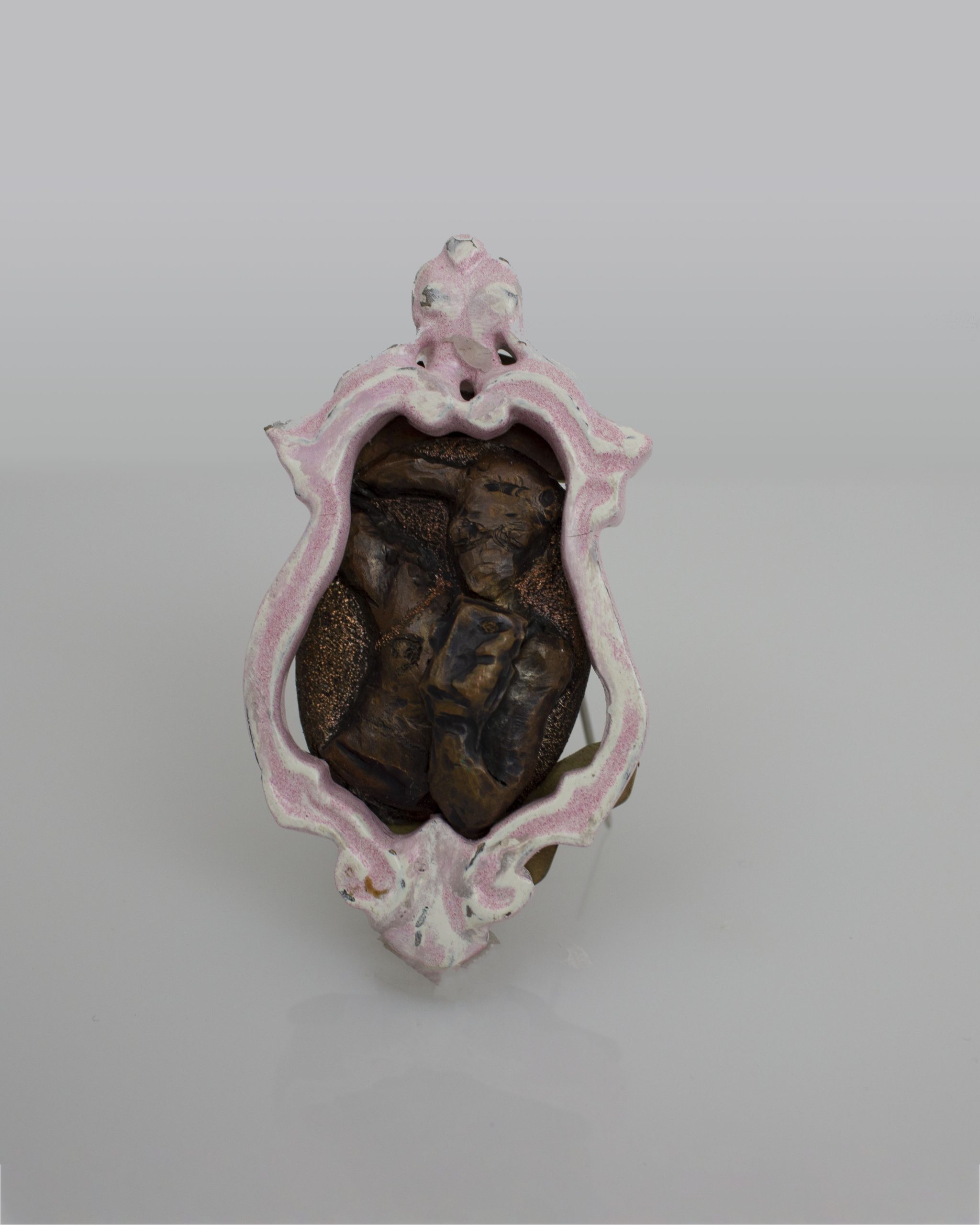 Selfie-Portrait Brooch 1
chased copper, cast bronze with powder coat, brass, spring steel
Selfie-Portrait Brooch 2
chased copper, cast bronze with powder coat, brass, spring steel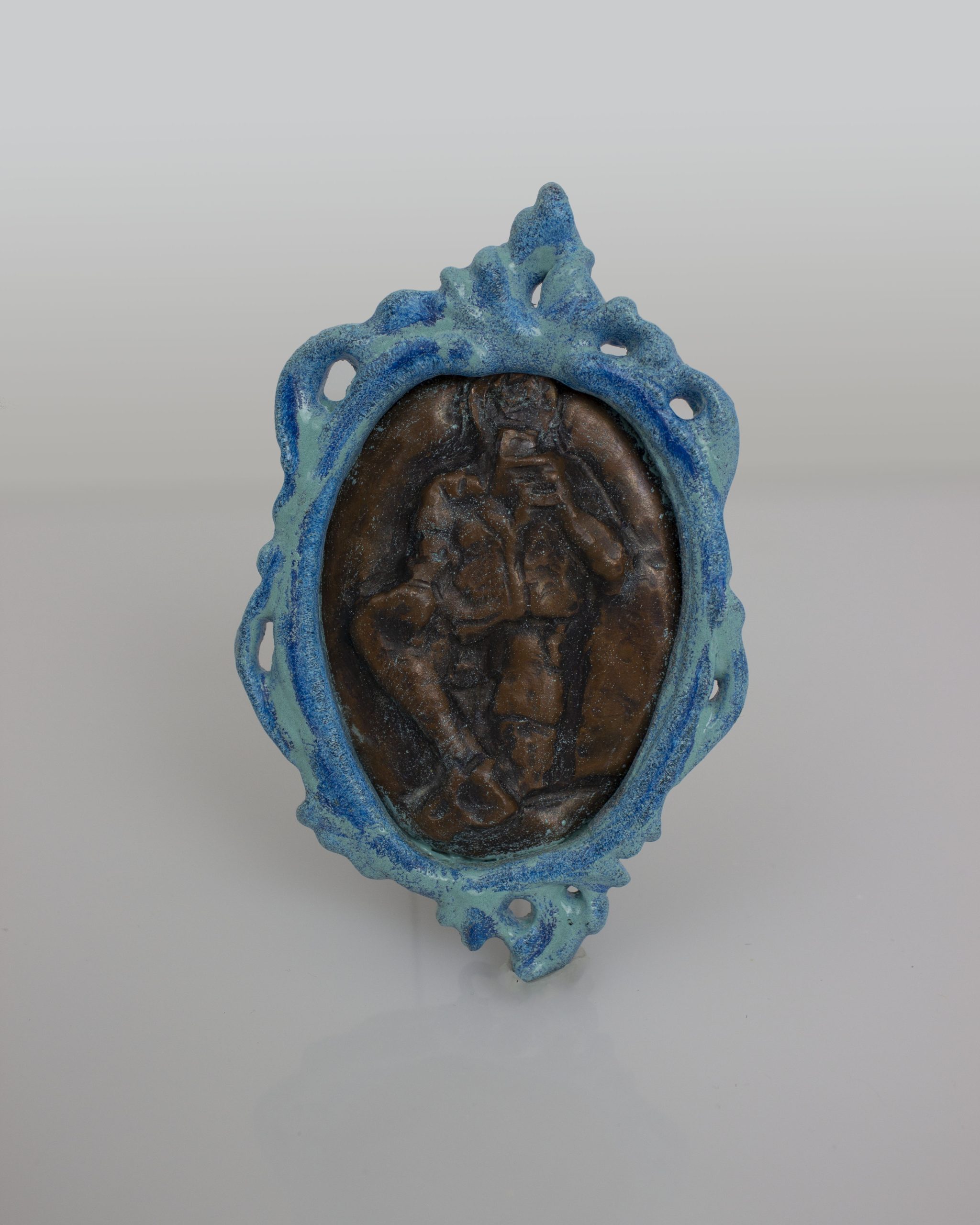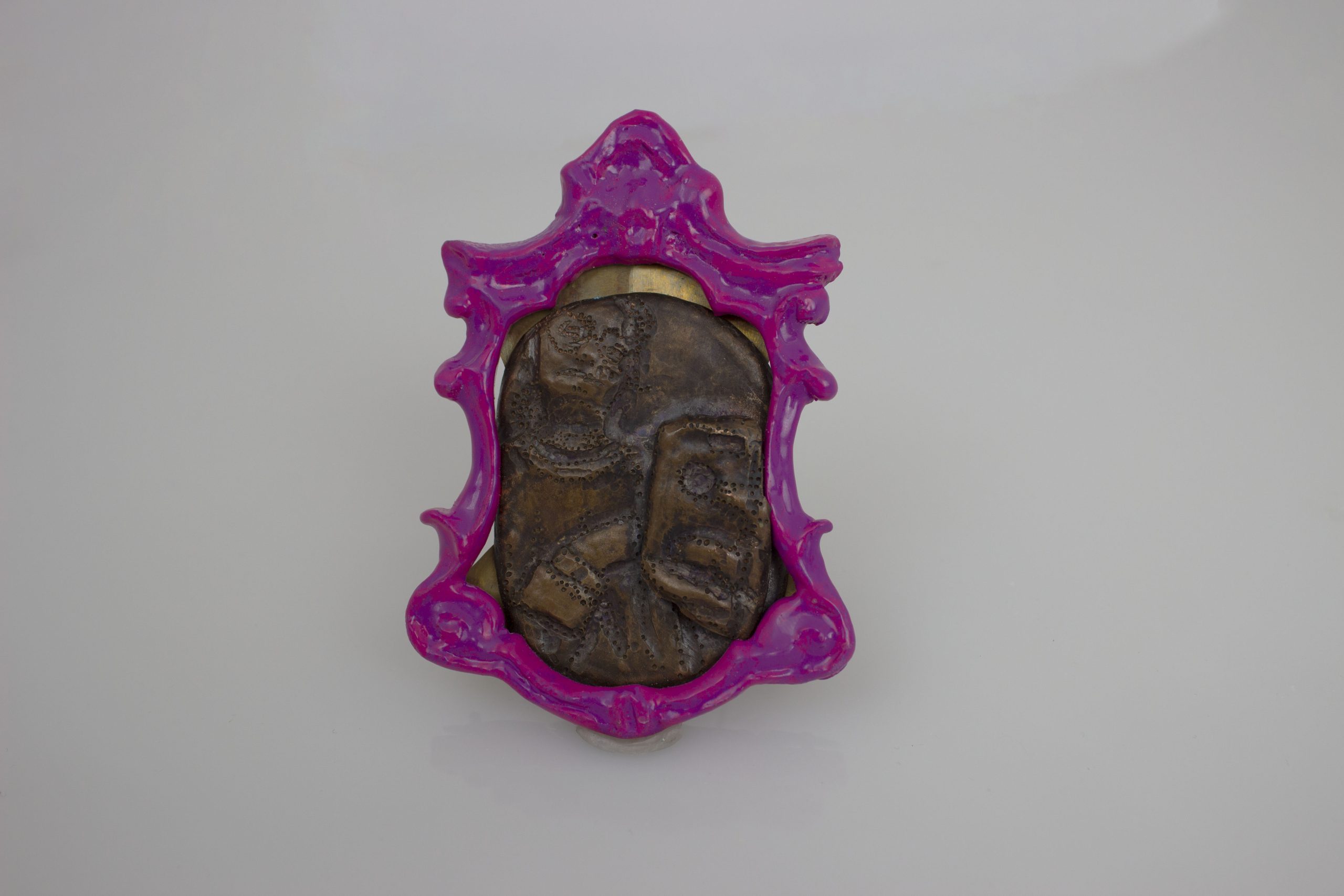 Selfie-Portrait Brooch 3
chased copper, cast bronze with powder coat, brass, spring steel
Selfie-Portrait Brooch 4
chased copper, cast bronze with powder coat, brass, spring steel